Ton van Koeverden, Daisy de Peinder to coach Twins
Nederlands

OOSTERHOUT (Neth.) - Ton van Koeverden will be the new Head Coach for Twins next season in the Dutch Softball big league. Van Koeverden will be assisted by Daisy de Peinder, who retired after a long career as an active player after completion of this season.

Van Koeverden succeeds René Roovers, who finished the season as interim Head Coach. Roovers took over from the start of the second half of the season, which started on July 10 after Twins separated with Leon Kaptein, who was in his first season as Head Coach. Last year, Kaptein was the assistant of Roovers, who stepped down after the season, due to his busy work as Alderman in the Municipality Council of Oosterhout. Of the 22 games played in the first half of the season, Twins won only nine and lost 13, including eight in a row. Twins closed the first half with a 5-0 shutout loss vs. the Dutch Junior Softball Team, for whom it was its first win after having lost the first 22 games. After the international break, Roovers took over the team, split a double-header with league-leader Sparks Haarlem and finished with a 6-4 record in the remainder of the season. However, the team failed to qualify for the Play-Offs and had to close the season in the Play-Downs. On the first day of the Play-Downs, Twins secured its spot in next years big league.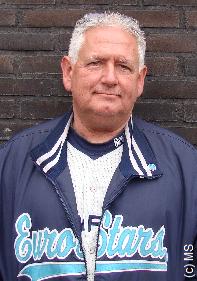 ...Ton van Koeverden...
(© Ph: Marco Stoovelaar)

This season, Ton van Koeverden was the Head Coach of Euro Stars after initially starting the year as the Assistant Coach there. One week before the start of the season, he took over from Leo Buiteman, who resigned due to personal reasons. With a 12-19-1 record, Euro Stars finished in sixth place, then secured its big league-spot for next season on the last day of the Play-Downs. In 2005, Van Koeverden made his coaching debut in the big league when he was the Assistant Coach at DSC '74. A year later, he took over as Head Coach at the Haarlem-club and led the team for two seasons, leading them to fifth place in 2006 and shared fourth place in 2007 with Twins. However, DSC '74 missed the Play-Offs that year, as the games played between them was in favor of Twins. In 2008, Van Koeverden was the Head Coach of Centrals, which then finished in seventh place, but secured the big league-spot after sweeping Onze Gezellen in three games. Before coaching a clubteam, Van Koeverden was a member of the coachingstaff of the Dutch National Men Softball B-Team. As Head Coach in the Dutch big league, Van Koeverden's record is 51-85-1.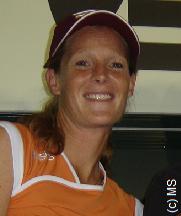 ...Daisy de Peinder...
(© Ph: Marco Stoovelaar)

Daisy de Peinder started her softball-career with Twins in 1982, then made her debut in the Dutch big league with the team in 1993 appearing in nine games. She went on to play in 17 seasons for the club from Oosterhout and only missed the 2007 season. In that year, Daisy was playing for Macerata in the Italian Softball League. During her playing days, Daisy de Peinder was a driven player and a leader in the team. Being the short stop in most of the 462 big league-game she played, De Peinder was a solid hitter, reaching career highs with .418 and .469 batting averages in 2002 and 2003 respectively. From 1996-2001, she also played college-softball, playing for Tallahassee Community College (1996-1997), St. Louis Community College (1998-1999) and Columbus State University (2000-2001). In 1997, Daisy made her debut in the Dutch National Softball Team and went on to play in 146 official international games for the national squad, participating in numerous international events, including one Olympic Games (Beijing, 2008), 3 World Championships, 5 European Championships, 3 Olympic Qualifiers, 4 Canada Cups and 2 Haarlem Softball Weeks. After the 2008 Olympics, Daisy concluded her international career.

For Daisy de Peinder, this is not her first experience as coach. During the 2004 season at Twins, she was the Assistant Coach (while playing) of Koen Janssen, then briefly was the Head Coach for a few games, before Mark van den Heuvel coached the remainder of that season, with Daisy again as the assistant.

(September 23)