Centrals upsets Sparks; Terrasvogels, TTT continue on Friday
Nederlands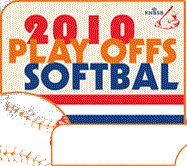 HAARLEM / SANTPOORT (Neth.) - Centrals, which finished in fourth place, opened the best-of-five Play-Off vs. Sparks Haarlem with a major upset, winning 3-2 against the league-leader on Thursday-evening. Centrals scored its three runs in the third inning after a rain-delay. Game 2 will be played next Saturday at De Bilt. The opening game in the other Play-Off between Iber Lengua Terrasvogels and Tex Town Tigers was halted in the bottom of the third inning, because of rain, then was stopped definitively after a 45 minute delay with a scoreless tie. The game will resume in the home of the third inning on Friday-evening at 8:30 PM at Santpoort.
---
Sparks Haarlem vs. Centrals
At Haarlem, Sparks Haarlem outhit Centrals 7-5, but also left nine runnners, including the bases loaded twice.

Centrals was off to a good start, but left the bases loaded in the first inning. With one out, Sparks-pitcher Dagmar Bloeming gave up singles to Anne Blaauwgeers and Silea Bos. Next, Maaike van Aarle flied out, but that also led to a throwing error, which enabled the two runners to advance. To set up a force play, next hitter Lisa Sweeney was walked intentionally, but then Dagmar Bloeming struckout Kimberly van der Lee, who later played a major role for Centrals.
In the home of the first inning, Chantal Versluis singled with one out off Lisa Sweeney, but was caught stealing. Sparks was then retired in order in the next at bat.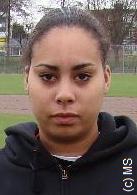 ...Kimberly van der Lee...
...2-run double...
(© Ph: Marco Stoovelaar)

Centrals, which stranded a runner in the second inning, then struck in the third at bat. First, Anne Blaauwgeers grounded out and Silea Bos struckout. It then started to rain and next batter Maaike van Aarle walked. As it started to rain harder, the umpire crew halted the game. After a delay, the game resumed and Lisa Sweeney also walked. Next, former Sparks-player Kimberly van der Lee doubled to centerfield to give Centrals a 2-0 lead. She then scored herself when Amber Dammers followed with an RBI-single, that made it 3-0, before the third out followed.

Trailing 3-0, Sparks appeared to come back immediately in its third inning when it got the bases loaded with one out. First, Jolanda Kroesen struckout, but then Kim Kafoé and Kinge Bouma walked. The first two initially retired after last season, while the third retired some seasons ago. The bases got loaded when Nathalie Gosewehr singled. Hereafter, Centrals forced out Kafoé at home on a grounder by Chantal Versluis, then Kim Kluijskens grounded out, leaving the bases loaded.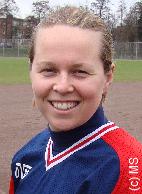 ...Kim Kluijskens...
...2-run double...
(© Ph: Marco Stoovelaar)

Centrals, whose Head Coach Glyniss Kenepa was ejected for arguing balls and strikes, threatened again in the fifth inning when Maaike van Aarle reached second base on a throwing error. Jasmin Carlson was brought in as pinch-runner, who then advanced on a wild pitch with two outs, but was left behind. In the home of the fifth, Sparks got another scoring opportunity. Lead-off hitter Jolanda Kroesen reached base on an error, then Kinge Bouma singled with one out. The two runners advanced when Nathalie Gosewehr flied out, but then the inning ended when Chantal Versluis struckout.

Dagmar Bloeming retired the last eight batters in a row, but didn't got the offensive support she needed. In the sixth, Kim Kluijskens and Debby Connor led off with singles and moved on a sac-bunt by Noémi Boekel. Next batter Areke Spel then flied out and the inning ended when Kluijskens was eliminated at the plate trying to score on a passed ball, which led to some arguments.

While the last two innings were played in the (sometimes heavy) rain, the lead and the win for Centrals came into jeopardy in the home of the seventh inning, but while Sparks scored twice, it again left the bases loaded. Lisa Sweeney started by striking out Jolanda Kroesen, but then walked Kim Kafoé and gave up a single to Kinge Bouma. The American then loaded the bases by also walking Nathalie Gosewehr. Hereafter, Kafoé was forced out at home on a grounder to third by Chantal Versluis for the second out in the inning. Next, Kim Kluijskens doubled down the leftfield-line to bring in two runs and make it a 3-2 score. With Versluis at third base, Debby Connor was walked intentionally. The inning and the game then ended when Noémi Boekel grounded to first baseman Amber Dammers to complete the surprise victory by Centrals.
---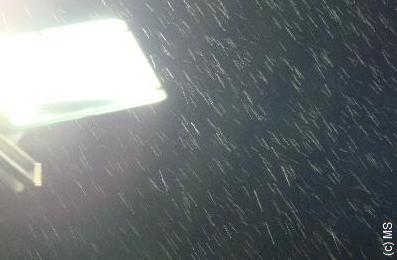 ...Heavy rain in the third inning...
(© Photo: Marco Stoovelaar)
Iber Lengua Terrasvogels vs. Tex Town Tigers
At Santpoort, Iber Lengua Terrasvogels and reigning champion Tex Town Tigers both got one basehit, but didn't score in the first three innings. In the bottom of the third, it started to rain heavily, resulting in the game being interrupted by the umpire-crew. After an initial 30-minute delay, the umpires postponed the game for 15 more minutes, but then decided to stop the game for the moment, due to the field conditions. It will resume on Friday-evening, starting at 8:20 PM at Santpoort. The game will continue from the moment it was stopped, meaning the home of the third inning, with Terrasvogels hitting with two outs, no runners and a 1 ball-2 strikes count on hitter Femke Haage.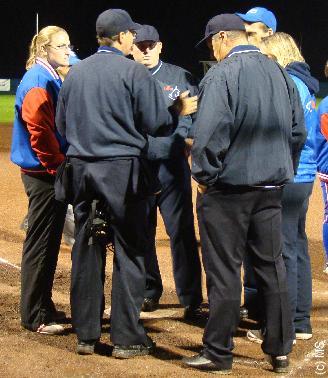 ...The umpires discuss the situation...
...with the coaches...
(© Photo: Marco Stoovelaar)

Terrasvogels-pitcher Aimee Murch started with two strikeouts, but then gave up a single to Virginie Anneveld, who didn't play the last two weeks due to a injury, but tonight played at short stop. Hereafter, another strikeout followed. In the home of the first, TTT-pitcher Lindsey Meadows struckout the side.

TTT reached base again in the second inning when Nadine Marinus reached on an error with one out, but then two outs followed. In the second Terrasvogels-at bat, Solange Starrenburg singled with one out, but was caught stealing.

Tex Town Tigers was then retired in order in the third inning, then the first two Terrasvogels-batters also were retired in the home of the third, but then, with Femke Haage hitting, the game was stopped because of the rain.

(September 16)