Tex Town Tigers one-runs Terrasvogels
Nederlands

SANTPOORT (Neth.) - Reigning champion Tex Town Tigers opened the best-of-five Play-Off vs. Iber Lengua Terrasvogels with an 1-0 shutout, as their game was completed on Friday-evening after it was stopped by rain the night before. On Thursday-evening, the game was interrupted by rain, then canceled after a 45-minute delay. The series continues on Saturday at Enschede, the Game 3 will follow on Sunday at Santpoort.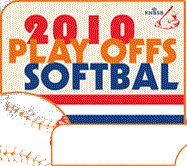 Tex Town Tigers again had made the 200 kilometer-trip from Enschede to Santpoort and 23 hours and 27 minutes after the umpire-crew stopped the game on Thursday, it took only two minutes for Femke Haage to complete her turn at bat on Friday in the home of the third inning with Terrasvogels hitting, having two outs. When the game was interrupted, there was an 1-2 count on Haage. Almost 24 hours later, TTT-pitcher Lindsey Meadows needed three more pitches to strike her out and end the inning.

From the fourth inning on, pitchers Lindsey Meadows and Aimee Murch continued the pitching duel they started the night before. The game could have gone either way, but the problem for both teams was that tonight they had to start a split game with different circumstances than the night before, as it appeared to be somewhat colder. Again, it started to rain one-and-a-half-hour before game time, resulting in a 'what will happen tonight' reaction. Luckily, the rain stopped after some 30 minutes and the remainder of the game could start in time. But it was a new day, so both pitchers had to warm up again and that might have been of influence.
In the fourth inning, Karin Tuk singled with one out for Tex Town Tigers, but then Murch struckout Meadows, followed by a grounder by Nadine Marinus. Terrasvogels was then retired in order in the home half of the inning.
Tex Town Tigers then scored the lone run in the game in the fifth inning. Meike Witteveen, who was the designated player despite a hamstring injury, led off the inning and was hit by a pitch. Her pinch-runner Lynn Dollekamp then advanced on a sacrifice bunt by Mieke Smit-van der Zwaan, who returned in the team last weekend after having retired after last season. Next hitter Kirsten Holshof then popped up with a bunt to first baseman Shannah van der Kaaij, but then Merel Oosterveld drove the ball just over centerfielder Solange Starrenburg for an RBI-double, enabling the speedy Dollekamp to score.
Starting with the first batter she faced tonight, Lindsey Meadows retired nine batters in a row, including six strikeouts, but then gave up a 2-out single to Femke Haage in the sixth, before adding another strikeout. In the seventh inning, Meike Witteveen reached base again for TTT, hitting an one-out single, but this time her pinch-runner Marije ten Thij stranded at first base, as a flyout and strikeout followed.
Terrasvogels got a chance to come alongside in the home of the seventh inning. Shannah van der Kaaij led off with a single and advanced on a sacrifice bunt by Christina Rolla. Next, TTT-catcher Karin Tuk made a crucial play. Hitter Kate Gentile struckout, but the ball was in the ground. Instead of throwing the ball to first base to retire Gentile, Tuk threw the ball to third, as Van der Kaaij had took off from second base and was caught in a rundown, being tagged out while diving back into second base. Lindsey Meadows then ended the inning and the game with 13th strikeout. Aimee Murch struckout eight batters.
(September 17)