Tex Town Tigers remains unbeaten
Nederlands

ENSCHEDE (Neth.) - Computer SOS Tex Town Tigers on Sunday won twice vs. the Dutch Juniors to remain unbeaten after six games, but, just like Saturday vs. Iber Lengua Terrasvogels, it didn't come easy.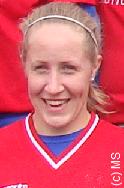 ...Merel Oosterveld...
...4 basehits...
...3 runs, 3 RBI's...
(© Photo: MS)

In the opener, Tex Town Tigers won only 5-0 on eight hits, including two by Petra van Heijst and Karin Tuk. Only one of TTT's runs was earned, after it scored three unearned runs on two errors in the third and another one on an error in the sixth at bat. Jessie van Aalst, Cheryl Hiele and Cindy van der Zanden all hit two hits to account for the six Junior-hits.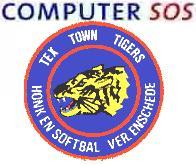 The Juniors gave Tex Town Tigers its first scare in the second inning when it got two runners on base with two outs and was close to scoring. Cheryl Hiele singled and advanced on an error, then Suzanne Meiring walked. The first then tried to score on a single by Cindy van der Zanden, but was thrown out at the plate.
Tex Town Tigers then stranded two runners of its own in its second at bat, but scored three unearned runs in the third at bat off pitcher Laura Treurniet. Lead-off hitter Dinet Oosting reached on an error, as did next batter Merel Oosterveld. The first was then forced out on a grounder by Kirsten Holshof, but Petra van Heijst then followed with a single that put TTT ahead. A sacrifice fly by Virginie Anneveld and a single by Lindsey Meadows increased the lead to 3-0. A fourth run was added in the fourth inning when Marije ten Thij waked, moved on a sac-bunt by Dinet Oosting and scored when Petra van Heijst delivered another RBI-single. The fifth run was scored in the sixth at bat. With one out, Merel Oosterveld singled and stole second base, then later scored on a passed ball.
In the third inning, Jessie van Aalst hit her second single, but stranded at first base. Hereafter, Austrian pitcher Martina Lackner retired the next six batters, before giving up the second single to Cindy van der Zanden, but she also was left behind. In the seventh inning, Cheryl Hiele hit her second basehit in the game, but also didn't go beyond first base.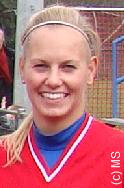 ...Petra van Heijst...
...gamewinning RBI...
...3 hits, 3 RBI's...
(© Photo: MS)

In Game Two, the Juniors boldly took a 3-0 lead in the first inning, highlighted by a 2-run single by Suzanne Meiring, but the team failed to hold onto it, as Tex Town Tigers rallied for four runs in the second at bat (again all unearned, as an error could have been the third out). The Juniors came alongside in the fifth inning off American pitcher Lindsey Meadows, who had to be brought in to secure the win. That win eventually came in the seventh inning when Merel Oosterveld (who had three basehits) scored the winning run on a walk-off single by Petra van Heijst. Virginie Anneveld and Nadine Marinus had two hits for TTT, while Jessie van Aalst again had two for the Juniors.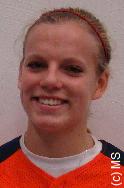 ...Suzanne Meiring...
...2-run single...
(© Photo: MS)

In the first inning, Kimberly Jones led off with a walk and stole second base, then scored when Jessie van Aalst followed with a single. Next, Marisèla de Wind was hit by a pitch and a sacrifice bunt by Laura Treurniet put both runners into scoring position. With two outs, the two scored on a single by Suzanne Meiring to make it 3-0. Hereafter, TTT-starter Marit van Vulpen retired the next nine batters in a row, while her teammates took a 4-3 lead in the second inning. Virginie Anneveld and Karin Tuk both singled, then an error on a force play-grounder (with one out) by Martina Lackner led to the first run. With two outs, the bases got loaded when Kirsten Holshof singled. The bases were then cleared when Merel Oosterveld hit a triple to give TTT a 4-3 lead.

The Dutch Juniors came alongside in the fifth inning. Sophie Bugter led off with a walk, then Rosanne de Vries and Kimberly Jones (bunt) singled to load the bases. Hereafter, Lindsey Meadows was brought back as pitcher to turn things around in TTT's favor. She struckout the first batter she faced, but then gave up a bunt-single to Marisèla de Wind that tied the score and left the bases loaded. Meadows then did end this scoring opportunity by striking out the next two batters.

Tex Town Tigers came close to another run in its fifth. Petra van Heijst walked and stole second base, then was thrown out at the plate when she tried to score on a flyout by Karin Tuk. After stranding a runner on third base in the sixth inning, TTT scored the winning run in the seventh. Merel Oosterveld singled and Lindsey Meadows walked, then Petra van Heijst delivered the game-winning single to give TTT it's third walk-off win in four games this weekend.

Line Scores, Box Scores & Play-by-Plays