Former HCAW-player Kate Allen passed away
Nederlands
IN MEMORIAM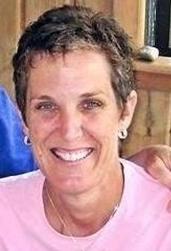 ...Kate Allen...
(1966 - 2010)

SAN JOSE/WILLOW GLEN, California (USA) - Kate Allen, who was a member of the successful teams of HCAW in the late eighties/early nineties, passed away on November 1 at the age of only 44 after a courageous battle with cancer. The funeral service took place on November 4 at Willow Glen, a neighborhood of San Jose (California), where she lived.

Catherine Mary Allen was born on May 9, 1966 in Westminster (California) to British parents, her father came from Northern Ireland, her mother from England. In 1979, the family moved to England. Kate, whose nickname was 'Linus', started playing softball at a young age while living in California and continued playing when the family moved to England, where she became an accomplished and respected player. After making her debut in the National Team of Great Britain, Kate remained a member of the squad for 18 years! In 2007, Kate Allen was part of the first group of players, coaches, umpires and adiministrators to be elected into the British Softball Federation Hall of Fame.

In 1985, Kate Allen became the short stop of the first-ever British National Team at age 18 and she played her final games for the National Team during the Olympic Qualifying Tournament of 2003 in Italy. Her British career started when she reacted to an advertisement in 1984 when the British Softball Federation was planning to form a team for the World Games, which were being held in London in 1985. She attended a try-out and made the team, but it never participated in the event. Back then, the national teams of the Netherlands, USA, Japan, Taiwan and Belgium participated in the softball-tournament of the World Games in the British capital. In the weeks leading up to the event, the British Team played some games in the Netherlands against Dutch clubteams, including HCAW, where she would play later. Before the World Games started, the British team played its first international game ever against Belgium and it was Kate who opened the game with the first British international basehit.


...The British National Team in 2001...
...Kate Allen is sixth from right in the back row...
(© Photo: British Softball Federation)

In 1994, Kate was a member of the British Team that participated in the World Championship. Also because of Kate's valuable influence and importance, the squad finished in third place during the Olympic Qualifying Tournament in 1999, losing only 2-1 to Italy in the semi-final. In 2001, Kate delivered some important hits for the British Team, which then won the title in the European B-Championship and promoted to the A-pool.

In 1988, Kate Allen played for HCAW in the Netherlands in her first of six seasons (1988-1993) with the Bussum-club. In her rookie-season in the Dutch big league, Kate, who played at second base or at short, batted .262. In 33 games, she scored 12 runs. Two of her best seasons in the Dutch league then followed in 1989 and 1990. In 1989, she played in 45 games and batted .278, setting career-highs with 24 runs and 26 runs batted in, while hitting 35 basehits, including four doubles, nine triples and three homeruns. A year later, Kate batted .302 with 38 basehits. Her highest batting average came in 1992 when she hit .310 in 35 games. After her last season in the Netherlands, Kate returned to the USA.

While playing for HCAW, the team captured the Dutch championship title in all of her six seasons in Bussum. The team annually participated in the European Cup-tournaments. In 1988 (Antwerp), 1990 (Santpoort), 1992 (Prague) and 1993 (Nice), HCAW won the Cup.

In her seasons at HCAW, the team was coached by Ruud Elfers and her teammates included (National Team) players like Petra Beek, Madelon Beek, Karin Brookhuis, Astrid Crebas, Petra Goedkoop, Mereille Hammink, Mary-Ann Hatt, Maud Kampman, Annemiek van Kappel, Anouk Mels and Margot Mels.

A special page with Guest Book has been created in memory of Kate.

(November 23)