Nathalie Gosewehr to play in Italy in 2011
Nederlands

HAARLEM (Neth.) - Nathalie Gosewehr, outfielder of Dutch champion Sparks Haarlem and the Dutch National Softball Team will play in the Italian Softball League next season. She will play for Italian champion Caserta, making her the third Dutch National Team-player to play in Italy in 2011, the others being RHP Lindsey Meadows and OF Saskia Kosterink.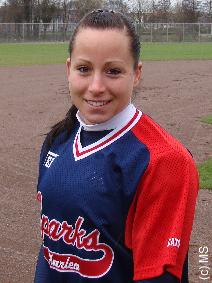 ...Nathalie Gosewehr...
(© Photo: Marco Stoovelaar)

Nathalie started her softball-career at age six at Spaarnwoude, where she would play for 12 seasons. She then made her debut in the Dutch big league in 2002, playing for DSC '74. After having played for three seasons for DSC '74, Nathalie joined Terrasvogels, with whom she would play in five big league-seasons (2005-2009). After completion of last season, Nathalie decided to play for Sparks Haarlem, with whom she won the Dutch championship-title, as well as the European Cup Winners Cup. During this last event, Nathalie was named Most Valuable Player. Last year, she also won the Cup, while playing for Terrasvogels and also was named the tournament's MVP, as well as being the Best Hitter.

This season, Nathalie played in all 32 regular season-games for Sparks Haarlem and batted .374 (34-for-91) with five doubles and three triples. Her 34 basehits were second best in the team, as were her 28 runs and 23 stolen bases. Nathalie had 19 runs batted in.
In 2004, Nathalie made her debut in the Dutch National Softball Team and would play for the team through early 2007. She re-joined the national team in December 2008. With the national team, Nathalie participated in two World Championships, two European Championships and three Canada Cups, amongst other events. Last year, she was a member of the team that captured the European title in Valencia (Spain), this year she participated with the team in the World Championship in Venezuela. In total, Nathalie played in 63 official games for the national team.
Next year, Righthanded Pitcher Lindsey Meadows also will make her debut in the Italian Softball League, playing for Nuoro. Outfielder Saskia Kosterink this season played in her first season in Italy and will return to Sanontint Bollate next year.
Nathalie is the eighth Dutch player to play in the Italian Softball League. Earlier, Lucične Geels (1989, Bussolengo), Anouk Mels (1998-1999, Ronchi Dei Legionari), Sandra Gouverneur (2006, 2009, Nuoro), Rebecca Soumeru (2006, Macerata), Daisy de Peinder (2007, Macerata) and Saskia Kosterink (2010, Bollate) played in Italy. Lindsey Meadows became the seventh player when she announced her plans to play in Italy after completion of this season.
(November 23)