TTT in Holland Series; Centrals surprises again!
Nederlands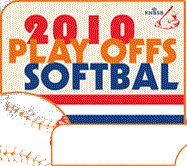 ENSCHEDE / DE BILT (Neth.) - Reigning champion Tex Town Tigers came from behind on Saturday-afternoon to win 3-2 in Game Four to win their best-of-five Play-Off vs. Iber Lengua Terrasvogels and became the first team to clinch a spot in the Holland Series. Their opponent will be decided on Sunday, as Centrals surprised again, played another fine game and scored twice in the home of the seventh inning to defeat Sparks Haarlem 3-2 and force a fifth and deciding game. Game 5 will be played on Sunday at Haarlem, starting at 2:00 PM. The Holland Series opens on Thursday, September 30. When Sparks wins on Sunday, the Series will open in Haarlem, when Centrals wins, it opens in Enschede.
---
Tex Town Tigers vs. Terrasvogels, 3-2
At Enchede, Terrasvogels led 2-0 when Tex Town Tigers came alongside in the fifth, then scored the winning run in the seventh inning to win the series. Last year, the two teams faced each other in the Holland Series.
In the top of the second inning, Terrasvogels got its first runner in scoring position. With one out, Solange Starrenburg singled and stole second, but then a strikeout followed. Next, Dana Horeman lined to first base, but their Nadine Marinus caught the ball to end the at bat.

In the home of the second inning, Tex Town Tigers threatened to open the score first. With one out, Nadine Marinus was awarded first base for being hit by a pitch, while it appeared she wasn't avoiding the pitch. With two outs, Mieke Smit-van der Zwaan singled, but then a strikeout ended the inning.
Terrasvogels then opened the score by scoring twice with two outs in the third inning. Marije Schoenmaker led off with a single and advanced on a sacrifice bunt by Femke Haage and a grounder by Linda Hoenderdos. Shannah van der Kaaij then singled through the middle to give Terrasvogels an 1-0 lead. Moments later, she advanced to third base on a double by Christina Rolla and the bases got loaded when TTT-pitcher Lindsey Meadows walked Kate Gentile. Terrasvogels made it 2-0 when next hitter Solange Starrenburg singled into leftfield, leaving the bases loaded. Next, MariŽlle Vleugels drove the ball into centerfield, where it appeared to land for a possible 2-run, maybe even 3-run double, but centerfielder Merel Oosterveld ran backward, reached for the ball and made an inning-ending and saving catch.
Terrasvogels-pitcher Femke van Dusschoten then retired the side in the third and fourth TTT-inning. In the next at bat, Christina Rolla doubled again, this time with two outs, but the TTT-defense appealed that she had missed first base. 1B Umpire Frank Duits confirmed that by ruling her out.
TTT came alongside in the home of the fifth. Meike Witteveen led off with a single and was replaced by pinch-runner Lynn Dollekamp, who advanced on a sac-bunt by Mieke Smit-van der Zwaan. Kirsten Holshof then walked and the two runners advanced on a wild pitch. Hereafter, Merel Oosterveld lined off the glove off 2B Christina Rolla, which might have been an inning-ending double play. But as the ball caroomed off the glove into short rightfield behind first base, the two runners scored to tie the score. 1B Shannah van der Kaaij then made a nice catch on a line drive by Marije ten Thij, which resulted in a double play.
Lindsey Meadows then retired the side in the sixth and seventh, having retired the last 13 batters in a row. In the home of the seventh, Meike Witteveen again led off with a single and again was replaced by pinch-runner (and flex player) Lynn Dollekamp, who, just like two innings before, moved on a sac-bunt by Mieke Smit-van der Zwaan. Next hitter Kirsten Holshof also laid down a sacrifice bunt, which ended in a throwing error and gave TTT the winning run.
With this, Tex Town Tigers reached the 25th Holland Series (which was played for the first time in 1982) and are in the final for the third year in a row, meaning the team from Enschede can go for a three-peat. The last team to win three titles in a row was Sparks Haarlem, which captured the championship in 2004, 2005 and 2006. Between Sparks' last championship and TTT's first, Terrasvogels won the title in 2007.
---
Centrals vs. Sparks Haarlem, 3-2
At De Bilt, the line score of the fourth game between Centrals and Sparks Haarlem reads the same as the one in Enschede. Sparks Haarlem also took an 2-0 lead and went on losing the game in the home of the seventh, meaning a fifth game has to be played on Sunday in this series.

Sparks, which was outhit 8-3, took an 1-0 lead in the first inning when Chantal Versluis homered with one out. Centrals threatened to score in its second at bat. With one out, Silea Bos singled and advanced on a passed ball, then Amber Dammers walked. The two runners advanced on a grounder by Kimberly van der Lee, then the bases got loaded when Sparks-pitcher Kirsten Scheele also walked Maaike Blaauwgeers. But the bases were left loaded when a strikeout followed.
Sparks reacted with a run in the third to make it 2-0. With one out, Kim Kafoť tripled and scored when Nathalie Gosewehr reached on an error. A throwing error on a sac-bunt by Chantal Versluis gave Sparks two baserunners, who moved to second and third on a grounder by Kim Kluijskens. The two stranded as a flyout followed.
Centrals then stranded two runners in the fourth inning. Maaike van Aarle led off with a bunt-single and Silea Bos walked, then both moved on a sac-bunt, but the next two hitters were retired.
Centrals then did got one run back in the fifth inning. With one out, JJ Hartung doubled and advanced when next hitter Anne Blaauwgeers flied out, then scored when Lisa Sweeney also doubled. Maaike van Aarle then walked, but the inning ended when Silea Bos lined out to pitcher Kirsten Scheele.
Both teams left one runner in the sixth inning and Sparks left a runner on third base in the top of the seventh inning. Trailing 2-1, in the home of the seventh, Centrals struck with one out. JJ Hartung led off with a single, then Anne Blaauwgeers fouled out. After next hitter Lisa Sweeney also singled, Dagmar Bloeming was brought in to relief Kirsten Scheele. The two runners then advanced on a wild pitch, then a force play was created by loading the bases, issuing an intentional pass to Maaike van Aarle. But then Silea Bos singled into leftfield, enabling the two American players to score and give Centrals a 3-2 victory.
Winning pitcher Lisa Sweeney went the distance and threw a 3-hitter. Starting with Kim Kluijskens' grounder in the third ining, she retired 10 batters in a row and 14 of the last 16 batters she faced.
(September 25)