Sparks Haarlem second finalist!
Nederlands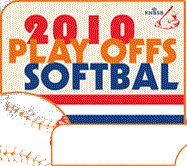 HAARLEM (Neth.) - Sparks Haarlem on Sunday won 5-3 vs. Centrals to win Game 5 of the best-of-five Play-Off and become the second finalist of the softball-season. Sparks now will meet reigning champion Tex Town Tigers in the 25th edition of the Holland Series, which opens next Thursday Haarlem with Game One, starting at 8:30 PM.

Again, it didn't came easy for Sparks, as Centrals came back from a 5-1 deficit and got the bases loaded in the last inning. Therefore, Centrals was close to eliminating Sparks, which would have result in the first Holland Series since 1994 without a team from the Haarlem-area. 16 years ago, Twins (Oosterhout) and HCAW (Bussum) faced each other in the final.

On what became a sunny Sunday-afternoon, Centrals boldly took an 1-0 lead in the first inning. JJ Hartung led off with a single off pitcher Dagmar Bloeming (which was barely missed by a diving centerfielder Nathalie Gosewehr), then two flyouts followed. But then the American scored on a double down the rightfield line by Maaike van Aarle, who played in her last game, as she had announced her retirement after completion of this season.

Trailing 1-0, Sparks reacted immediately with two runs in the home of the first inning. With one out, Chantal Versluis and Kim Kluijskens singled. Next, Debby Connor also singled to bring in the tying run, while an additional throwing error brought Klijkens to third base. After a pop-up accounted for the second out, an error on a grounder by Noémi Boekel gave Sparks a 2-1 lead.
After a scoreless second inning, Sparks rallied for three runs with two outs in the third inning to take what looked like a comfortable 5-1 lead. In the inning, Chantal Versluis doubled with one out, then advanced to third on a grounder. Debby Connor then followed with her second RBI-single in the game. Marloes Fellinger also singled to bring Connor to third base, then advanced herself on the throw to third. Hereafter, Noémi Boekel hit the third single in a row off Lisa Sweeney to bring in two runs and make it 5-1. Sparks got another runner when Areke Spel walked, but then a grounder ended the at bat.
For Sparks, the scoring was over after the third inning, but Centrals then started to put the pressure back on. In the fourth, Maaike van Aarle led off with her second double in the game, then advanced on a wild pitch with one out and scored on a single by Amber Dammers, who is also retiring.
In the fifth inning, Centrals scored another run. With one out, JJ Hartung walked and Anne Blaauwgeers singled. The latter was then forced out on a grounder by Lisa Sweeney, but then a passed ball enabled Hartung to score and make it 5-3.
In the home of the sixth, Sparks failed to take more distance. With two outs, Kim Kafoé and Nathalie Gosewehr singled, but then a strikeout followed. Centrals then threatened in the seventh inning, getting the bases loaded. With one out, JJ Hartung singled and Anne Blaauwgeers reached on an error. Lisa Sweeney then drove the ball into deep centerfield, where it was caught by Nathalie Gosewehr, but Hartung advanced to third base. The bases then got loaded when Maaike van Aarle walked. Moments later, the game was interrupted briefly, as Van Aarle was replaced by pinch-runner Jasmin Carlson. When she approached the dug-out, she was welcomed by her teammates. With the bases loaded, Silea Bos was the hitter. On Saturday, she singled in two runs in the seventh to give Centrals a 3-2 win. But now, she grounded to to short stop Chantal Versluis, who forced out Carlson at second base to end the game.
(September 26)