Sparks secures first place & Twins big league-spot!
Nederlands



HAARLEM / OOSTERHOUT / DE BILT (Neth.) - On Saturday, the remaining rounds for the final ranking in the softball-competition went underway. After completion of the regular season, the top-4 was split from the bottom-4 to form two separate pools. The Dutch National Junior Team, which this year participated in the big league as an independent team, is no part of the final round.

In this final round, the teams in the top-4 play six additional games, meeting each other twice in a double-header, as are the teams in the bottom-4. The top-4 is playing for the final ranking leading up to the Play-Offs. The bottom-4 is also playing for a final ranking and are finished after their games, but in their case, the team that finishes in last place will relegate, while the team that finishes in second-to-last place has to play a promotion/relegation Play-Off against the number 2 team of the First Division.

In the top-4, Sparks Haarlem won twice vs. reigning champion Tex Town Tigers, 1-0 and 9-2, meaning it will finish in first place and therefore secured home advantage for its best-of-five Play-Off. In that series, Sparks will meet Centrals, which will finish in fourth place, whatever it will do during this final round. As Sparks finished in first place, that means that Tex Town Tigers will meet Iber Lengua Terrasvogels in the other Play-Off. However, the home advantage in that series has yet to be decided. Terrasvogels trails TTT by only four points and the two teams will meet next Saturday at Enchede. Today, Terrasvogels saw its double-header at Centrals being canceled due to the field conditions in De Bilt as a result of the heavy rain of the last days. This double-header will be made up on Sunday, September 5.

In the bottom-4, Twins defeated Euro Stars twice, 9-1 and 4-0, to secure their spot in next years big league. Because of the loss, Euro Stars is still in jeorpardy to finish in one of the last two (relegation)spots. Euro Stars is only three points ahead of DSS and Olympia Haarlem, who split their double-header and share the bottom spot. DSS won the opener 9-1, the Olympia took Game 2, 5-4.
---

At Haarlem, Sparks Haarlem won twice vs. Tex Town Tigers, 1-0 and 9-2. Both teams have to without some of its regular players in the remainder of the season. Sparks will miss Lyanne Horeman, Judith Diepeveen and Nathalie Timmermans, while Tex Town Tigers has to without Britt Vonk and Petra van Heijst and today also missed Meike Witteveen. Both Timmermans and Vonk earlier this week left for the USA to start their college-season in Oklahoma City and Berkeley respectively. Sparks activated Marloes Fellinger and Kim Kafoé again, who both initially retired after last season. Earlier this season, Fellinger already played in 10 games, while Kafoé appeared in four games.

In the opener, the lone run was scored in the second inning when TTT-pitcher Lindsey Meadows walked lead-off hitter Areke Spel, who then stole second base with one out and scored on a triple by Kim Kafoé.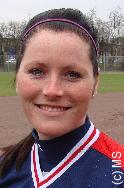 ...Marloes Fellinger...
...grand slam...
(© Photo: MS)

Sparks, which stranded two runners in the first inning, got several more scoring opportunities, as it left two runners in the fourth inning and left the bases loaded in the sixth. In this at bat, Sparks had no basehits, but nevertheless loaded the bases. Debby Connor led off with a walk, then her pinch-runner Kirsten Scheele reached second base when an error was made on a force play-grounder by Noémi Boekel. Next, Scheele was forced out at third on a grounder by Areke Spel, but then (after a strikeout) the bases got loaded when Kim Kafoé was hit by a pitch. The inning ended when Rebecca Soumeru grounded out.

The lone run was enough for Sparks, as Dagmar Bloeming gave up only five hits, struckout 10 batters and only only one TTT-runner to reach second base.

In Game 2, Sparks trailed 1-0 when it rallied for five runs in the home of the second inning. In the top of the at bat, Lindsey Meadows led off with a double and scored on a grounder by pitcher Ginger de Weert. But in the home half, Sparks struck off De Weert. Debby Connor, Noémi Boekel and Areke Spel all led off with singles to load the bases. Hereafter, Marloes Fellinger belted a grand slam homerun to give Sparks a 4-1 lead. After two outs followed, Nathalie Gosewehr singled, stole second and scored the fifth run in the at bat when Chantal Versluis also singled.

TTT got one run back in the third on a double by Karin Tuk, but Sparks added two runs in its third when Debby Connor led off with a homerun and Marloes Fellinger added an RBI-single. In the fourth, Sparks scored two more runs to reach the 7-run difference. This time, the runs were scored on basesloaded walks for Fellinger (who had six RBI's) and Kim Kafoé.
---

At Oosterhout, Twins won twice vs. Euro Stars, 9-1 and 4-0. With this, Twins secured its spot in next years big league.

In the opener, Euro Stars outhit Twins 6-4, but nevertheless gave up nine runs, as they made three defensive errors. In the second inning, Euro Stars took an 1-0 lead when Laura Belardinelli led off with a single, moved on a sacrifice bunt by Kirsten Vierdag (who earlier this month participated with the Dutch National Women Baseball Team in the World Championship in Venezuela) and scored on a double by Kirsten Molle. Twins then scored four runs (three unearned) in the third at bat. Mickey Jansen led off with a walk, moved on a grounder and a wild pitch, then scored when a pop-fly in the infield was missed on a hit by Sandy Lauwers, who later scored when a flyball in the leftfield was missed. A basesloaded walk for Sophie Bugter and a groundout by Sarah Van Der Meiren gave Twins two more runs. The last run in the at bat was scored after a 16-minute rain delay.

Twins scored five more runs in the fourth inning on only two basehits. With the bases loaded and one out, pitcher Rebecca Antonissen walked Andee Lindgren. Hereafter, Antonissen was relieved by Shomayra Franka, who is the daughter of former big league baseball-player Edward Franka and made her debut in the main squad. Two runs were then scored on two consecutive wild pitches and Sarah Van Der Meiren followed with a 2-run single to make it 9-1.

In Game 2, Ashley Smuda went the distance for Twins, struckout six and threw a 2-hitter. Twins opened the score in the second inning when veteran Daisy de Peinder doubled with one out and scored on a 2-out single by Lieke Duffhues. In the fifth inning, Twins took more distance by scoring three runs. Lieke Duffhues led off with a single, then Sophie Bugter walked. Euro Stars-starter Daisy Verstappen then retired the next two batters, but then gave up a 3-run, inside-the-park-homerun to Fabienne van Uden that made it 4-0.
---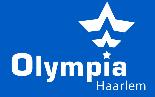 At Haarlem, Olympia Haarlem and DSS, who share last place in the relegation pool, split their double-header.

DSS struck early in the opener, scoring three runs in the second inning and adding five more in the third at bat. In the second, veteran Yvette Krooder doubled with one out, then Tippy Vink walked. After a flyout, Marijke van Veen also walked to load the bases. Next, Eva Halman cleared the bases with a 3-run double. In the third inning, Julie Owen walked and Kim Scholtes singled with one out, then Yvette Krooder followed with an RBI-single. With two outs, Judith van Tiel added an RBI-single and moments later the bases got loaded. Eva Halman and Jacqueline Wesselink then walked and Floor Roest was hit by a pitch to bring in three more runs and make it 8-1. In the fifth, DSS scored another run on a double by Halman (who had five RBI's), but also left the bases loaded.

Olympia Haarlem, which had five basehits off Sonja Pannen, scored its lone run in the third inning on a single by Lisanne van den Berg, but then also stranded three runners. In the first three innings, Olympia left seven runners behind!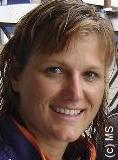 ...Judith van Kampen...
...return...
(© Photo: MS)

In Game 2, Olympia trailed 3-2 when it scored three runs in the fifth inning and went on to win 5-4. Olympia collected eleven basehits off veteran pitchers Sonja Pannen and Judith van Kampen. The latter played her last big league-game in 2008, then retired, but became a member of DSS. As the team tries to secure a spot in next years big league, Van Kampen was activated and today pitched in her first game of the season. She took over for Pannen in the first inning, threw 5 2/3 inning and gave up seven basehits, but also struckout two batters.

DSS opened the score in the first inning on a wild pitch, but Olympia answered with two runs in the home half of the first on singles by Karlene Headley-Cooper and Maranca Ham. DSS re-took the lead in the second inning on singles by Jacqueline Wesselink and Floor Roest, but also again left the bases loaded.

In the fifth inning, Olympia turned the game around in its favor by scoring three runs with two outs off Judith van Kampen. Karlene Headley-Cooper and Maranca Ham then singled and Marisèla de Wind walked to load the bases. Next, Rosanne de Vries cleared the bases with a 3-run triple to make it 5-3 in Olympia's favor.

In the sixth, DSS got one run back on an RBI-grounder by Marijke van Veen, but failed to re-take the lead again.

(August 28)