DSS wins twice vs. Juniors
Nederlands

HAARLEM (Neth.) - DSS on Friday won twice vs. the Dutch Junior Team, 9-3 and 4-1. Veteran pitcher Sonja Pannen went the distance in both games, striking out eleven batters in each of the two games. Besides collecting 22 strikeouts, the righthander gave up only two basehits in each of the two games.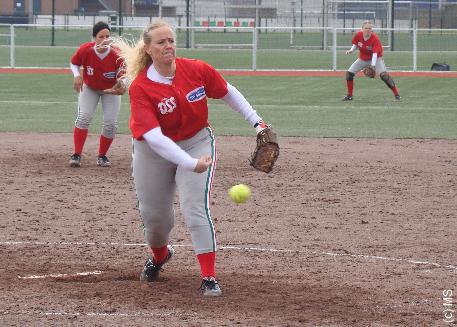 ...Sonja Pannen...
...two victories; 22 strikeouts...
(© Photo: Marco Stoovelaar)

In the opener, leading 3-0, DSS decided the game with a 6-run rally in the third inning, but the Dutch Juniors avoided a mercy-rule loss, as they came back with three runs in the fourth inning. The Juniors retired the side in the fourth and fifth, then eliminated a runner on third base in the sixth to avoid the run, which would give DSS a margin to end the game prematurely.

Singles by Marijke van Veen, Eva Halman and Kelly Zuurendonk and a sacrifice fly by Amanda Hess contributed in DSS taking a 3-0 lead in the second inning off starter Loes van der Vliet. Six runs were added in the third inning off reliever Inge Tishauser, who walked four batters (including one with the bases loaded) in this inning and gave up an RBI-single to Kelly Zuurendonk and a 3-run double to Amanda Hess, who later scored herself in a fielder's choice situation.

With the early 9-0 lead, DSS was en route to a mercy-rule victory, but in the fourth inning, the Dutch Juniors narrowed the deficit to 9-3. Lead-off hitter Kimberly Jones reached on an error, then Rebecca Duindam walked. Later, a wild pitch enabled Jones to score and brought Duindam to third base. The latter then scored on a grounder by Suzanne Meiring. With two outs, NoŽmie Brandjes singled, stole second and scored on a towering triple by Sophie Bugter, which almost cleared the fence in leftfield.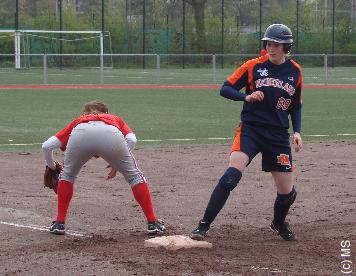 ...Sophie Bugter arrives at third base...
...after hitting a stand-up RBI triple...
...in Game One...
(© Photo: Marco Stoovelaar)

Leading 9-3, DSS still needed only one run to reach the 7-run mercy rule run margin, but failed to add that run, as the Juniors played good defense in the next three at bats. After giving up the runs in the third inning, Inge Tishauser recovered fine and went on to retire eight batters in a row, retiring the side in the fourth and fifth. In the sixth, Jacqueline Wesselink led off off with an infield-hit and wounded up on third base, but she was caught in a rundown when a pinch-runner stole second base.

In Game Two, DSS had a 3-run rally in the third at bat to decide the game.

DSS opened the score in the first inning when Jacqueline Wesselink tripled with one out and scored on a double by Julie Owen. The inning ended with a fine double play, as pitcher MariŽlle Vleugels caught a line drive by Floor Roest, then eliminated Owen at third base. Three runs were then added in the third inning. Wesselink again led off and this time reached base on an error, then Julie Owen was hit by a pitch and Kim Scholtes reached on an infield-hit. An infield-hit by Floor Roest, error and single by veteran Yvette Krooder made it 4-0.

The Juniors scored their lone run in the fourth inning. With two outs, Laura Treurniet (who walked) scored on a single by NoŽmie Brandjes.

Line Scores, Box Scores & Play-by-Plays