Berend Mannessen new Head Coach of UVV
Nederlands

UTRECHT (Neth.) - Berend Mannessen is the new Head Coach of the softball-team of UVV, the club announced.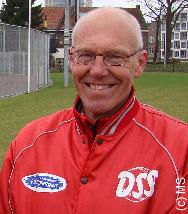 ...Berend Mannessen...
(© Photo: Marco Stoovelaar)

This year, Mannessen led the team of DSS in his second season with the Haarlem-based club. Last year, DSS won the title in the First Division and promoted to the Dutch big league, which led to Mannessen being named Coach of the Year. This season, DSS made its comeback after a 24-year absence. As expected, it was a difficult season for the team, which in the end relegated again.

Before coming to DSS, Mannessen was the Head Coach of Hoofddorp Pioniers for 13 seasons. In 1990, he was the Assistant Coach in the Dutch big league at DSC '74, which then was led by Nol Houtkamp, whom he succeeded a year later. Mannessen led DSC '74 for three seasons, then coached Alphians one season, before returning to Pioniers, where he went on to coach for the next 13 years. Before coming to DSC '74, Mannessen already had been the Head Coach for Pioniers four years.
This season, UVV finished in fourth place in the 'Overgangsklasse' (one division below the Major League) with a 16-19-1 record. With this, it finished well behind champion Alcmaria Victrix, which had 29 points more than UVV and promoted to the big league.
As the baseball-team recently returned to the big league, the softball-team of UVV also has its ambitions to return to the highest division in te future. With the knowledge and experience of Mannessenn, UVV hopes to set the first step towards that direction.
(November 30)