Terrasvogels, Twins win tournaments
Nederlands


ENSCHEDE / MOERGESTEL (Neth.) - Iber Lengua Terrasvogels and Twins were the winners of two tournaments over the weekend. Terrasvogels claims first place for the eighth time in the annual international J.C.J. Mastenbroek Tournament, while Twins won the international Pre-Season Tournament of Roef! in Moergestel.

Mastenbroek Tournament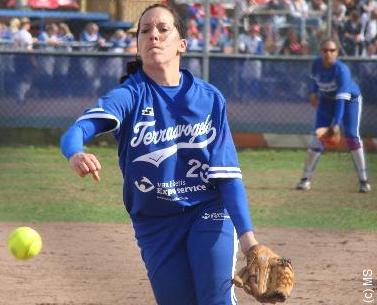 ...Mercedes Lovato: 2-hitter...
(© Photo: Marco Stoovelaar)

At Enschede, Iber Lengua Terrasvogels collected 14 hits in its first game on Saturday vs. Tex Town Tigers, including three by Marije Schoenmaker (who had four RBI's) and former Tiger Meike Witteveen (who also scored twice). Ginger de Weert (who also played for TTT last season) went the distance for Terrasvogels and struckout five.

In the second game, the lone run of Terrasvogels vs. SK Joudrs Praha (Czech Republic) was scored in the fifth inning. Eva de Bruin led off with a triple and scored on a single by Meike Witteveen, who again had three hits. Mercedes Lovato pitched for Terrasvogels, struckout seven and threw a 2-hitter.
In the third game on Saturday, Terrasvogels had 13 basehits, including two by Meike Witteveen, Lotte Holvast, Marije Schoenmaker (who had three RBI's) and Eva de Bruin. All players in the Terrasvogels line-up had at least one basehit. Maxime Heinsbroek made her debut in the team as pitcher and allowed only four basehits to German opponent Mannheim Tornados. Terrasvogels scored seven runs in the first and six in the third to become the unbeaten pool-winner.
On Sunday, Terrasvogels defeated Gryphons, 6-1, in the cross final. The team struck in the third inning by scoring all six runs. With one out, Lotte Holvast singled and scored the first run when Solange Starrenburg followed with a triple. A single by Marije Schoenmaker then accounted for the second run. Later in the at bat, the lead was increased to 6-0. Gryphons scored its lone run in the sixth off Mercedes Lovato, who struckout seven and threw five perfect innings, but in the sixth, she gave up two hits and the run. Terrasvogels had 10 hits.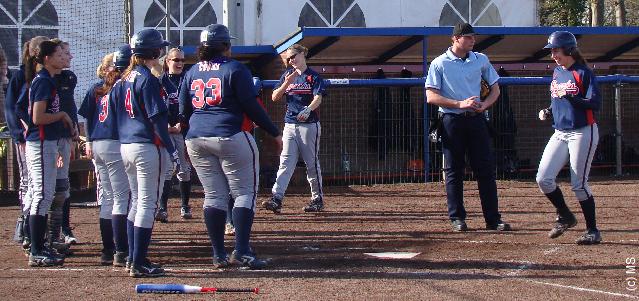 ...Areke Spel is greeted after hitting a 2-run homerun...
(© Photo: Marco Stoovelaar)

The road to the final for Oolders Omaco Sparks Haarlem started on Saturday with a 6-1 victory vs. Olympia Haarlem, whose starting pitcher Amanda Lindsey gave up eight basehits and five runs in the first four innings. Kirsten Scheele and Rebecca Soumeru threw for Sparks Haarlem and gave up five hits. Sparks Haarlem collected eleven basehits, including two by Debby Connor, Areke Spel, Shannah van der Kaaij and Julie Owen. Sparks opened the score in the first inning when Julie Owen, who came to the club from 'neighbour' DSS, led off with a single and scored on a single by Debby Connor. After two runs were scored in the second inning, Sparks increased the lead to 5-0 in the third at bat when Areke Spel hit a towering 2-run homerun.

In its second game, Sparks Haarlem won 7-2 vs. Gryphons. Trailing 2-0, Gryphons tied the score in the top of the third inning, but then Sparks rallied for five runs in the home of the third. Sparks opened the score in the first inning when Chantal Versluis homered, then added a run in the second, but a single by Illiandra Figaroa tied the score in the third. Sparks then answered with five runs on only one basehit, which was a bunt-single by Areke Spel. Two runs in this at bat were scored on a passed ball.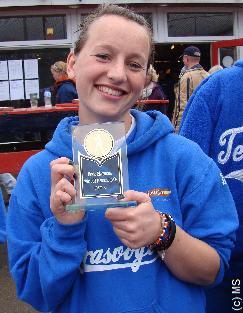 ...Meike Witteveen...
...Best Hitter...
(© Photo: Marco Stoovelaar)

Sparks Haarlem closed pool-play with an 8-0 shutout vs. Wesselin Vermins from Germany. Kirsten Scheele gave up only one hit in three innings, then Dagmar Bloeming added two hitless innings. Areke Spel and Rebecca Soumeru each had three RBI's for the Haarlem-squad. The latter hit two triples. After scoring three runs in the first inning, five were added in the second, including two on the second triple by Soumeru.

In the cross-final on Sunday, Sparks Haarlem won 7-4 vs. host Tex Town Tigers. Trailing 1-0 (RBI-single Nadine Marinus, first inning), Sparks scored four runs in the third inning, highlighted by a 3-run homerun by Debby Connor. Julie Owen had three of her team's ten hits and doubled twice. After Mieke Smit-van der Zwaan homered in the fifth for TTT, Sparks added three more runs in the home half, including two on a double by Owen.

The final between Terrasvogels, which is led for the first time by Tim Verbrugge, and Sparks Haarlem remained scoreless for three innings. Terrasvogels opened the score in the fourth when Lotte Holvast walked and scored on a passed ball. The second run was scored in the sixth inning. Meike Witteveen led off with a single and scored on a single by Solange Starrenburg, who hit three basehits. Ginger de Weert went the distance and gave up four hits.

Meike Witteveen was the Best Hitter of the tournament with a .688 batting average.
---
Pre-Season Tournament
At Moergestel, Twins captured first place of the international tournament by winning 2-0 in the final against Prague Stars from the Czech Republic.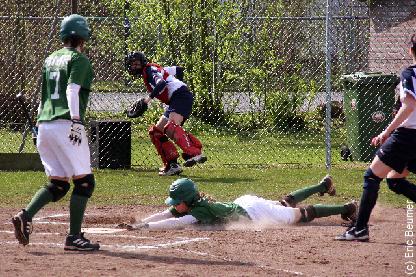 ...Eva van Knegsel scores for Roef! vs. Twins...
(© Photo: Eric Beumer)

On Saturday, Twins won all three games in Pool A. The team, which is coached for the first time this season by Ton van Koeverden, opened with a big 13-0 shutout-win vs. London Angels from England, then defeated host Roef! 7-4. Twins closed the first day with a 6-2 win vs. HCAW, which in the eighties and nineties was one of the most successful teams in the Dutch big league.

Day 2 started for Twins with two games in the championship pool. In the first game of the day Twins was shutout 5-0 by Prague Stars, then the squad nipped Alcmaria Victrix 6-5 in the next game to finish in a tie for first place with the Czech team, resulting in both teams qualifying for the final.
Prague Stars was a surprise finalist, as it won only one of its three games during pool-play. On Saturday, Alcmaria Victrix went unbeaten in Pool B, winning three games with a 9-0 score vs. Sparks Haarlem 2, Hamburg Knights (Germany) and Prague Stars. The Czechs only won vs. Sparks, 10-1, as it narrowly lost 3-2 to Hamburg. As a result, Prague, Hamburg and Sparks all ended up in a tie and the Czechs were awarded the second place based on tournament-rules, meaning they qualified for the championship pool.
After winning vs. Twins in the championship pool, Prague won 2-1 vs. HCAW to reach the final.
HCAW claimed third place by winning 3-1 vs. Alcmaria Victrix.
There were no individual awards on this tournament.
(April 3)