Opening Day Major League Softball
Nederlands



SANTPOORT / DE BILT / HAARLEM (Neth.) - On Saturday, April 16, the new season in the Dutch Major League Softball will get underway with three double-headers. A fourth double-header is scheduled for next Sunday.

Dutch champion Oolders Omaco Sparks Haarlem will not get into action yet. Initially, the team was scheduled to play vs. Euro Stars, but that squad withdraw early March. As the schedule wasn't adjusted, it means that the opponents of Euro Stars simply have the day off.

Iber Lengua Terrasvogels is playing two double-headers, both at home in Santpoort. On Saturday, Terrasvogels, which is led for the first time by Head Coach Tim Verbrugge, meets Tex Town Tigers, then plays vs. Centrals on Sunday.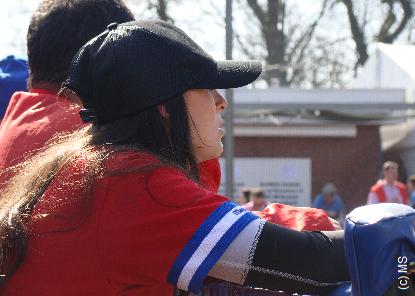 ...Meagan Hartung...
...fourth TTT-coach in 4 years...
(© Photo: Marco Stoovelaar)

Terrasvogels added more depth to its team in the off-season by adding several new players, but Tex Town Tigers, which reached the Holland Series again last year, will be less experienced. Regular players IF Meike Witteveen, RHP Ginger de Weert (both Terrasvogels), IF Virginie Anneveld (Sparks Haarlem) and RHP Lindsey Meadows (Italy) left the team after last season, while the team also has to do without short stop Britt Vonk through the end of May, as she is studying and playing at the University of California at Berkeley in the USA. So, Tex Town Tigers has to rely more on younger players, as is Centrals, which also saw some players leave or retire. Tex Town Tigers will be led by young American Head Coach Meagan Hartung, meaning the team has a new Head Coach for the fourth year in a row. Glyniss Kenepa returns as Head Coach for Centrals.

Olympia Haarlem, where Caroline Powell returns as Head Coach, also opens the season at home vs. Alcmaria Victrix, which will make its comeback to the big league. Olympia Haarlem acquired two new American players, pitcher Amanda Lindsey and short stop Elena Leon, while Alcmaria has several players of the Dutch National Junior Team on its roster. Alcmaria is led by Head Coach Gonny Farley.

At De Bilt, Centrals opens its season at home on Saturday, meeting Twins, which is led for the first time by Ton van Koeverden. Two weeks ago, Twins won the international Pre-Season Tournament of Roef! in Moergestel. Last weekend, the team went winless on Day 1 of the Jan de Wit Tournament, but managed to reach the final on Sunday by winning twice (including a 9-inning 2 1/2 hour contest). However, in the final, Twins was tired and quickly looked to a 12-0 deficit vs. Sparks Haarlem, then asked to stop the game after three innings.

(April 15)