Solange Starrenburg sets records in Terrasvogels-opener
Nederlands



SANTPOORT / DE BILT / HAARLEM (Neth.) - At Santpoort, Solange Starrenburg of Iber Lengua Terrasvogels went 2-for-3 in the first game, then 4-for-4 in Game 2 of the double-header vs. Tex Town Tigers on Saturday to finish the day hitting 6-for-7. She also scored four runs and set an Opening Day-record with nine runs batted in. She also became the first player in history to hit two homeruns on an Opening Day, one in each game. Besides that, Solange also hit two triples. Terrasvogels opened the season with a 10-0 shutout in the opener vs. TTT, highlighted by an 8-run rally in the third. Game 2 was won 11-4 in five innings.

At De Bilt, Centrals won 5-1 and 4-0 vs. Twins.

At Haarlem, Olympia Haarlem won Game 1 vs. Alcmaria Victrix 2-1 in eight innings. In the top of the eighth, Alcmaria appeared to score the go-ahead run, but then the runner was called out after an appeal as she had left third base too early after tagging up on a flyout. In the home of the eighth, Rosanne de Vries then singled in the winning run. In Game 2, Olympia was leading 4-0 when Alcmaria tied the score by scoring four runs in the seventh inning to force an extra inning. In the eighth, Alcmaria then scored twice to win 6-4 in a game that lasted two hours and 25 minutes.

Oolders Omaco Sparks Haarlem had the day off, as it was scheduled to play vs. Euro Stars, but that team withdraw early March. This means that on each day of the season, one day is off.
---

Iber Lengua Terrasvogels vs. Tex Town Tigers
At Santpoort, Terrasvogels led 2-0, then rallied for eight runs in the third inning to take a 10-0 lead and end the game after only 55 minutes due to the mercy-rule.

Both teams left a runner behind in the first inning, but then Terrasvogels scored three runs in the second at bat. Anouk van den Heuvel and Marisèla de Wind both singled in their first at bat for their new team, then advanced on a sac-bunt by Floor Roest. With two outs, the duo scored the first runs when Eva de Bruin tripled.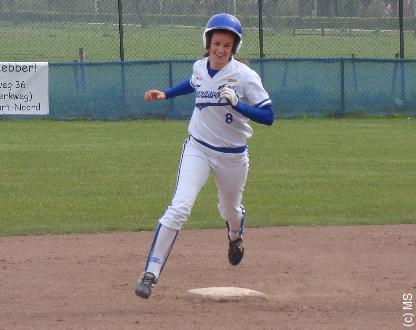 ...Solange Starrenburg rounds 2nd base after...
...hitting her first homerun in Game 1...
...Solange homered twice, had two triples,...
...six hits, 9 RBI's and scored 4 runs today...
(© Photo: Marco Stoovelaar)

In the third inning, Terrasvogels dominated offensively. Lotte Holvast led off with a single, then Solange Starrenburg followed with a homerun over the centerfield-fence. Next, Marije Schoenmaker tripled and scored when Anouk van den Heuvel followed with a double, resulting in an unique moment, as the first four batters in this inning 'hit-for-the-cycle' (single, double, triple, homerun). This not only never happened before, but it is also very unique to have a cycle in one inning.

After giving up the double, TTT-starter Martina Lackner was relieved by Amber Krijgsman, but she walked Marisèla de Wind and Floor Roest to load the bases. Hereafter, the lead increased when Ginger de Weert singled in a run, Eva de Bruin walked, Meike Witteveen singled, Lotte Holvast grounded out and Solange Starrenburg singled. This means the latter has two hits and three RBI's in this inning.

Winning pitcher Ginger de Weert only gave up a lead-off bunt-single to Merel Oosterveld in the first inning and an one-out single to Mieke Smit-van der Zwaan in the fourth.

In the second game, TTT took an 1-0 lead in the first inning off Mercedes Lovato when Merel Oosterveld led off with a walk and went on to score on a 2-out single by Mieke Smit-van der Zwaan. Terrasvogels answered with two runs. With one out, Lotte Holvast singled, then Solange Starrenburg again homered to make it 2-1 and become the first player to hit two homeruns on an Opening Day.

In the second inning, Terrasvogels rallied for five runs. Marisèla de Wind (bunt) and Floor Roest led off with singles and advanced on a wild pitch, then scored on an one-out single by Eva de Bruin. Hereafter, Swedish TTT-starter Minna Kulokorpi was relieved by Marit van Vulpen, who then hit Meike Witteveen with a pitch. Lotte Holvast then reached on a force play-grounder, followed by a 2-run triple by Solange Starrenburg, who then scored herself on a single by Marije Schoenmaker.

TTT got one run back in the third when Merel Oosterveld singled and scored on a double by Kirsten Holshof, but then Terrasvogels added two more runs in the fourth. Meike Witteveen led off with a walk and scored on the second triple by Solange Starrenburg, who then scored on a single by Anouk van den Heuvel to make it 9-2.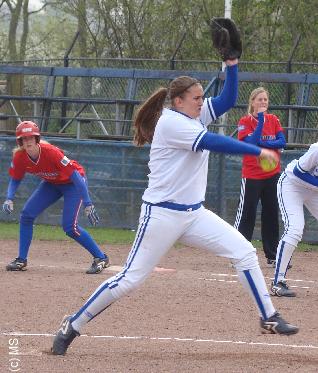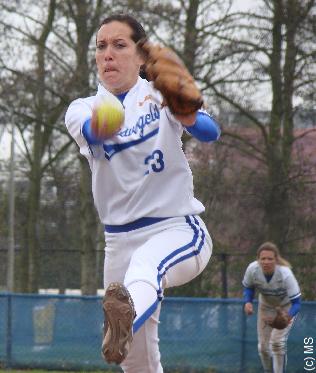 ...Winning pitchers Ginger de Weert (2-hitter) and Mercedes Lovato (4-hitter)...
(© Photos: Marco Stoovelaar)

In the fifth inning, Tex Town Tigers scored twice when the Terrasvogels-defense committed three errors and Karin Tuk connected for a 2-run single. But in the home of the fifth, Terrasvogels scored two more runs to obtain a 7-run difference and end the game thanks to the mercy-rule. With one out, Rebecca Duindam reached on an error, then Eva de Bruin singled. Meike Witteveen then followed with an RBI-single. Meike, who played for Tex Town Tigers since 2005, was 2-for-2 and reached base four times. After Lotte Holvast walked to load the bases, Solange Starrenburg singled to make it 11-4 and collect her sixth RBI in the game. Solange (who was 4-for-4) also reached base four times and only missed the double for hitting-for-the cycle. She also scored three runs in this game.

Overall, Starrenburg was 6-for-7 today, including two triples and two homeruns, collected nine RBI's and scored four runs.

The last time that Tex Town Tigers started the new season with two losses was in 2006 when it also was beaten twice in a double-header by Terrasvogels (4-0 and 5-1).

The last time that a player of Terrasvogels hit a homerun on Opening Day was in 2009 when Dana Horeman hit one against Twins. Last year, Noémie Boekel (Sparks Haarlem) was the lone player to hit a homerun on Opening Day.

The 24 basehits hit by Terrasvogels in the first two games of the season are no record, as Terrasvogels hit 29 on Opening Day 2009 vs. Twins. The second-highest total is 27, also registered by Terrasvogels on Opening Day 2005 vs. Birds.

Solange's four basehits in one game matches an Opening Day-result which was accomplished several times, most recently by Marije Bakker (Terrasvogels, 2005), Amber Dammers (Centrals, 2009), Annemiek van Riessen (Terrasvogels, 2009) and Kim Kluijskens (Sparks Haarlem, 2010). The three runs she scored were no record, as Marije Bakker (Terrasvogels) scored four runs on April 23, 2005 in Game 2 on Opening Day vs. Birds.

Solange's six RBI's in one game on Opening Day are a record, breaking the record set by Kate Robinson, who had five playing for Gryphons on April 11, 2009 in Game 2 vs. Robur '58. Solange's nine RBI's overall in two games are also an Opening Day-record.

Solange's three extra basehits in one game and four in a double-header are also the most on an Opening Day.

Line Scores, Box Scores & Play-by-Play
Standings & Schedule
---

Centrals vs. Twins
At De Bilt, Centrals opened the season with two victories vs. Twins. Before the start of the season, most predicted that Centrals would had a difficult start due to a young and inexperienced roster. But the team added two good American players in Marina Gusman Brown and Melissa Dowling, while it also added two Antillian players in catcher Zonairis Thielman and 1B Isonette Polonius.

Centrals today won 5-1 and 4-0, marking the first time that the team opened a new season with two victories since it also won twice on April 15, 2006 vs. DSC '74.

In the opener, lefthanded pitcher Eva Voortman struckout six and gave up only one basehit, which was a single by Fabienne van Uden that led off the game. In the remainder of the game, the lefthander walked four batters and retired 11 batters in a row between the third and sixth inning.

The opening hit by Van Uden resulted in a brief 1-0 lead for Twins, as she advanced on a sac-bunt by Michelle Haen and a passed ball, then scored on a wild pitch.

Centrals came alongside in the second inning when Melissa Dowling led off with a double, moved on a wild pitch and scored on a 2-out error. In the fourth inning, Centrals scored four unearned runs to take a 5-1 lead. Twins-starter Andee Lindgren walked lead-off hitter Isonette Polonius, then gave up a single to Melissa Dowling. After a flyout, the bases were loaded on a sac-bunt/fielder's choice by Stephanie Ruiter, then two runs were scored when an error was made on a force play-grounder by Eliza Rikkelman. The next two runs were then scored when another error followed on a grounder by Jasmin Carlson.

In Game 2, Centrals struck in the first and second inning. In the first, Centrals scored twice with two outs. Twins-starter Kimberly Petrovich walked Marina Gusman Brown, then gave up an RBI-single to Isonette Polonius with two outs, followed by an RBI-single by Melissa Dowling. In the second at bat, Stephanie Ruiter led off with a single and went on to score on an one-out single by Eliza Rikkelman, which was followed by an outfield-error. The latter then scored moments later on a triple by Marina Gusman Brown, who later in the game added another triple.

Twins registered only three basehits off American Melissa Dowling, who struckout seven batters.

With her one-hitter Eva Voortman joins Sonja Pannen (2010, DSS), Jessica Sallinger (Gryphons, 2008), Judith van Kampen (Sparks Haarlem, 2008) and Andee Lindgren (Twins, 2007), who did the same in recent years on Opening Day. The last time a pitcher opened the season with a No-Hitter was in 2007 when Judith van Kampen (then pitching for Terrasvogels) threw one against DSC '74. Two years earlier, in 2005, Van Kampen also opened with a No-Hitter when she threw for Terrasvogels vs. Birds.

Line Scores, Box Scores & Play-by-Play
Standings & Schedule
---

Olympia Haarlem vs. Alcmaria Victrix
At Haarlem, Olympia Haarlem and Alcmaria Victrix split their double-header on Opening Day. Both games had a remarkable ending.

In the opener, Femke van Dusschoten struckout 10 batters and gave up four hits, but also walked six in her debut for Alcmaria Victrix. With this game, the team from Alkmaar returned to the big league where it last played in the 1998 and 1999 seasons.

In the fourth inning, Olympia opened the score when Dinet Oosting walked, advanced on a passed ball, then scored when an error was made on a sacrifice bunt by Maranca Ham.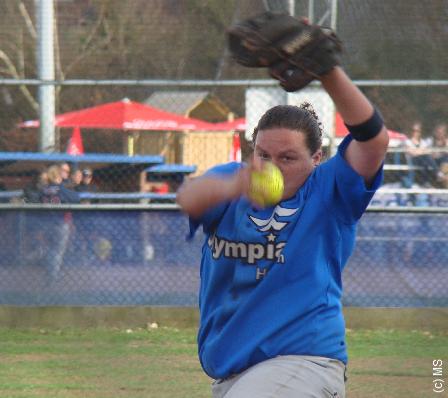 ...Olympia-pitcher Amanda Lindsey, one-hitter...
(© Photo: Marco Stoovelaar)

Olympia-starter Amanda Lindsey struckout nine and gave up only one basehit in her debut in the highest Dutch league. The righthander retired 14 of the first 15 batters she faced. In the sixth inning, Noëmie Brandjes (fielder's choice) was on second base with two outs, then scored the tying run when Kim Turnell hit the first (and lone) basehit for Alcmaria. The Australian catcher arrived a week earlier.

After Olympia left two runners in the seventh inning, the game went into extra inings. In the top of the eighth, Alcmaria appeared to score the go-ahead run. Tie-break runner Nadia Bron moved to third base on a sac-bunt by rookie Maxime van Dalen, then scored when Annemiek de Rover flied out. However, the runner was then called out after an appeal as she had left third base too early after tagging up on a flyout. In the home of the eighth, Olympia did score the winning run. With tie-break runner Laura Burggraaf on second base, Dinet Oosting was walked intentionally, then the two advanced on a sac-bunt by Amanda Lindsey. Another force play was then created by also walking Maranca Ham intentionally, but then Rosanne de Vries followed with a walk-off, RBI-single to give Olympia a 2-1 victory.

In Game 2, Olympia was two outs away from its second victory, but then the game turned into a loss. The home team took an 1-0 lead in the first inning when American Elena Leon led off with a single and went on to score on a single by fellow-American Amanda Lindsey. The team then left the bases loaded in the second and stranded two more runners in the third, but then scored three runs in the fourth to take a 4-0 lead. Marit Molenaar led off with a single, then scored on a triple by Elena Leon, who then scored herself when Laura Burggraaf followed with a sac-fly. Next, Dinet Oosting reached on an error and scored, after a pitching change, on a single by Maranca Ham.

Olympia-starter Amanda Lindsey gave up five hits in the first six innings, but Alcmaria reached third base only once (first inning). In the seventh inning, the Alkmaar-squad suddenly became productive and scored four runs to tie the score. First, Maxime van Dalen was able to reach third base on an error. After a walk, a force play-grounder by Lisette Untied followed, but that also led to a run. Next, Noëmie Brandjes (who was 3-for-4) singled, followed by a 2-run triple by Kim Turnell, who then scored the tying run when the Olympia-defense was unable to make an out on a sac-bunt by pinch-hitter Maiken Rooker. In the home of the seventh, Maranca Ham led off with a single, but she then was eliminated in a double play that ended the at bat and forced the game into extra innings again.

In the top of the eighth, Alcmaria's tie-break runner again was Nadia Bron, who this time did score. As in the seventh inning, the Olympia-defense was not able to make a putout in a sac-bunt situation and this time, it happened twice. First, Nadia advanced on a bunt by Maxime van Dalen, then she scored on a sac-bunt by Lisette Untied. With two outs and the bases loaded after an intenational walk for Kim Turnell, Alcmaria added a run when Kimberly Jones singled.

Now suddenly trailing 6-4, Olympia loaded the bases with no outs in its eighth, but failed to score. Tie-break runner Lisanne van den Berg was joined by Gwen Brinkman (walk) and Marit Molenaar (bunt-single, 3-for-4). Hereafter, Laura Treurniet, who had taken over the pitching in the fourth, was relieved by Femke van Dusschoten. Runs were then prevented when 2B Kimberly Jones caught a line drive by Elena Leon. A foul-out and flyout then followed to end the game, giving Alcmaria its first win of the season.

Line Scores, Box Scores & Play-by-Play
Standings & Schedule

(April 16)