Centrals and Terrasvogels split on Sunday
Nederlands

SANTPOORT (Neth.) - Centrals surprised on Sunday by winning the opener of their double-header vs. Iber Lengua Terrasvogels 5-2. Lefthander Eva Voortman had a good outing and struckout 12 batters, while giving up five hits. Leading 1-0, Centrals got a big boost when Marina Gusman Brown hit a 3-run homerun in the second at bat.

In Game 2, Centrals was leading 3-1 with two outs in the seventh inning when Terrasvogels rallied for three runs to win 4-3. In the at bat, Meike Witteveen singled with one out and advanced on an error, then scored on a 2-out single by Solange Starrenburg. Next, Marije Schoenmaker also singled, then Anouk van den Heuvel followed with a 2-run single to tie the score. A single by Marisèla de Wind then gave Terrasvogels the win.
---
In the opener, Centrals had a good start, while two defensive errors by Terrasvogels in the first inning gave the opponent their first run. Lead-off hitter Marina Gusman Brown reached on an error, then later scored the first run on the second error in the at bat.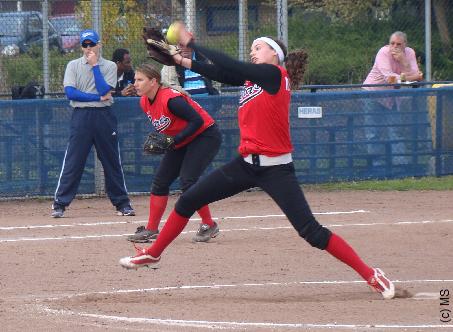 ...Eva Voortman: 12 strikeouts in opener...
(© Photo: Marco Stoovelaar)

In the second inning, Centrals took a 4-0 lead. With one out, Stephanie Ruiter singled. Next, she was eliminated at third base while having no chance to advance on a single by Zonairis Thielman. Hereafter, Jasmin Carlson walked and Marina Gusman Brown followed with a 3-run homerun (which might have been a grand slam when Ruiter would have stayed on second base).

In the fifth inning, Centrals added another run when Gusman Brown scored her third run, again on an error.

Centrals-pitcher Eva Voortman had a good outing. After walking a batter and striking out three in the first inning, she gave up a lead-off double to Anouk van den Heuvel in the second inning, then walked next batter Marisèla de Wind. But then, the first (after having stolen third base) was eliminated at the plate trying to score on a passed ball and two outs followed.

In the fifth inning, trailing 5-0, Terrasvogels got two runs back. First, Voortman struckout her tenth batter, but then gave up a single to Marije Schoenmaker and walked Anouk van den Heuvel. Next, Marisèla de Wind tripled to make it 5-2, but that was it for the home team.

The 12 strikeouts by Eva Voortman were the most in an Opening Weekend since Joyce Smit (Terrasvogels) struckout 13 on April 19, 1997.

In Game 2, the game remained scoreless for four innings. In that period, Centrals hit two singles, while another batter was walked by starter Mercedes Lovato. On the Terrasvogels-side, seven batters reached base in the first four innings off Melissa Dowling. After leaving two runners in the third, Terrasvogels stranded three in the fourth at bat. In the inning, Marije Schoenmaker and Anouk van den Heuvel led off with singles, then Mercedes Lovato walked with two outs, but a strikeout ended the at bat.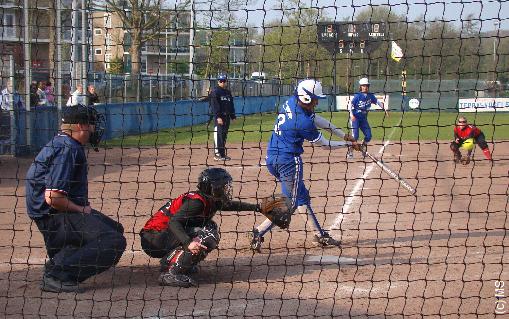 ...Marisèla de Wind singles in the winning run...
(© Photo: Marco Stoovelaar)

After Terrasvogels had left the bases loaded in the bottom of the fourth, Centrals struck with three runs in the top of the fifth. Stephanie Ruiter led off with a single and advanced on a sac-bunt by Eliza Rikkelman. After a strikeout accounted for the second out, Marina Gusman Brown was walked intentionally to set up a force play. But then the bases got loaded when Eva Voortman reached on a bunt-single. Next, Kimberly van der Lee followed with a 2-run single to give Centrals the lead. Moments later, Voortman scored the third run in a double steal-situation.

In the home of the fifth, Terrasvogels got one run back. With one out, Lotte Holvast singled and moved two bases on two passed balls, then scored on a grounder by Marije Schoenmaker.

In the home of the seventh, Centrals was one out away from a spectacular and surprising start, but then Terrasvogels turned the game around in its favor. With one out, Meike Witteveen singled and advanced on an outfield-error, then moved on a grounder and scored on a single by Solange Starrenburg. This was the first of four basehits in a row, as Marije Schoenmaker singled to put runners on first and second. Hereafter, Anouk van den Heuvel singled, enabling Starrenburg to score the tying run and bring Schoenmaker to third base. Next, Marisèla de Wind also singled, bringing in Schoenmaker with the winning run.

The second game was the first for Centrals being coached again by Head Coach Glyniss Kenepa, who had to sit out three games to complete a suspension he was given during last years Play-Offs. The first three games were coached by his assistant Willy van der Lee.

Line Scores, Box Scores & Play-by-Play
Standings & Schedule

(April 17)