Sparks Haarlem first team to clinch Play-Offs
Nederlands



HAARLEM / DE BILT / ALKMAAR (Neth.) - Oolders Omaco Sparks Haarlem on Saturday became the first team in the Dutch big league to clinch a spot in this years Play-Offs. By winning both games today at Alcmaria Victrix, the league-leader became unreachable for the bottom three teams of the league. While Sparks Haarlem secured a spot in the Play-Offs, the final ranking (and thus home advantage) will be decided during the 3-week additional round that follows the regular season with participation of the top-4 teams.

Also on Saturday, Olympia Haarlem, which is in fourth place, won twice vs. Twins to take more distance from this team, as well as Centrals. This last team was beaten 4-1 by Tex Town Tigers with the second game of the double-header being called due to hail. Iber Lengua Terrasvogels had no games scheduled today.

On Sunday, Olympia will play two make-up games at Alcmaria, while Sparks meets the Dutch Junior Team.
---

Olympia Haarlem vs. Twins
At Haarlem, Olympia Haarlem shutout Twins twice on Saturday, winning 3-0 and 1-0. Amanda Lindsey pitched both games for Olympia and struckout 30 batters in 16 innings. With this, she increased her league-leading strikeout-total to 129 (the second-best pitcher has 77) and now also leads the league with nine victories.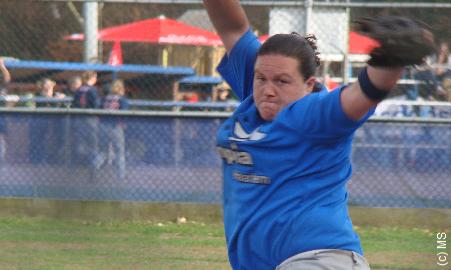 ...Amanda Lindsey - Most StrikeOuts, Most Wins...
(© Photo: Marco Stoovelaar)

In the opener, the game was scoreless for five innings, but then Olympia rallied for three runs in the sixth at bat. With one out, Amanda Lindsey walked and was replaced by pinch-runner Mandy Duk. Moments later, the game was interrupted briefly by rain, but when it resumed, Rosanne de Vries also walked. Next, the first run was scored when Lisanne van de Berg singled. With runners on second and third base, Gwen Brinkman delivered a 2-run triple that made it 3-0. Olympia then got an additional runner when Marit Molenaar also walked, but then a pop-up and groundout ended the at bat.

Initially, Twins started the game well when it got two runners in scoring position with only one out. Fabienne van Uden led off with a single, then advanced on sac-bunt by Kimberly Petrovich and a single by Andee Lindgren, who then reached second base on a fielder's choice. But hereafter, Olympia-pitcher Amanda Lindsey struckout the next two batters to end the inning and never ran into problems thereafter. After giving up a lead-off single to Sophie Bugter in the second inning, the righthander retired 18 of the next 19 batters she faced, including eleven with a strikeout. In total, Amanda struckout 13 batters in this game.

In Game 2, Amanda Lindsey also played a major role. In the ninth inning, she delivered an one-out, walk-off single to give Olympia an 1-0 victory. Besides that, she again went the distance as pitcher and this time struckout 17 batters, while giving up only one basehit. Her No-Hitter ended with two outs in the fifth inning when Kirsten Molle hit a double. That brought Lieke Duffhues, who had walked with one out, to third base, but both runners stranded, as a strikeout ended the inning. Only four batters of Twins reached base in this game.

Olympia was held to five hits by Andee Lindgren, who also went the distance. Olympia also came close to a run in the fifth inning. Amanda Lindsey led off with a single and moved to third on an one-out single by Lisanne van de Berg, but then two outs followed. In the sixth inning, Olympia left the bases loaded. With two outs, Dinet Oosting reached on an error, Maranca Ham singled and Amanda Lindsey was hit by a pitch, but then a strikeout ending this scoring opportunity.

But finally, in the ninth (and last) inning, Olympia decided the game. Tie-break runner Dinet Oosting first moved on a sac-bunt by Maranca Ham, then scored when Amanda Lindsey followed with her game-winning, walk-off single.

Line Scores, Box Scores & Play-by-Plays
Standings & Schedule
---

Centrals vs. Tex Town Tigers
At De Bilt, Tex Town Tigers won 4-1 vs. Centrals in the opening game of the double-header, which was halted in the top of the seventh inning by hail, then called after a delay. Hereafter, Game 2 was called off because of the weather conditions and was re-scheduled for Thursday, June 23.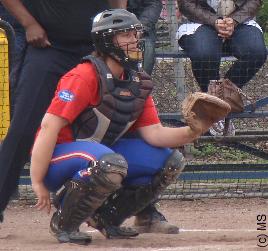 ...Karin Tuk - 3 hits, RBI-double...
(© Photo: Marco Stoovelaar)

Tex Town Tigers opened the score by scoring twice in the first inning off Samantha Skillingstad, who made her debut for Centrals and therefore also in the Dutch big league. Britt Vonk, who had returned home a few days earlier after completing the College World Series that ended her first season with the University of California at Berkeley, led off the game with a single. She then advanced to third base when an error was made on a sac-bunt by Merel Oosterveld. Next, the latter stole second base, which was followed by a throwing error from the catcher, leading to the first run. After Oosterveld was caught stealing at third, Nadine Marinus singled and stole second base, but then the game was interrupted by rain. When the game resumed, Jenna DeLong doubled and Karin Tuk followed with an RBI-double that made it 2-0.

Tex Town Tigers, which left two runners in the third inning, added a run in the fifth. Jenna DeLong then led off with a walk and advanced on a single by Karin Tuk. After a double-steal, Kirsten Holshof singled to bring in a run. In the sixth, Britt Vonk made it 4-0 when she led off with a triple and was able to score when an error followed on the throw back from the outfield.

In the top of the seventh inning, Tex Town Tigers added two more basehits with one out off Samantha Skillingstad (who gave up 12 in total), but then the game was interrupted this by hail, which also led to the decision by the umpire crew to stop the game.

Winning pitcher Jenna DeLong struckout 14 batters and gave up only two basehits. Both hits came in the sixth inning when Marina Gusman Brown led off with a double and Kimberly van der Lee hit an one-out single that led to the lone run for Centrals.

Line Score, Box Score & Play-by-Play
Standings & Schedule
---

Alcmaria Victrix vs. Oolders Omaco Sparks Haarlem
At Alkmaar, league-leader Oolders Omaco Sparks Haarlem won 7-0 and 11-2 vs. Alcmaria Victrix. With the last win, the Haarlem-team secured a spot in this years Play-Offs.

In the opening game, Sparks Haarlem scored its first run in the first at bat when, with two outs, Areke Spel doubled and scored on a following single by Debby Connor. Sparks then added a run in the third when Chantal Versluis hit an one-out homerun, but hereafter, the team also left three runners behind. After the homerun, Virginie Anneveld reached on an error, Areke Spel singled and Debby Connor walked, but then two outs followed.

The team then rallied for five runs in the fifth inning to take a 7-0 lead, enough to finish the game early through the mercy-rule. In the fifth, Chantal Versluis led off with a walk and Virginie Anneveld singled, then both scored when Areke Spel followed with a triple. After Debby Connor walked, a run was scored on a bunt-single by Julie Owen. This led to a pitching change with Annemiek de Rover taking over for Femke van Dusschoten, but the new hurler was greeted with an RBI-double by Nathalie Timmermans, then walked Michelle van Driel, followed by an RBI-single by Shannah van der Kaaij that made it 7-0 and loaded the bases. Hereafter, a force out at home followed, then an infield-fly and flyout ended the inning.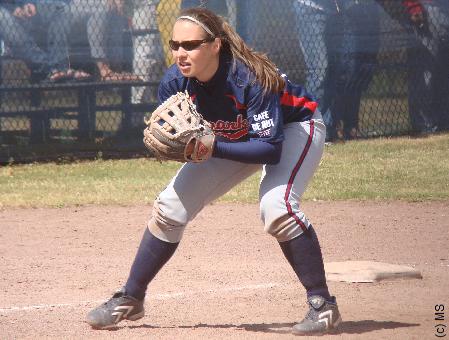 ...Virginie Anneveld - Leads league with 26 Runs...
(© Photo: Marco Stoovelaar)

Alcmaria Victrix produced only three basehits off Dagmar Bloeming. The first of this was a lead-off single by Kimberly Jones in the first inning. The other two basehits also were registered by players from the Dutch Junior Team, an one-out single by NoŽmie Brandjes in the third and and one-out single by Jessie van Aalst in the fourth at bat. Kirsten Scheele threw the fifth inning for Sparks Haarlem.

In Game 2, Sparks Haarlem scored twice in the first at bat off starter Malou van Dusschoten. With one out, the bases got loaded when Virginie Anneveld walked, Areke Spel singled and Debby Connor also walked. When Julie Owen fouled out, the first runner was able to score, then the next run followed when an error was made on a grounder by Nathalie Timmermans.

Three runs were added in the third inning. First, Julie Owen was hit by a pitch, then scored when Nathalie Timmermans followed with a homerun. Hereafter, Michelle van Driel walked and Shannah van der Kaaij singled, putting runners on second and third base. Next, Silea Bos flied out, but this also resulted in a double play, as Van Driel also was eliminated. Moments later, Van der Kaaij scored on a single by Chantal Versluis. Sparks then loaded the bases when Virginie Annveld walked (after a steal) and Areke Spel also walked (after a double-steal), but then a grounder ended the at bat.

In the fourth, Sparks made it 6-0 off new pitcher Jessie van Aalst when Julie Owen scored on a force play-grounder by Shannah van der Kaaij.

Alcmaria then scored a run in its fourth when NoŽmie Brandjes scored on an error, but Sparks Haarlem got the run back in the next at bat on a single by Virginie Anneveld.

Alcmaria made it 7-2 in the home of the fifth on an RBI-single by Kym Turnell, but that would be their last run.

In the seventh, Sparks added four more runs off Annemiek de Rover to lift the lead to 11-2. Shannah van der Kaaij and Silea Bos then both reached on an error and this was followed by an RBI-double by Chantal Versluis and a 2-run triple by Virginie Anneveld. The latter then scored the last run of the game on a sac-fly by Nathalie Timmermans. As this was her 26th run of the season, Virginie moved into first place in the league.

Line Scores, Box Scores & Play-by-Plays
Standings & Schedule

(June 18)