Sparks Haarlem extends winning streak
Nederlands


HAARLEM / ALKMAAR (Neth.) - Oolders Omaco Sparks Haarlem on Sunday extended its winning streak to nine games by winning twice vs. the Dutch Junior Team, but needed an extra inning to win the opener. Alcmaria Victrix was successful in a make-up double-header vs. Olympia Haarlem and won twice.
---

Dutch Juniors vs. Oolders Omaco Sparks Haarlem
At Haarlem, Oolders Omaco Sparks Haarlem won 3-0 and 8-0 vs. the Dutch Junior Team and now has won nine games in a row. In the opener, the Haarlem-team decided the game in the eighth, while it needed only five to complete the second match-up.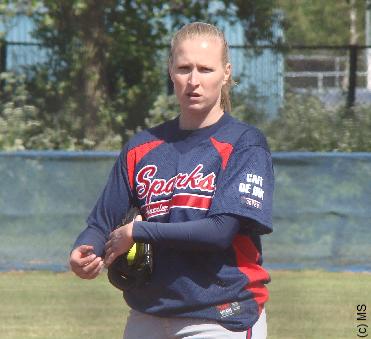 ...Dagmar Bloeming...
...One-Hitter...
(© Photo: Marco Stoovelaar)

In Game 1, Sparks Haarlem reached third base three times in the regular seven innings and collected seven basehits, but was unable to score. The three players that reached third were the three best hitters of Sparks Haarlem, Julie Owen, Virginie Anneveld and Areke Spel. In the second inning, Owen (who is the league's leading hitter with a .477 average) singled with one out and stole second base, then advanced on an error. In the fourth, Anneveld (who follows Owen with a .474 average) led off with a single and moved to third on a sac-bunt and a flyout. In the sixth, Spel singled with one out and reached third on a grounder and a wild pitch, but also stranded.

The Dutch Juniors could have stricken in the first inning, as it got three baserunners. Lead-off hitter Lotte Zijlstra reached on an error, but then was eliminated in a double play when next batter Cindy van der Zanden fouled out. Next, Lueji Petchkovsky Morais struckout, but reached on a passed ball. However, moments later, she was thrown out at second base after first having advanced on a bunt-single by MariŽlle Vleugels.

In the third inning, the Juniors got their first two batters on base off Kirsten Scheele when Floor van Dijk and Lynn Dollekamp both singled, but then a force out and two strikeouts followed.

Sparks Haarlem then decided the game by scoring three runs in the eighth inning off Eva Voortman. Tie-break runner Beau van Gelder advanced on a sac-bunt by Chantal Versluis, then scored on a sac-fly by Virginie Anneveld. Next, Areke Spel, Debby Connor and Julie Owen all singled to bring in another run. Hereafter, Nathalie Timmermans walked, then a wild pitch led to the third run.

In Game 2, Sparks Haarlem opened the score in the first inning when Chantal Versluis led off with a walk, stole second and third base, then scored on a single by Virginie Anneveld. The second run was added in the second inning when Shannah van der Kaaij led off with a triple and scored on a sac-fly by Beau van Gelder.

Sparks then broke open the game with a 6-run rally in the fourth inning off three pitchers. Four of the runs were unearned after a flyball in centerfield was missed with two outs. In the inning, Areke Spel delivered a 2-run single.

The Juniors were held to only one basehit by Dagmar Bloeming. After retiring the first nine batters she faced in order, Bloeming gave up a lead-off single to Lisa Waasdorp in the fourth inning, but then retired the next five batters again.

Line Scores, Box Scores & Play-by-Plays
Standings & Schedule
---

Alcmaria Victrix vs. Olympia Haarlem
At Alkmaar, Alcmaria Victrix won twice vs. Olympia Haarlem, 2-1 and 6-4, to strenghthen their third position in the league's ranking. The games were initially scheduled for May 28, but then were called off due to rain with Game 1 being stopped in the bottom of the first inning.

After two scoreless innings, in which Alcmaria left two runners in the first inning, the home team scored twice in the third at bat off Amanda Lindsey. Maaike Blaauwgeers led off with a bunt-single, then speedster Kimberly Jones followed with an inside-the-park-homerun to make it 2-0. For Alcmaria, these were to be their lone runs, but it was enough.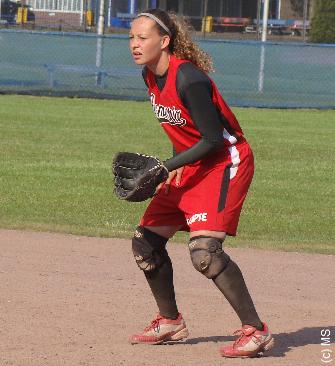 ...Kimberly Jones...
...inside-the-park-homerun...
(© Photo: Marco Stoovelaar)

Alcmaria-pitcher Femke van Dusschoten saw Olympia reach base in six of the seven innings, but gave up only one run. After Olympia left a runner in each of the first three innings and trailed 2-0, it scored a run in the top of the fourth inning. Dinet Oosting led off with a single, moved on a sac-bunt by Maranca Ham and reached third when Amanda Lindsey singled. They then got the bases loaded when Rosanne de Vries walked. The run was then scored on a sac-fly by Lisanne van de Berg, but the other two runners stranded when a strikeout ended the at bat.

In the sixth inning, Olympia left a runner on third base and in the seventh a runner on second base. With the tying run on second base in the seventh, Femke van Dusschoten ended the game by striking out Elena Leon, which was her 13th strikeout of the game.

In Game 2, Olympia took a 2-0 lead by scoring runs in the first and third at bat, but failed to hold onto the lead. In the first, Dinet Oosting singled after a double play and went on to score on a passed ball, but two runners were left behind. In the third, Olympia got the bases loaded with one out. Elena Leon led off with a single, then Dinet Oosting singled with one out and Maranca Ham walked after a pitching change. The lead runner then scored on a wild pitch, but the other two stranded, as pitcher Jessie van Aalst struckout the next two batters.

Alcmaria Victrix then turned the game around in the home of the third inning off Amanda Lindsey, who threw her fourth complete game of the weekend tom increase her league-leading total to 14. The team got the bases loaded quickly. Maaike Blaauwgeers and Kimberly Jones began with singles, then everyone was safe on a fielder's choice grounder by Anne Blaauwgeers. With one out, Kym Turnell delivered a 2-run single that tied the score, then a grounder by Jessie van Aalst made it 3-2 in favor of the home team.

Alcmaria added a run in the fifth when Anne Blaauwgeers led off with a single and scored on a sac-fly by Kym Turnell. Olympia got one run back in the sixth. Amanda Lindsey led off with a single, then her pinch-runner Annemiek van Rooijen advanced to third on an error and scored on a single by Rosanne de Vries.

In the home of the sixth, Alcmaria took more distance by scoring twice. NoŽmie Brandjes then led off with a walk and scored with one out when an error was made on a hit by Maaike Blaauwgeers. The latter then scored the next run on a sac-fly by Kimberly Jones.

Olympia was able to add only one more run in the seventh at bat when Elena Leon led off with a walk and scored on an one-out double by Dinet Oosting, but it again left two runners behind.

Line Score, Box Score & Play-by-Play
Standings & Schedule

(June 19)