Canadian pitcher for UVV
Nederlands

UTRECHT (Neth.) - Canadian Leah McIntosh will pitch for UVV through June of this season, the club confirmed on Wednesday. Another foreign pitcher will then take over for the remainder of the season.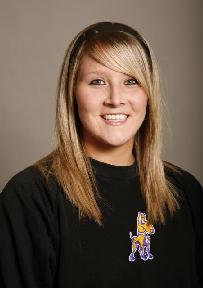 ...Leah McIntosh...
(© Photo: UAlbany)

In 2007 and 2008, Leah McIntosh was a member of the Canadian National Junior Team and participated with that squad in the World Junior Championship of 2007 in Enschede (The Netherlands). ,,So Leah knows Holland, especially the rain in that period'', said Berend Mannessen, who will be the Head Coach of UVV for the first time this season. The last two years, Mannessen led Haarlem-based DSS with whom he promoted to the Dutch big league in 2009. Last season, DSS relegated again and this year will be an opponent of UVV in the so-called Overgangsklasse.

In 2009, Leah McIntosh was selected for the National Team of Canada and participated in the Canada Cup. During that event, she threw two innings in relief in the first game against the Netherlands Softball Team in an 8-1 win for the Canadian squad.
While pitching for the Great Danes, the softball-team of the University of Albany in the USA, she was named to several All Star-teams. In 2008 and 2009, she was second in the league in strikeouts, 217 and 246 respectively. In these two years, she walked only 67 batters in 317 1/3 inning. Also in 2008, she set a Division I record by striking out 18 batters in one game. In the 2009 season, Leah threw four Perfect Games. During her career at Albany, she ranked in the top-10 all-time in career wins, innings pitched and complete games and became the leader in strikeouts and No-Hitters.
(March 23)