Dutch quartet opens Italian season
Nederlands



MONTEGRANARO / BOLLATE / NUORO (Italy) - Nathalie Gosewehr, Linda Hoenderdos, Saskia Kosterink and Lindsey Meadows, the four Dutch players who this season play in Italy opened the season of the Italian Softball League on Saturday. Gosewehr and Hoenderdos are playing for Italian champion DES Caserta, Kosterink is playing in her second season for Sanotint Bollate and Meadows throws for Museo d'Arte Nuoro.

At Montegranaro, Caserta opened the season with two victories at Unione Fermana. In the opening game of the double-header at Stadio Comunale, the team of Head Coach Enrico Obletter registered a 5-0 shutout on eight basehits. Winning pitcher Angelica Selden struckout eleven and gave up only one basehit. Nathalie Gosewehr, who last season played for Dutch champion Sparks Haarlem after having played for Iber Lengua Terrasvogels in the previous seasons, was the lead-off hitter for Caserta and played in centerfield. Linda Hoenderdos, who initially retired last season after having played seven seasons for Terrasvogels, was batting second and played in rightfield. Playing for Unione Fermana was Morgan Parkerson, who was the lead-off hitter and rightfielder. Last season, Parkerson played for Gryphons in the Dutch 'Overgangsklasse'.

In the first inning, Nathalie Gosewehr walked and advanced on a wild pitch. After Linda Hoenderdos flied out, Nathalie scored the first run for Caserta in the 2011 season when Bianca Novelli singled. Later in the inning, Barbara Galassi singled in two more runs to give the champion a quick 3-0 lead.

In the second inning, Nathalie was hit by a pitch and later scored on an error. Two innings later, Nathalie singled, but then was eliminated in a double play that followed a bunt by Linda.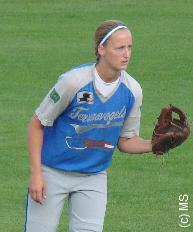 ...Linda Hoenderdos...
(© Photo: Marco Stoovelaar)

In the second game, Nathalie doubled in the third inning and was 1-for-4, while Linda scored a run, but was 0-for-4. Caserta took an 1-0 lead in the second inning, but then the score got tied when Roya St. Clair homered. Caserta scored twice in the fifth to re-take the lead and went on to win 3-1.

Nathalie and Linda played two long games in their Italian debut, as the opener lasted two hours and 10 minutes, then the next game lasted two hours and 15 minutes. After completion of the double-header (which ended at 10:45 PM), the team traveled back home by bus, which was a 6-hour trip.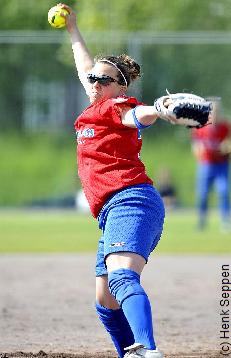 ...Lindsey Meadows...
(© Photo: Henk Seppen)

At Nuoro, on the island of Sardinia, the home team was shutout 10-0 in the opener vs. AMGA Legnano. Nuoro trailed only 1-0 after five innings, but then Legnano scored four runs in the sixth and five in the seventh. Lindsey Meadows played at third base in this game, batted third and was 0-for-3, including a strikeout.

In Game 2, Lindsey was the winning pitcher and struckout 10 batters in seven innings, while giving up only four basehits. She also was used offensively again, but went 0-for-3. Nuoro took a 2-0 lead by scoring runs in the second and third inning, both scored thanks to a double by Alice Parisi. In the sixth inning, Legnano tied the score by scoring two unearned runs. Nuoro re-took the lead in the sixth inning when Federica Zicconi singled with one out and scored on a double by Paolo Cavallo, resulting in a 3-2 win.

At Bollate, Sanotint Bollate was beaten 7-0 in the opener by Rhibo La Loggia, which lasted five innings. Saskia Kosterink was the lead-off hitter and centerfielder for Bollate but struckout twice. Bollate was unable to register a basehit off pitchers Stella Turazzo (4 1/3 inning) and Elisa Brandino (2/3 inning). Playing for La Loggia this season are Christina Rolla and Aimee Murch, who played for Iber Lengua Terrasvogels the last two seasons. In the opener, Rolla, who played at third base, was 2-for-2 (double, triple), scored twice and and walked once. Murch entered the game as rightfielder, but didn't come to bat.

In Game 2, Bollate won 2-1. Saskia Kosterink again was the lead-off hitter, this time was the short stop and went 2-for-3. La Loggia took an 1-0 lead in the third inning on an error, but Bollate came alongside in the sixth off Aimee Murch on back-to-back triples by Lara Buila and Elana Spada. In the seventh inning, off new pitcher Eli Brandino, Bollate won the game. With one out, Saskia tripled and scored the winning run on a sacrifice fly by Valeria Bortolomai. Christina Rolla again had two hits for La Loggia.

Also on Saturday, Foresi Mosca Macerata won twice vs. Caronno Rheavendors, 4-0 and 10-2, while Titano Hornets defeated Fiorini Forlė 5-3 and 1-0.

(March 28)