Head Coach Tex Town Tigers steps down
Nederlands

ENSCHEDE (Neth.) - Meagan Hartung, the American Head Coach of Tex Town Tigers, has stepped effective immediatley, the club announced on Friday. Currently, the team has lost all six games it played so far since the start of the new season, including some big score defeats.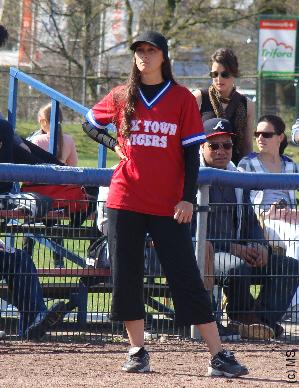 ...Meagan Hartung...
(© Photo: Marco Stoovelaar)

The reason for her stepping down is that she has found another job outside of the Netherlands and cannot combine this with coaching the team. In a press release, she states that she would have loved to remain with the team and make it a nice season, but that she simply had to take this decision. Meagan Hartung joined Tex Town Tigers in March, which then completed a long search by the club for a new coach for this season.

Stanley Kock, who handled the practice sessions in the off-season, will act as interim-coach on Saturday when Tex Town Tigers is playing at home against Twins. Kock will be assisted by Rob Hassink.

Kock is a coach with a lot of experience within Tex Town Tigers. At the moment, he coaches the softball cadets team of the club, that states that currently he is the right person to temporarily take over the coaching. As Kock wants to remain with the youth team, the technical committee of Tex Town Tigers has started a new search for another new coach.

Tex Town Tigers opened the season with 10-0 and 11-4 losses at Iber Lengua Terrasvogels, then was beaten last Saturday 13-5 and 8-3 at home by Centrals and lost on Monday to Dutch champion Oolders Omaco Sparks Haarlem, 10-0 and 7-0.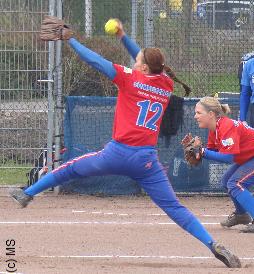 ...Minna Kulokorpi...
(© Photo: Marco Stoovelaar)

After completion of last season, several players left Tex Town Tigers for various reasons, including some moving to the west of the country because of ther study. Tex Town Tigers, which won the Dutch title in 2008 and 2009, also saw pitcher Lindsey Meadows leave to play in Italy and has to do until the end of May without short stop Britt Vonk, who is studying and playing at the University of California at Berkeley. Last years American Head Coach Karly McCormack already had announced after the season that she wouldn't return, while Assistant Coach Ingrid Oosterveld retired. This started a long search for a new coach and in March, Meagan Hartung was named the new Head Coach.

Recently, the team suffered another blow. Swedish pitcher Minna Kulokorpi, who started the second game of the season vs. Terrasvogels, will be out for a long time and maybe even for the season, as she tore a knee ligament during a game of the second team of Tex Town Tigers last week. German pitcher Robin Adam, who was added to the team before the start of the season, also sustained an injury during the exhibition season and has returned home without playing for the team.

(April 29)