New coach, players for Tex Town Tigers
Nederlands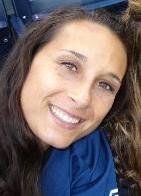 ...Meagan Hartung...

ENSCHEDE (Neth.) - Meagan Hartung is the new Head Coach of Tex Town Tigers, which also added American pitcher Jenna DeLong and German international Robin Adam to its roster. Friday-evening (April 1), the team will open its exhibition season with the opening game of its annual J.C.J. Mastenbroek Tournament on their home site in Enschede, meating SK Joudrs Praha from the Czech Republic. Also participating in the event are Dutch champion Sparks Haarlem, Iber Lengua Terrasvogels, Olympia Haarlem, Gryphons, Mannheim Tornados and Wesseling Vermins (the last two are both Germany).

After completion of last season, the team from Enschede lost several key-players. Leaving Tex Town Tigers were National Team-players 3B Virginie Anneveld (Sparks Haarlem), RHP Lindsey Meadows (Nuoro, Italy), RHP Ginger de Weert and IF Meike Witteveen (both Iber Lengua Terrasvogels), as well as youth-international IF Dinet Oosting (Olympia Haarlem), who was added to the National Team-roster in October. Besides that, the team has to do without IF Britt Vonk, who is studying and playing at the University of California at Berkeley (USA) and IF Petra van Heijst, who is temporarily sidelined with an illness.
While the team has several National Team-players as well as National Junior Team-players left over on its roster, they will field a much younger and inexperienced squad this year. The team will be headed by 26-year old Meagan Hartung, who succeeds Karly McCormack, who led Tex Town Tigers last season to the Holland Series, which it lost to Sparks Haarlem. Last year, TTT also captured the European Cup, which it will defend later this year in Italy.

...Jenna DeLong...
(© Photo: Drake Un.)

Meagan Hartung coached in New Zealand the last two seasons, but played herself as outfielder and infielder for the Aztecs, the softballteam of San Diego State University in 2003-2006. In 2004, she led the team in On-Base Percentage, Slugging Average, Runs (37), Hits (64), Doubles, Triples, Total Bases and Walks.

Righthanded Pitcher Jenna DeLong will join the team late May after completion of her study and season at Drake University. Currently, the 22-year old pitcher is 10-4 with a 2.10 ERA and has struckout 104 in 96 2/3 inning, while having a team second best batting average of .337 with seven homeruns. In 2006-2007, she led Coeur d'Alene High School to back-to-back state titles and in 2008, she played in her first season for the Drake Bulldogs. In 2009, Jenna set a school-record by striking out 244 batters, won 19 games and was named Pitcher of the Week and made the All-MVC Team. Last season, she was 17-11 and again was selected for the All Star Team.

(March 31)