Unique moment in Minor League as team forfeits game
Nederlands
EVERETT (USA) - An unique moment occured on Saturday-evening in Minor League Baseball, as a team forfeited its game, by walking off the field.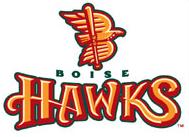 The situation happened in the Northwest League (short season single-A) when the Boise Hawks (Chicago Cubs) were playing at the Everett AquaSox (Seattle Mariners). In the bottom of the first inning, Boise's Manager Jody Davis pulled his team off the field and refused to bring it back after a delay. The former catcher of the Chicago Cubs (1981-1988) and Atlanta Braves (1988-1990) stated that the playing conditions at Everett Memorial Stadium were unsafe.
The start of the game was delayed by rain for 80 minutes and when it started, Everett took a 2-0 lead in the home of the first inning. After Terry Serrano had led off with a double, Kevin Rivers hit a 2-out RBI-single, then scored on a double by Hawkins Gebbers. While trying to field the ball, Boise-leftfielder Ryan Cuneo slipped with the ball rolling towards the fence enabling Rivers to score all the way from first base. Hereafter, Jody Davis talked with home plate umpire Matt Mullins for several minutes and then took his team off the field.
A delay of almost 30 minutes followed and included discussions between the two umpires, as well as the President of the Northwest League Bob Richmond. When it was decided to resume the game, Gebbers returned to second base as runner and Evan Sharpley stepped up to the plate to be the next hitter for Everett, but the Boise Hawks remained in the dug-out. The two umpires then waited for five minutes (which is the mandatory grace period stated by the MLB Rule Book), before signaling that Boise had forfeited the game.
League president Bob Richmond stated: ,,I have never hear of it. I've been in this business a long time and I've never seen a forfeit. It's a new one for me.''
No statistics from this game will count. Instead of the game, the 2798 spectators were treated to a fireworks and were told they can exchange their ticket for a future home game of the the AquaSox this season.
(August 7)