(Story by Marco Stoovelaar)

Professional outfielder Jiandido Tromp to play for Neptunus in 2022
Nederlands



ROTTERDAM (Neth.) - Outfielder Jiandido Tromp will play for Curaçao Neptunus in the 2022 season, the club announced on Tuesday (November 2). This season, Tromp played for San Marino in the Italian Baseball League, but he also played in seven Minor League-seasons, as well as in several professional Winter Leagues. On Tuesday, Neptunus announced ''that an agreement has been reached with international Jiandido Tromp to play as an outfielder in Rotterdam''.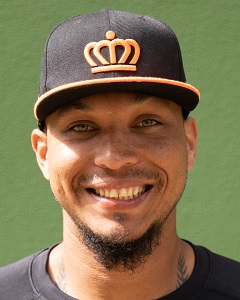 ...Jiandido Tromp...

This year, the Aruban-born Tromp, who turned 28 in September, mostly was the lead-off hitter in the team of San Marino, with whom he won the title in the Italian League. In the Italian Baseball Series, Tromp batted .313 (5-for-16) with one homerun. Overall this season, Tromp was the second best hitter in the team of San Marino with a .415 batting average, trailing only Oscar Angulo, who batted .424. Tromp led the team in runs scored (34), basehits (39), triples (3), homeruns (one of four players with five) and slugging average (.734). He batted in 26 runs (third highest total).

Also this year, Tromp made his debut in the Netherlands National Baseball Team. With the Orange-squad, Tromp first participated in the WBSC Baseball Final Qualifier in Mexico, which was the last opportunity to qualify for the Olympic Games. However, the team lost all three games played and was eliminated. In three games, Tromp batted .250 (3-for-12), scored once, but had no RBI.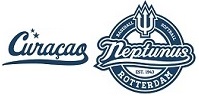 Two months later, Tromp also was a player of the Netherlands Team that captured the European title for the 24th time during the European Championship in Italy. During this event, Tromp played in five of the six games, the Orange Team played. In these five games, the outfielder batted .333 (6-for-18), scored eight runs and batted in one.
The righthanded hitting Jiandido Tromp signed a professional contract with Philadelphia Phillies in August 2011, a month before he turned 18. He then made his professional debut in 2012 when he played in both Rookie League and Single-A in the Philadelphia-organization. In the next four seasons (2013-2016), the outfielder played the entire season at the Single-A level.
Tromp then promoted to Double-A in 2017 and played in 122 games for Reading Phillies, hitting .285 with 18 homeruns and 62 runs batted in. In the 2017 season, he also played in three Triple-A games. In 2018, Tromp again mostly played in Double-A, this time hitting .225 for Reading with four homeruns and 23 RBI's in 89 games. During the 2018 season, he appeared in six games in the Triple-A team of Philadelphia.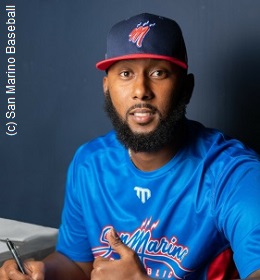 ...Dudley Leonora signed with...
...San Marino in October...

In seven Minor League-seasons, Tromp played in 641 games and batted .248 with 69 homeruns and 269 runs batted in. He scored 300 runs and stole 67 bases.

After the 2018 season, Tromp was without a contract and thus a Free Agent, but didn't return to the Minor League. Instead, he played in an Independent League in the 2019 season, hititng .264 with seven homeruns and 53 RBI's for Ottawa Champions in the Canadian American Association.

Tromp also played in the 2017-2018 Winter Leagues in both Venezuela (11 games) and Puerto Rico (16 games). In the Winter League 2019-2020, he played in nine games in Venezuela. This coming winter, Tromp will play in the professionall league in Nicaragua. There, he will play for Leones de Léon, where he will be a teammate of Roger Bernadina, who this year played in his first season for Neptunus in the Dutch big league.

Coincidentally, a player of Neptunus will play for San Marino next season, which was confirmed last month. On October 19, San Marino announced that first baseman/infielder Dudley Leonora will play for the team next year. This season, Leonora was the second best hitter of Neptunus with a .342 batting average. He scored 23 runs and batted in 36 in his fourth season with the Rotterdam-team. Before joining Neptunis in 2018, Leonora played in the Dutch league for Kinheim (2015-2016) and Hoofddorp Pioniers (2017).

(November 2)