(Story by Marco Stoovelaar)

Neptunus also wins second exhibition game against Twins Oosterhout
Nederlands



OOSTERHOUT (Neth.) - Curaçao Neptunus recorded an 8-4 victory on Sunday (April 18) to also win its second exhibition game against Twins Oosterhout. On Saturday, the Rotterdam-squad won 7-3.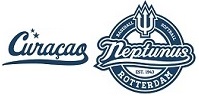 From coming Thursday-evening on, Neptunus will participate in the annual In Memoriam Charles Urbanus Sr. Tournament. The event has a different set-up this year, as it is currently not allowed to organize tournaments due to the measures against the coronavirus (COVID-19). In a normal scenario, all six games of the tournament would have been played at the site of HCAW in Bussum. Now, the participating teams will also play a game on their own home-site. HCAW is the lone team that will play all three games at home. Neptunus meets L&D Amsterdam Pirates on Thursday-evening in an away-game, then travels to Bussum on Saturday to face HCAW. On Sunday, Neptunus plays at home against Hoofddorp Pioniers.
Twins will play two games against DSS/Kinheim coming weekend, Saturday in Haarlem and Sunday at home.
In today's game, Neptunus Head Coach Ronald Jaarsma inserted three pitchers, who all threw three innings. Kaj Timmermans started and was succeeded by Kevin Bakker. Veteran righthander Elton Koeiman closed the game and earned a save.
Neptunus got ten at bats in today's game, Twins batted nine times. Stefan Iannelli started for Twins Oosterhout and threw the first three innings, as did his successor Pastor Enrique Martínez Chavez. Rookie Jeffrey Livingston then threw the next two innings for the team of Head Coach Jeffrey Arends. German pitcher Simon Gross threw the ninth and tenth inning for the team from Oosterhout. Gross made his debut in the team of Twins towards the end of last season.
Rayshelon Carolina, who was the lead-off hitter for Twins, had a productive afternoon with two doubles and a single.
Initially, Neptunus took a 2-0 lead, but Twins came alongside, then took a 4-2 lead off of Timmermans. All four runs were unearned due to some errors in the Neptunus-defense. Neptunus recovered, rallied for three runs in one inning to re-take the lead and turned the game around. From there, Neptunus hold onto the lead.
Olav Steijger and rookie Ric Zwanenberg were the umpires in today's game. This season, Steijger will return in the highest league as umpire after a two-year absence.
(April 18)