(Story by Marco Stoovelaar; Photo by Henk Seppen)

DSS/Kinheim and Twins Oosterhout play scoreless 9-inning game
Nederlands



HAARLEM (Neth.) - DSS/Kinheim and Twins Oosterhout faced each other in an exhibition game on Saturday (April 24) under some nice weather conditions. The teams played a 9-inning game which ended with a rare 0-0 score.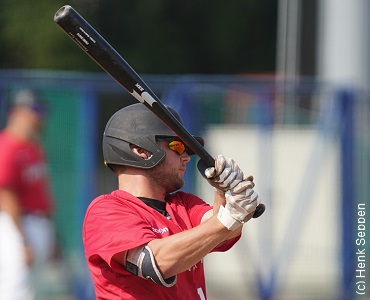 ...Jochem Koedijk...
...reached base 3x for DSS/Kinheim...
(© Photo: Henk Seppen)

DSS/Kinheim and Twins Oosterhout will meet each other again on Sunday in Oosterhout.

Twins Oosterhout got eight baserunners off of three pitchers in today's game. Only three of them reached second base.

DSS/Kinheim reached base ten times off of five pitchers and left four baserunners behind in scoring position. The Haarlem-team came closest to scoring a run when it had the bases loaded in the sixth inning.

Twins Oosterhout came into scoring position first in the top of the first inning off of starter Glenn Wassink. With one out, Tyriq Kemp reached on an error, advanced on a grounder by Diamond Silberie, but stranded on second base.

In the second inning, newcomer Luuk Visser singled, but was eliminated in a double play. In the third, Railison Bentura singled for Twins with two outs, but was forced out.

The Oosterhout-team got its second runner in scoring position in the fourth and again, it was Tyriq Kemp. This time, he singled with one out and stole second base, but was left behind for the second time on second base.

Moreno Vork threw the fifth inning for DSS/Kinheim. He got the third and final runner of Twins in scoring position. With one out, Luuk Visser reached on a bunt-single and stole second base, but that was to be it.

In the final four innings, Tom Stuifbergen pitched for the home-team. The righthander encountered no problems and got only two baserunners, facing 13 hitters. Stuifbergen gave up a lead-off single to Jerzy van Gool in the sixth, but was then supported with a double play. After Twins was retired the side in the seventh, lead-off hitter Jason Halman reached on an error in the eighth. Three flyouts followed and Stuifbergen then retired the side in the ninth, closing with two strikeouts.
Simon Gross started for Twins Oosterhout. The German righthander had a fine outing, as he retired all nine batters he faced, striking out five of them. Koen Postelmans took over in the fourth and gave up the first basehit of DSS/Kinheim. With one out, Jochem Koedijk singled for the Haarlem-team and moved on a sacrifice bunt by Jason Jakobus, but was left behind.
DSS/Kinheim got two baserunners in the fifth when Seb Visser (with one out) and Mick van Vliet (with two outs) both singled, but Postelmans then closed with a strikeout.

DSS/Kinheim then got the biggest scoring opportunity in the game in the sixth inning off of new pitcher Tyson Quolas, getting the bases loaded without hitting a basehit. With one out, the lefthanded American hit Jochem Koedijk with a pitch, then Jason Jakobus reached on an error. Quolas followed with a strikeout, but then got the bases loaded when Milan Lammerts walked. All three were left behind, as a flyout ended the at bat.
In the bottom of the seventh, Nick Hofer singled with two outs for DSS/Kinheim, but was forced out. The team then got its final two baserunners in the eighth off of new pitcher Raf Cocu. He walked lead-off hitter Jochem Koedijk, but he was forced out on a grounder by Jason Jakobus. Cocu followed with a strikeout and a flyout left the final runner behind in scoring position. In the ninth, DSS/Kinheim was retired in order by Cocu.
(April 24)