(Story by Marco Stoovelaar; Photos by Robert Bos)

Storks comes from behind to win against Quick Amersfoort
Nederlands



THE HAGUE (Neth.) - In the first of their two exhibition games, Silicon Storks came from behind to win 15-10 against Quick Amersfoort on Saturday (April 24). Storks trailed 6-1 halfway the sixth inning, but then rallied for 14 runs in two at bats to turn the game around. The teams meet again on Sunday in Amersfoort.
It was a game with a rare statistic, as there were more combined walks than combined basehits and combined runs scored. Storks and Quick scored 25 runs in today's game and recorded 20 basehits. However, the nine pitchers in this game combined walked 26 batters!
Oh, and three batters of Quick and two of Storks were hit by a pitch.
More statistics from this game. There were 57 baserunners (Quick 31, Storks 26). The teams combined left 28 runners behind on the bases (Quick 18, Storks 10). 19 of this runners stranded in scoring position (Quick 13, Storks 9). And there were nine stolen bases (Quick 3, Storks 6).
...Joran Berkhout...
...5x on base, 2 walks, double,...
...2 runs scored, 3 RBI's...
(© Photo: Robert Bos)

Storks opened the score in the bottom of the first inning off of Quick-starter Jhan Rifaela. With one out, Brendly Martina and Joran Berkhout singled to put runners at the corners. Martina then scored on a sacrifice fly by Ibrahin Redan.

In the next four innings, Storks was kept scoreless by Rifaela, despite getting runners in scoring position. The home-team got the bases loaded in the third. With one out, Jason Netten walked and Joel Hernandez singled. With two outs, Joran Berkhout also walked, but a grounder ended the at bat.

Quick Amersfoort was held scoreless in its first three innings, but then scored twice in each of the three middle innings.

In its first three at bats, Quick left five runners behind in scoring position off of starter Jayden Gonesh. The righthander walked the first two batters in the first inning, Brian Biezen and Bas Wiers. They advanced on a grounder, then Gonesh struckout the next two batters.

In the second, Gonesh began with a strikeout, then hit Kai Berkel with a pitch and gave up a single to Brandon Rijnbergen, but they also stranded. In the third, Quick again left runners behind on second and third base. In that at bat, Bas Wiers (with one out) and Taylor Clemensia (with two outs) both walked and advanced on a passed ball, then Gonesh closed with his fifth strikeout.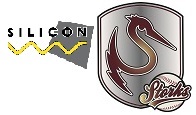 Trailing 1-0, Quick scored two unearned runs off of Gonesh in the top of the fourth. With two outs, Brandon Rijnbergen walked and stole second base, then moved when Mees Robberse reached on an error. Moments later, Rijnbergen scored the tying run on a wild pitch and Robberse scored the go-ahead run on a single by Arthur Lugtmeijer, who was left behind himself on second base.
Quick added two runs in the fifth off of new pitcher Gedryon Basilia. With one out, Rachid Engelhardt was hit by a pitch, then scored when Taylor Clemensia followed with a homerun.
The Amersfoort-team raised its lead to 6-1 by scoring two more runs in the sixth. Kai Berkel reached on an error and with one out, Mees Robberse was hit by a pitch. Both scored on a following double by Arthur Lugtmeijer.
Trailing 6-1, Storks faced new pitcher Johannes Veroen Garcia in the bottom of the sixth. The home-team turned the game around, as it staged a 9-run rally! Seven of the runs were scored with two outs.

The long at bat began with walks for Joran Berkhout and Sheadion Jamanika. The two executed a double steal and Berkhout scored on a following error. Next batter Darren Winklaar was hit by a pitch and Veroen struckout the next batter. RaibiŽntly Mercalina then delivered a runscoring single and Storks got the bases loaded when Kelvin Knape walked. After another strikeout, the three runners all scored on a baseclearing double by Jeandre Jacopucci, which made it a 6-6 score. When next batter Joel Hernandez walked, Jasper Popken was inserted as new pitcher for Quick. He was greeted with an RBI-single by Brendly Martina, then gave up a 2-run double to Joran Berkhout, who scored himself when Sheadion Jamanika reached on an error and that gave Storks a 10-6 lead.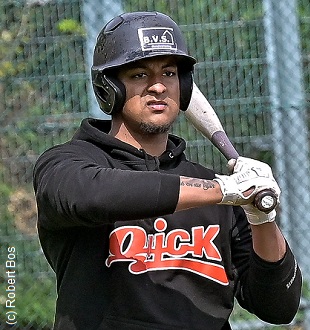 ...Taylor Clemensia...
...4 walks, 2-run homerun...
(© Photo: Robert Bos)

In the top of the seventh, Quick got one run back off of new pitcher Obed Hernandez. He got the bases loaded quickly when Taylor Clemensia led of with a walk and Rowan van Hoek and Pascal Zegwaard both singled. After Clemensia had scored on a sacrifice fly by Kai Berkel, Quick got the bases loaded again when Brandon Rijnbergen walked. But the three runners were left behind, as the next two batters flied out.

Storks wasn't done yet scoring runs. In the bottom of the seventh, the home-team got another rally, this time scoring five runs off of Popken. The first five batters all reached base. Lead-off hitter Roy Winkel was hit by a pitch. He stole second base, then scored on a single by RaibiŽntly Mercalina, who also stole second base. Next batter Kelin Knape walked. After a double steal, Mercalina and Knape both scored on a single by Jezreel Pereira. Hereafter, Jeandre Jacopucci also singled and with one out, the bases got loaded when Brendly Martina reached on an error. Two more runs were then added on an infield-hit by Joran Berkhout and a sacrifice fly by Sheadion Jamanika. And that lifted the lead to 15-7.

Joran Berkhout reached base five times for Storks, including two walks. He singled, doubled, scored two runs and batted in three. Since making his debut in 2016, the outfielder played for several teams. He made his debut in 2016 with Hoofddorp Pioniers, then didn't play in the highest league in 2017. The following season, he started with Storks, but during the season, he moved to Quick Amersfoort for whom he also played in 2019. In 2020, Berkhout started the season with Neptunus, but returned to Quick Amersfoort after some weeks. This year, he is back with Storks.

Quick Amersfoort scored another run in the top of the eighth off of new pitcher Darryl Jamoena, but left the bases loaded again. Brian Biezen led off with a triple and scored on a passed ball. Next batter Bas Wiers walked, but a double play followed. Jamoena then walked Taylor Clemensia, Rowan van Hoek and Pascal Zegwaard. The inning ended when Van Hoek was forced out on third base on a grounder by Kai Berkel.

In the ninth, Quick scored its last run, but left three runners behind in its third consecutive at bat. New pitcher Yerson Rosalina walked lead-off hitter Mees Robberse. He advanced on a wild pitch, then scored on an one-out single by Brian Biezen. Hereafter, Bas Wiers walked for the fourth time and with two outs, Quick got the bases loaded when Taylor Clemensia (also his fourth) and Rowan van Hoek also walked. The inning and the game then ended with a strikeout.

(April 24)