(Story by Marco Stoovelaar; Photo by Robert Bos)

Quick Amersfoort wins on rally; Adds two new pitchers
Nederlands



AMERSFOORT (Neth.) - Quick Amersfoort trailed 7-5 halfway the sixth inning, but then rallied for six runs to win 11-7 against Silicon Storks on Sunday (April 25). On Saturday, Storks came from behind to win 15-10.
With today's game, Quick Amersfoort and Storks closed their exhibition season. Coming Thursday, the regular season in the Dutch big league opens. Quick Amersfoort opens the new season with a 3-game series against DSS/Kinheim, playing at home on Thursday and Sunday and in Haarlem on Saturday. Storks begins against Curaçao Neptunus also with home-games on Thursday and Sunday. The game on Thursday-evening will be played at the site of Neptunus in Rotterdam, where Saturday's game also will be played.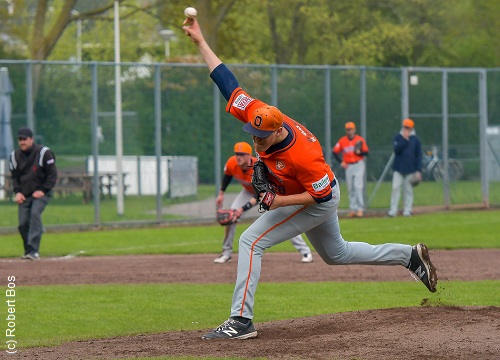 ...Jakob Syrén pitching for Twins Oosterhout in 2018...
(© Photo: Robert Bos)

This week, Quick Amersfoort added two new pitchers to its roster. Lefthander Maverich Lourens made his debut in today's game and Swedish righthander Jakob Syrén arrived today and will be with the team in the Opening Series.

Syrén is no stranger to Dutch baseball, as he pitched for Twins Oosterhout in the highest league in 2018. He then appeared in 17 games, all in relief, and was 1-1 with one save and a 2.74 ERA, striking out 21 batters in 23 innings. After having pitched in the Netherlands, Syrén played for Solingen Alligators in Germany in the 2019 season. Last year, he returned to the Swedish league, playing for Rättvik Butchers. Earlier this year, it was announced that Syrén was to play for Leksand Lumberjacks in Sweden this season, but instead he will make his comeback on a Dutch mound.

Lourens, who arrived earlier in the week, is not related to Quick-players Emeron Lourens (3B) and Temesh Lourens (RHP). Maverich Lourens pitched for Groot Kwartier Stars on Curaçao. In 2017, he played for the team of Curaçao that participated in the World Port Tournament in Rotterdam (Netherlands). In today's game, Lourens threw two innings in relief for Quick and became the winning pitcher.

Storks opened the score in Amersfoort in the top of the second inning off of starter Jan-Willem Geerts. The righthander had retired the side in order in the first inning, but in the second, he gave up a lead-off double to Sheadion Jamanika, who moved to third base on a wild pitch. With one out, Yurdion Martie walked. Jamanika then scored the first run in a double-steal situation. Shortly thereafter, Martie also stole third base and later scored on a passed ball.
Storks added two unearned runs in the top of the third inning. With one out, Brendly Martina was able to reach third base on a throwing error, then scored on a following single by Stephen Henson. Joran Berkhout followed with a single, but Henson was eliminated on the plate trying to score. On the throw, Berkhout moved to second base, then scored when a hit by Sheadion Jamanika ended in an outfield-error.
Quick Amersfoort got one run back in the bottom of the third inning off of starter Twan Naessens, who had struckout three batters in the previous at bat. In the third, the righthander walked lead-off hitter Mees Robberse, who stole second base, advanced on a grounder by Bas Wiers and scored on a 2-out double by Rachid Engelhardt.
Storks took some more distance by scoring two more runs in the top of the fourth. Yurdion Martie led off with a single and scored on an one-out double by Ibrahin Redan, who had also doubled in the second, but then was left behind. This time, he moved to third base on an infield-hit by Darren Winklaar and scored on sacrifice fly by Joel Hernandez to make it a 6-1 score.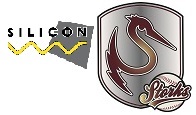 Quick narrowed the deficit to 6-5 by scoring four runs in the bottom of the fourth. With one out, Amar van Zwieten and Kai Berkel both singled to put runners on first and third base. The bases got loaded when Pascal Zegwaard walked. A run was then scored on a single by Mees Robberse and when a throwing error followed to third base, Berkel and Zegwaard also were able to score. Robberse later scored the fourth run himself on a wild pitch. Next batter Brian Biezen walked, then an error was made on a force play-grounder by Bas Wiers. In a double-steal attempt, Biezen was eliminated at third base, while Wiers moved into second base. When next batter Rachid Engelhardt walked, Jiairo Samboe was inserted as new pitcher for Storks. He got an inning-ending flyout, but Storks now led by only one run.
In the top of the fifth, Maverich Lourens took over the pitching for Quick. The lefthander walked lead-off hitter Stephen Henson, but he was caught stealing. Lourens followed with a strikeout, then a grounder ended the at bat. Quick was retired in order in its fifth at bat by Jiairo Samboe.
In the sixth, Storks scored another run. With one out, Lourens walked Yurdion Martie, who then moved on a 2-out single by Ibrahin Redan (who was 3-for-4) and scored on a single by Darren Winklaar.
In the bottom of the sixth, Quick Amersfoort turned the game around with a 6-run rally. New pitcher Gabriel Statia got the bases loaded quickly when Pascal Zegwaard led off with an infield-hit and both Mees Robberse and Brian Biezen walked. Bas Wiers followed with a runscoring single, then Quick took a 9-7 lead with one out when Taylor Clemensia hit a baseclearing, 3-run double. Hereafter, Rowan van Hoek delivered a runscoring single, then Quick got the bases loaded again when Amar van Zwieten and pinch-hitter Brandon Rijnbergen both walked. Statia struckout the next batter, but the sixth run in the inning was then scored when Mees Robberse reached on an error. Three runners stranded, as a grounder closed the productive at bat.
With Quick Amersfoort now leading 11-7, the final three innings remained scoreless. In these three at bats, Storks left two runners behind on third base off of Stijn Bruins Slot. Quick left two runners behind on second base in its final two at bats.

(April 25)