(Story & Photos by Marco Stoovelaar)



European and World Softball Championships postponed or cancelled
Nederlands




LAUSANNE (Switzerland) / ANTWERP (Belgium) - Due to international measures taken against the spread of the coronavirus (COVID-19) pandemic, a lot of tournaments scheduled for this year already have been either postponed or cancelled. In recent days, more adjustments were announced by the World Baseball Softball Confederation (WBSC) and European Softball Federation (ESF), due to health and safety measures or travel restrictions.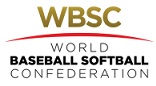 On Monday (May 4), the WBSC announced several changes to the international calender for not only this year, but also for following years. These adjustments came after the postponement of the Olympic Games in Japan from this year to 2021 and the World Games from 2021 to July 7-17, 2022 in Birmingham, Alabama (USA). Softball will be one of more than 30 sports to be played at the World Games. The USA (as host), Australia, Canada, China, Chinese Taipei, Japan and Mexico already have qualified. The field of participants will be completed by the winner of the European Championship.
The 2021 WBSC Women's Softball World Cup has been postponed to the 2023 The WBSC also announced that the winner of the 2022 World Games will be crowned as world champion.
The inaugural WBSC Under-15 Women's World Cup has been cancelled. The first editon now will take place in 2023.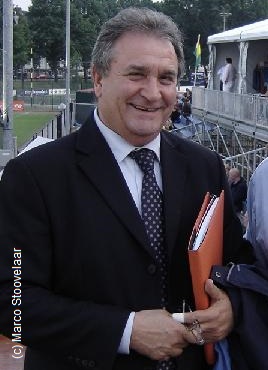 ...Riccardo Fraccari...
(© Photo: Marco Stoovelaar)

WBSC President Riccardo Fraccari said in a statement: ,,With the ongoing COVID-19 pandemic, and the postponement of the Olympic Games to 2021 and the World Games to 2022, we wanted to ensure softball athletes had an opportunity for world-class competition in each of the next three years. We also wanted to do our part to best harmonise the international sports calendar and ensure the primary spotlight remains on the Olympic Games, particularly with how the Tokyo 2020 Games will now be seen as a universal symbol of hope and recovery''.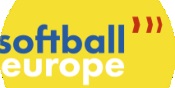 As these events are now postponed, Qualifying Tournaments are not necessary to be played this year. With that, the ESF decided on Tuesday (May 5) to postpone both the Women's and Men's Softball European Championship. Both events also have the status of Qualifier for the World Cups, while the Women's Championship also serves as Qualifier for the World Games. Both European Championships have been postponed to next year.
The Men's Championship will now be played next year on June 21-26 at Ledenice and Sezimovo Ústí (Czech Republic). These cities also were the sites for the Championship this year when it was postponed from June 22-27 to September 28-October 3.
A new date for the Women's Championship will be announced later. The tournament was initially scheduled for June 7-13 at sites in the Friuli Venezia Giulia, which was one of the areas hit by the virus earlier this year in Northern Italy. Early April, the event was postponed to September 20-26, but now also will be played next year.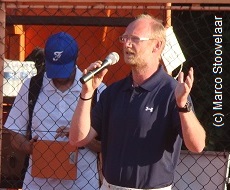 ...Gabriel Waage...
(© Photo: Marco Stoovelaar)

Gabriel Waage, President of Softball Europe, said: ,,I believe that this decision will also allow the National Federations enough time to play their local competitions as soon as their countries allow them to start their Leagues. We are in a unique situation and can only hope that we will be back on track as soon as possible''.

The Under-15 Women's Softball European Championship was to take place this year in Enschede (Netherlands) on July 13-18, but was postponed to August 20-24. This event was to be a Qualifier for the irst U15 World Cup. As the next European Qualfier now will be played in 2022, talks are in progress to organize an European Championship is some form and to postpone it to another date.

On April 22, the WBSC announced that the Men's Softball World Cup has been postponed to 2022, following consultations with medical and governmental authorities, as well as the local organizing committee. The event, to be played at ELE Stadium in Auckland (New Zealand), was scheduled for February 20-28 next year. A new date will be announced later.

Also last month, the WBSC announced that the Under-18 Women's Softball World Cup, WBSC Women's Baseball World Cup and WBSC Under-15 Baseball World Cup have been postponed to dates later this year, when possible. The U18 Softball World Cup was scheduled to take place August 23-30 in Lima (Peru), the U15 Baseball World Cup was to be played August 14-23 in Mexico and the Women's Baseball World Cup was scheduled for September 11-20, also in Mexico.

On Tuesday (May 5), the WBSC announced that it has awarded the organization of the first U23 Men's Softball World Cup to Argentina, where it will be played in 2021.

(May 6)