Jan Collins to coach Neptunus; player changes announced
Nederlands

ROTTERDAM (Neth.) - Dutch champion DOOR Neptunus today (Friday, October 15) announced that the team will be led by coaches Jan Collins, Wim Martinus and Adonis Kemp with veteran Collins having the final say. Collins succeeds Steve Janssen, who led Neptunus to the Dutch championship in both his seasons with the Rotterdam-club, 2009 and 2010. Janssen is no longer available to coach Neptunus, as he is working fulltime for the Dutch Federation as a coach of the Dutch National Baseball Team. His agreement with the KNBSB states that it is not allowed for him to also coach a clubteam.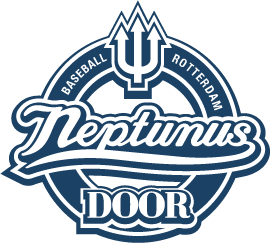 Next season, Neptunus will have to do without pitcher Dushan Ruzic, as the club today also announced their transfers for next season. Also leaving Neptunus are Catcher Martijn Meeuwis (Twins) and Infielder Roy Seltenrijch (Corendon Kinheim), while Infielder Jeroen Sluijter announced his retirement. 1B Marvin Bleij also will not be playing for the Rotterdam-squad next season. He recently underwent succesfull surgery on his rightshoulder, but full recovery will take nine to 12 months, meaning he will be out for the season next year. On Thursday, it was already announced that Outfielder Danny Rombley will be playing next season for UVV, which on Thursday confirmed to return to the Dutch big league after Almere Magpies had withdrawn on Tuesday-evening. Coming to Rotterdam are Righthanded Pitcher Arshwin Asjes (Konica Minolta Pioniers), RHP Tim Roodenburg and Catcher Sape Wagenaar, who both come from Sparta-Feyenoord.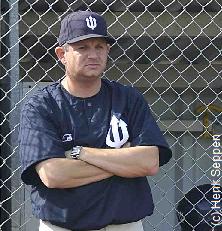 ...Steve Janssen...
(© Photo: Henk Seppen)

Belgian coach Steve Janssen joined Neptunus in October 2008. After having played as catcher for Luchtbal Greys and Brasschaat Braves in Belgium, the former player of the National Team of Belgium then was the Head Coach for Brasschaat in 1998 and 1999, leading them to one title. Next, he was the Head Coach off DOOR Tridents, with whom he won the national title twice.


...Jan Collins...
(© Photo: MS)

In 2002, Janssen was added to the coaching staff of the Dutch National Team for the first time and served as its Pitching Coach through the middle of 2005. In the 2006 season, Janssen was one of the coaches of the big league-team of Neptunus, before being named Technical Director of the Belgian Federation for the 2007 season. He returned to coaching in the Dutch big league, being the Head Coach of Sparta-Feyenoord in 2008, before being named Head Coach of Neptunus. Early this year, Janssen returned to the National Team to become the Pitching Coach in the staff of Manager Jim Stoeckel.

Jan Collins is one of the coaches of Neptunus since 1989 as a Assistant Coach, Catching Coach or Bench Coach. In the seasons 1995, 1996, 1997 and 1998 he was the Head Coach of the team, whom he led to the title in 1995. During the 1998 season, he was succeeded by his assistant Bill Froberg, but returned as intertim-Head Coach after 13 games, before Robert Eenhoorn took over shortly thereafter.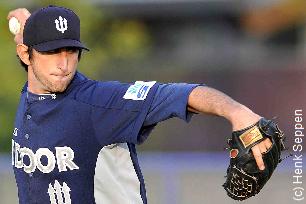 ...Dushan Ruzic...
(© Photo: Henk Seppen)

Dushan Ruzic came to Rotterdam in 2008, then appeared in 20 games and became the team's closer, finishing with an 1-0 record, seven saves and an 0.84 ERA. Last year and this season, Ruzic split between starting and pitching in relief. Last season, the big righthander was 7-2 and six saves, striking out 55 in 60 innings and finishing with an 1.05 ERA. This season, he was 9-0 (one of four 9-game winners in the Neptunus-staff), earned two saves and struckout 78 in 81 innings with an 1.56 ERA. During the Play-Offs and Holland Series, Ruzic was named Series MVP twice. However, Ruzic and Neptunus could not agree on a new agreement for next season. While not officially confirmed yet, Ruzic probably will play in Italy next season.

Roy Seltenrijch made his big league-debut in 2009, playing in eleven games in which he registered eight basehits. This season, the infielder appeared in 12 games and collected nine basehits, hitting .346.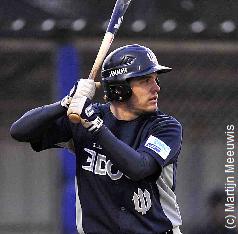 ...Martijn Meeuwis...
(© Photo: Henk Seppen)

Martijn Meeuwis joined Neptunus in 2007 after having played for Mr. Cocker HCAW the year before. In his first year in Rotterdam, the catcher/outfielder hit 41 basehits, including six homeruns, scored 25 runs and had 37 RBI's. In 2008, Meeuwis led the team with a .354 average (45-for-127), scored 25 runs and had 25 RBI's. This year, Meeuwis hit .304 (31-for-102), scored 19 runs and had 17 RBI's.

Meeuwis made his debut in the Dutch National team during a trip to the USA in 2007, then participated in the World Port Tournament, was left off the roster for the following European Championship, but returned later in the year for the World Championship. In 2008, he participated in the Haarlem Baseball Week and Olympic Games, then was a member of the preliminary team for the World Baseball Classic, but wasn't part of the final roster. He then participated during the World Port Tournament, but was dropped for the World Championship. As it was not possible to combine his regular job with playing for the national team, he retired internationally. The combination of work and playing in the big league also is the reason that Meeuwis leaves Neptunus. Next season, he will play for Twins in the so-called 'Overgangsklasse'.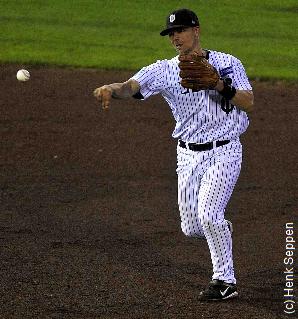 ...Jeroen Sluijter...
(© Photo: Henk Seppen)

Jeroen Sluijter came to Neptunus after the 1996 season when he had played in his lone season for ADO. In the two years before that (1994-1995), the short stop had played in his first big league-games for Twins. In his first year with Neptunus, Sluijter realized a personal high with 47 basehits, 36 runs and .313 batting average. This year, his 14th with Neptunus, the veteran infielder batted .286 (32-for-112), scored 21 runs and had 15 RBI's.

Sluijter made his debut in the Dutch National Team during the World Port Tournament in 1997, but then didn't made the roster in the following years. He made a comeback in the National Team in 2002 and then participated in the Haarlem Baseball Week and Intercontinental Cup. The following year, he also was part of the team during the World Port Tournament, European Championship and World Championship. In 2004, he participated in the Haarlem Baseball Week, but then was cut for the Olympic Games in Athens (Greece). In the following three years, Sluijter was no member of the national team, but made his second comeback in 2008 when he participated in the Haarlem Baseball Week and Olympic Games in Beijing (China). After being no member of the Orange in 2009, Sluijter made a third return in the team this year, participating in his fourth Haarlem Baseball Week and then the European Championship. As he retired after completion of the season, he wasn't considered for the upcoming Intercontinental Cup.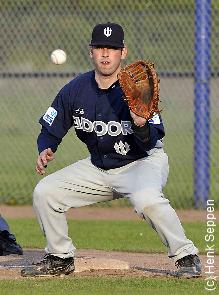 ...Marvin Bleij...
(© Photo: Henk Seppen)

Marvin Bleij, who initially was a short stop, but switched to first base, this year played in his first season for Neptunus after coming over from L&D Amsterdam Pirates. As he was bothered by injuries, Bleij played in only 21 games and batted .261 (18-for-69). While scoring only seven runs, he collected 21 runs batted in, which was the sixth highest total in the team. The infielder made his big league-debut in 1998, while playing for Sparta-Feyenoord from Rotterdam, where he would play for eight seasons. In his last season with Sparta-Feyenoord, he led the team with a .299 batting average, but then went on to play for ADO in the next two seasons. In his first season with ADO, he was the second best hitter of the team with a .323 average, only .002 points behind leader Kalian Sams. In 2008, Bleij played in his first season with L&D Amsterdam Pirates, with whom he won the Dutch championship that year. After playing in 30 games last year for Amsterdam, he returned to Rotterdam this season to play for Neptunus.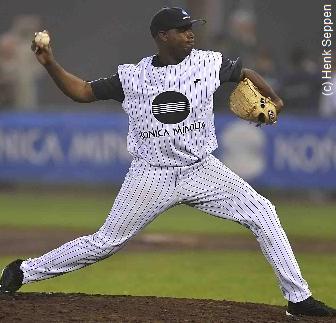 ...Arshwin Asjes...
(© Photo: Henk Seppen)

Righthanded Pitcher Arshwin Asjes pitched professionally in 2009 for the Midwest Sliders, who played in the independent Frontier League. In 33 games (including one as a starter), Asjes struckout 34 batters in 36 innings, walked 16 and was 1-4 with 12 saves and a 5.00 ERA. Early 2010, Asjes came to the Netherlands and went on to pitch for Konica Minolta Pioniers. Asjes was primarily used in relief, making four starts in 15 appearances. He struckout 35 batters in 38 innings, was 2-3, earned two saves and finished with an 1.66 ERA. Last year, Asjes made his debut in the Dutch National Team during the European Baseball Series and also participated in the World Championship. This year, he played for the Orange during the Haarlem Baseball Week and European Championship and currently is with the team for the upcoming Intercontinental Cup.

...Tim Roodenburg...
(© Photo: Henk Seppen)

...Sape Wagenaar...
(© Photo: Henk Seppen)
Righthanded starter Tim Roodenburg pitched for Sparta-Feyenoord since making his debut with the Rotterdam-club in 2006. In his five seasons with the club, Roodenburg was 10-16 and had his best season in 2008 when he was 5-4 with a 2.84 ERA. In 2009, he registered a career-high with 50 strikeouts. This season, Roodenburg struckout 26, walked 17 and gave up 64 hits in 56 2/3 inning and finished with an 1-5 record in ten games.

Catcher Sape Wagenaar made his big league-debut as player of DOOR Neptunus in 2005, appearing in 15 games. In both 2005 and 2006, he shared his playing time between Neptunus and its farmteam DOOR Tridents. He then went on to play for Sparta-Feyenoord in 2007, playing in 33 games and hitting .229. In 2009, he played in only nine games due to an injury. This season, he went .222 playing in 41 games for Sparta-Feyenoord, scoring 16 runs and having 15 RBI's.

(October 15)