Orlando Yntema to pitch for UVV
Nederlands

UTRECHT (Neth.) - UVV, which will return to the Dutch big league next season, has come to an agreement with Righthanded Pitcher and Dutch National team-player Orlando Yntema, the club announced on Tuesday, November 16. With the addition of Yntema, the club stated, UVV has completed its pitching staff and roster for the new season.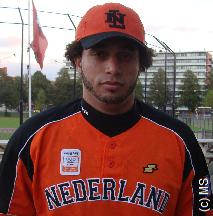 ...Orlando Yntema...
(© Photo: Marco Stoovelaar)

Orlando Yntema was born on February 21, 1986 in Puerto Plata in the Dominican Republic as the son of a Dutch father (from the province of Friesland) and a Dominican mother.

At age 17, Yntema signed a professional contract with the San Francisco Giants on June 5, 2003, then made his professional debut the same year, playing for the Rookie League-team of the Giants in the Dominican Summer League. There, he was 5-5 with a 3.77 ERA. A year later, playing for the Rookie League-team of the Giants in the Arizona League, Yntema made only two pitching appearances (due to an injury), including one start and threw six innings, striking out six batters and walking two, while giving up six basehits and seven (five earned) runs. He was 0-1 and finished with a 7.50 ERA.
In 2005, he played again for the Giants-team in the Dominican Republic, where he was 2-1 and finished with a 3.20 ERA. Yntema returned to the Arizona League in 2006 and this time pitched in 12 games. The righthander finished the season with a 3.79 ERA, a 4-3 record and one save, threw 54 2/3 inning and struckout 42 batters, while walking 15 and giving up 56 basehits.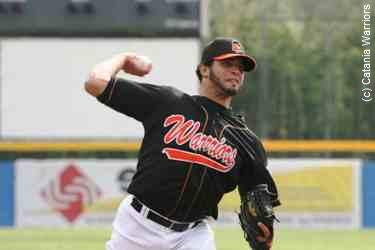 ...Orlando Yntema pitching in Italy...
(© Photo: Catania Warriors)

Yntema then missed the entire 2007 season, due to an injury, but threw again professionally in 2008, playing for two teams in the Giants-organization. He started the season with the Augusta Greenjackets (Single-A), where he pitched in 14 games (5 starts) from April through June and was 0-2 with a 5.59 ERA. In 38 2/3 inning, Yntema struckout 28 batters, walked 14 and gave up 44 basehits. In July-August, Yntema completed the season with the Salem-Keizer Volcanoes (Single-A Short Season). He then appeared 10 games and was 5-2 with a 5.03 ERA. In 34 innings, Yntema struckout 18 batters, walked 15 and gave up 45 hits.

In 2009, Orlando Yntema again pitched for both teams. With Augusta, he pitched in six games and 26 2/3 inning, striking out 17, walking nine and giving up 39 hits, while being 0-2 with a 6.41 ERA. With Salem-Keizer, Yntema threw in eight games and was 4-0 with a 2.80 ERA. In 45 innings, he struckout 26, walked 11 and gave up 44 basehits.

This year, Yntema pitched in the Italian Baseball League, playing for the Scacchiera Dell'Etna Warriors in Catania on Sicily. In Italy, Yntema started in 13 games and was 3-9 and finished with a 4.67 ERA (which was the best ERA of his team). In 81 innings, he struckout 69 batters and walked 49, while giving up 81 basehits and 53 runs (42 earned).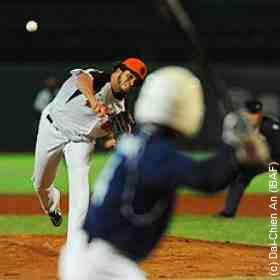 ...Yntema pitching for the Dutch...
...vs. Thailand during the...
...Intercontinental Cup...
(© Photo: Dai-Chien An, IBAF)

On October 15, it was announced that the 24-year old righthander, who has a Dutch passport because of his father, was selected for the Dutch National Baseball Team for the Intercontinental Cup in Taiwan, where he appeared in three games.

Orlando Yntema then made his debut in the National Team on October 23, when he pitched two innings in relief vs. Italy, who were defeated 10-0. As he took over in the fifth inning for starting pitcher Tom Stuifbergen with the team leading 10-0, Yntema was credited with the win. In his debut, Yntema struckout one, walked one and gave up two hits.

On October 27, Yntema threw 1 2/3 inning in relief vs. Thailand. With the Dutch leading 3-0, he took over for starter and winning pitcher Kevin Heijstek in the sixth inning, but was less successful than four days earlier. He walked one and gave up three hits and two earned runs, which narrowed the Dutch lead to only 3-2, but hereafter, his teammates reacted with three runs and went on to win 7-2. Nevertheless, Yntema was credited with a Hold.

On October 30, Yntema was the winning pitcher again in relief when the Dutch beat Taiwan in 10 innings. Yntema came on in relief in the eighth inning with the score tied at 2-2. In the tenth inning, Taiwan took a 3-2 lead when Yntema gave up a 2-out RBI-single after having struckout the first two hitters, but a run was scored on the single, as the inning started with two baserunners, due to the tie-break rule. In the home of the tenth, Mariekson Gregorius hit a 2-run, walk-off homerun to give the Dutch a 5-3 victory. In his three innings, Yntema struckout two and walked two, while giving up one basehit.

(November 16)