Dutch also beat Venezuela; meet Cuba in Final
Nederlands

AGUADULCE (Panama) - OK, what do you have to say more about THIS Dutch Baseball Team, as it just keeps on winning. On Friday-evening, the Dutch again dominated, this time against Venezuela and shutout the Latin-Americans 12-2 to register its 10th win in 11 games. And when you thought to have seen all, Dutch pitcher Arshwin Asjes took a Perfect Game into the fourth inning!

This was the last game in the Second Round for both teams. And now, the World Cup goes into the all-deciding final day of the event, as the four remaining games to determine the ranking one through eight will be played on Saturday. It will be a historic day for Dutch and European baseball, as the Netherlands will become the first European country to win a medal since Great Britain won the very first Championship-title in 1938 when it won four of five games played against the USA. 73 years ago, Great Britain (which played with mostly Canadian-born semi-pros) and the USA (which played with college-amateurs) were the only two teams that then participated for the John Moores Cup. After completion, the series was designated to be the first 'World Championship'.

Earlier in the day on Friday, Venezuela led 4-1 vs. the USA and showed its power with three homeruns. However, in the seventh inning, Team USA rallied for six runs to win 7-4 and qualify for the Bronze Medal Game. For the Americans, the day started with a 3-1 win vs. South Korea, which on Thursday-night surprised with a 5-4 win vs. Panama. The Americans scored two early runs and hold onto the lead. But later, they faced an early deficit as Wuilliams Vasquez (two) and Rodolfo Cardona homered to give Venezuela a 4-1 lead. But in the sixth, a single by Matt Clark tied the score, then Jordy Mercer followed with a 3-run homerun to give the USA the win. Dutchman Henri van Heijningen was the umpire at first base in this game.

At the same time, Cuba and Canada faced in an all-deciding game. Cuba showed some big power, collected 15 basehits, won 8-2 and became the second finalist, while Canada will have to play for Bronze. Frederich Cepeda had three basehits and José Dariel Abreu homered for Cuba, which played a complete different game as they did on Thursday against the Dutch.
---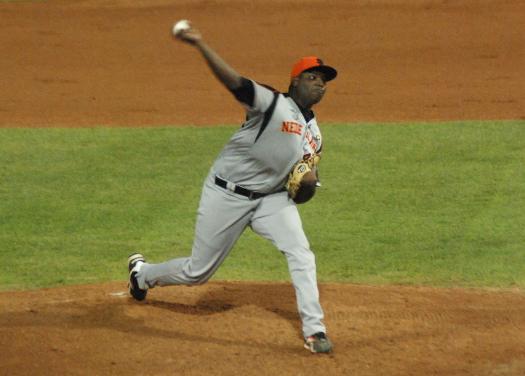 ...Winning pitcher Arshwin Asjes...
(© Photo: IBAF)

Dutch starter Arshwin Asjes made his first appearance during this World Cup. During the previous games of the event, Asjes was in the bullpen as one of the relievers for the Dutch squad, but simply wasn't needed as the starters did very well. Today, at Estadio Rémon Cantera in Aguadulce, Asjes did climb the mound and did great. The big righthander retired the first 10 batters he faced and was throwing a Perfect Game in the fourth inning, which then was broken when Rodolfo Cardona singled. But then, a 6-4-3 double play ended the at bat.

In the fifth inning, Asjes gave up a lead-off single to Ronald Acuña, then an one-out single to Saul Torres. But then, the Dutch defense again showed its strength by turning another double play. This time, it was first baseman Curt Smith, who made an unassisted double play on a line drive by Antonio Granadillo.

In the meantime, the Dutch offensive also again underscored its strength. The score was opened right away in the first inning. With one out, Kalian Sams walked, stole second base and scored when a throwing error (with two outs) was made on a grounder by Curt Smith, who himself reached second base. He then scored the second run when Bryan Engelhardt followed with a single.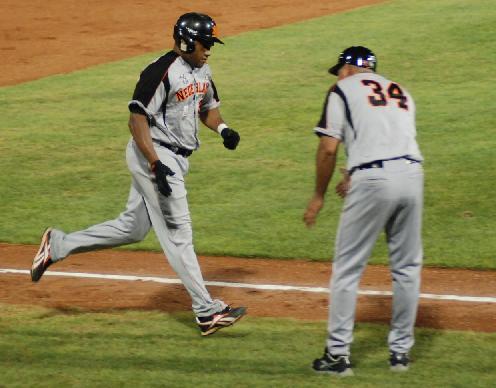 ...Curt Smith is greeted by 3B Coach Wim Martinus...
...after hitting his third homerun of the event...
(© Photo: IBAF)

After a scoreless inning (hey, that also happens sometimes...), the Dutch scored three more runs in the third inning. Kalian Sams led off with an infield-hit, stole second and scored on a single by Sidney de Jong. Then, Curt Smith again connected very well and hit his third homerun of the tournament to make it 5-0. It led to a pitching change. New pitcher Jhonny Carabello gave up a 2-out single to Jonathan Schoop, but followed by striking out Xander Bogaerts, who got his first start at short stop, as Mariekson Gregorius had the day off.

In the fourth inning, three more runs were added when the Venzuelan defense fell apart and committed three errors. With one out, Dwayne Kemp was hit by a pitch, then moved to third base when a throwing error was made on a possible double-play grounder by Kalian Sams. Kemp then scored when a new throwing error followed on another double play-grounder, this time hit by pinch-hitter Bas Nooij. Next, Sams scored on a sacrifice fly by Curt Smith and Nooij scored when Bryan Engelhardt followed with a double. Sharlon Schoop then also reached on an error, but then the third out followed.

In the fifth inning, Xander Bogaerts led off with his first Dutch-team basehit. Hereafter, Danny Rombley struckout for the second time and then Dwayne Kemp singled, but the two runners were left behind when two grounders followed.

Leading 8-0, the Dutch scoring wasn't over yet. Facing new pitcher Luis Torres, the Dutch again scored three runs (with two outs) in the sixth. With one out, Bryan Engelhardt singled, then Jonathan Schoop walked with two outs. Next, Xander Bogaerts singled to bring in Engelhardt. Hereafter, two two rookies in the Dutch squad (Baltimore Orioles-prospect Jonathan Schoop and Boston Red Sox-talent Xander Bogaerts) both scored when Danny Rombley followed with a double that increased the lead to 11-0!

In the bottom of the sixth, Venezuela finally was able to do something back off Asjes. With two outs, Herbert Lara singled and Rodolfo Cardona doubled, then both scored on a single by Wuillians Vasquez, but then Asjes closed the at bat with a strikeout.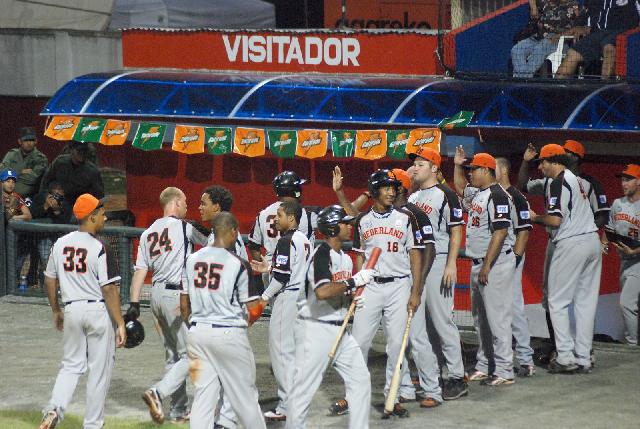 ...Curt Smith and Sidney de Jong (24) are greeted in the 3rd inning...
...after Smith's homerun lifts the lead to 5-0...
(© Photo: IBAF)

In the seventh inning, the Dutch made it a 12-2 score. With one out, Bas Nooij reached on an error, then scored when Bryan Engelhardt doubled with two outs. This was Engelhardt's second double and he was 4-for-5, scored a run and had three RBI's. Shaldimar Daantji (who entered the game in the fifth) then also added a single, but was left behind.

In the Venezuelan seventh, Arshwin Asjes gave up a lead-off single, but then followed with his fifth strikeout. The game then ended in style, as the Dutch defense closed with a 4-6-3 double play, its third tonight to make it a complete game for Asjes. The Dutch Team outhit Venezuela 13-7.

Curt Smith tonight scored twice and now is in the top-3 of the tournament with 12. Only José Macias (Panama) has one more. His three RBI's lifted his total to 13, which also heads that category, but he got company later in the evening from Fernando Seguinol (Panama). And with his third homerun, Smith shares second place with five others (Wuilliams Vasquez of Venezuela hit five), making him a serious candidate to be named the tournament's Most Valuable Player.

The starting line-up was as follows:
Dwayne Kemp (LF, 1-for-3), Kalian Sams (RF, 1-for-4), Sidney de Jong (C, 1-for-2), Curt Smith (1B, 1-for-4), Bryan Engelhardt (DH, 4-for-5), Sharlon Schoop (2B, 0-for-2), Jonathan Schoop (3B, 1-for-4), Xander Bogaerts (SS, 2-for-4) and Danny Rombley (RF, 1-for-4).
The following changes were made: Bas Nooij pinch-hit for De Jong in the fourth and took over the catching; Shaldimar Daantji replaced Sharlon Schoop in the fifth and became the new centerfielder, while Kemp moved to second base, Sams went to rightfield and Rombley switched to leftfield.

The Second Round ended later on the evening with a 7-2 win of Cuba vs. Panama. Initally, Cuba trailed when Panama scored twice in the first inning on 2-out back-to-back doubles by Fernando Seguinol and Conception Rodriguez. But in the third inning, Cuba rallied for five runs. After a single and error tied the score, a 2-run triple by Alexei Bell and single by Frederich Cepeda gave Cuba a 5-2 lead. Two more runs were then added in the fourth at bat.

And with that, the schedule for Saturday looks as follows:
Final: Netherlands vs. Cuba, at Panama City
Bronze Medal: Canada vs. USA, at Panama City
5th/6th place: Australia vs. South Korea, at Chitré
7th/8th place: Panama vs. Venezuela, at Santiago de Veraguas

(October 14)