Dutch Team opens European Championship vs. Belgium
Nederlands

MILAN (Italy) - During its recent meeting in Milan, the Technical Commission of the European Baseball Confederation (CEB) has approved the 43-game schedule of next years European Championship, which will be held September 7-16 in the Dutch cities of Rotterdam, Haarlem and Utrecht.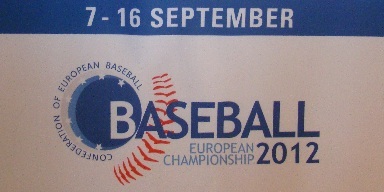 Reigning world champion Netherlands will play in Pool B and meets Belgium, Czech Republic, France, Germany and Great Britain. Reigning European champion Italy is playing in Pool A and is joined by Croatia, Greece, Russia, Spain and Sweden.
As was announced earlier, the Dutch Team will play ALL its games in the Neptunus Family Stadium in Rotterdam, while Italy will play all its games in Haarlem, except when they meet the Dutch squad.
The Orange squad opens on Friday, September 7 vs. its southern neighbours from Belgium (7:30 PM), then meets France the next day (7:00 PM).
On Sunday, September 9, the Dutch opens the day at 1:00 PM with the match-up against Czech Republic, followed by an evening-game the next day against Germany (7:30 PM). The Dutch close the preliminary round vs. Great Britain on September 11 (7:30 PM).
Hereafter, the top-3 of each pool will advance to the Second Round (which will be played in Rotterdam and Haarlem only), which will lead to the two teams that will meet in the Final on Sunday, September 16. The Dutch Team again plays all its games in Rotterdam. In the schedule, the games of the winner of Pool B (1 B) are listed to be played in Rotterdam. In case the Dutch Team doesn't finish in first place, their games (which then is scheduled for another city) will be moved to Rotterdam. The same goes for Italy. As of now, all games of the A Pool-winner are listed to be played in Haarlem, but also when Italy doesn't finish in first place, their games will be moved to Haarlem. Except for an eventual Italy vs. Dutch match-up, which will be played in Rotterdam. When the Dutch Team or Italy doesn't qualify for the Second Round (hey, anything is possible...), the schedule of course doesn't change.
COMPLETE GAME SCHEDULE
#
Stadium
Time
Game
#
Stadium
Time
Game
preliminary round
Friday, September 7
1
Haarlem
2:00 PM
Spain - Greece
2
Utrecht
2:00 PM
Sweden - Russia
3
Rotterdam
2:00 PM
Czech Rep. - Germany
4
Utrecht
7:30 PM
France - Great Britain
5
Haarlem
7:30 PM
Croatia - Italy
6
Rotterdam
7:30 PM
Belgium - Netherlands
Saturday, September 8
7
Haarlem
2:00 PM
Russia - Spain
8
Utrecht
2:00 PM
Germany - Belgium
9
Rotterdam
2:00 PM
Greece - Croatia
10
Utrecht
7:30 PM
Great Britain - Czech Rep.
11
Haarlem
7:30 PM
Italy - Sweden
12
Rotterdam
7:00 PM
Netherlands - France
Sunday, September 9
13
Utrecht
2:00 PM
France - Belgium
14
Rotterdam
1:00 PM
Netherlands - Czech Rep.
15
Haarlem
2:00 PM
Sweden - Croatia
16
Rotterdam
7:30 PM
Germany - Great Britain
17
Haarlem
7:30 PM
Italy - Spain
18
Utrecht
7:30 PM
Greece - Russia
Monday, September 10
19
Utrecht
2:00 PM
Croatia - Russia
20
Rotterdam
2:00 PM
Sweden - Spain
21
Haarlem
2:00 PM
France - Czech Rep.
22
Utrecht
7:30 PM
Belgium - Great Britain
23
Haarlem
7:30 PM
Italy - Greece
24
Rotterdam
7:30 PM
Netherlands - Germany
Tuesday, September 11
25
Rotterdam
2:00 PM
Germany - France
26
Utrecht
2:00 PM
Spain - Croatia
27
Haarlem
2:00 PM
Greece - Sweden
28
Utrecht
7:30 PM
Czech Rep. - Belgium
29
Haarlem
7:30 PM
Russia - Italy
30
Rotterdam
7:30 PM
Great Britain - Netherlands
classification ranking 7th - 12th place
Wednesday, September 12
31
Utrecht
2:00 PM
4 A - 4 B (*)
32
Haarlem
2:00 PM
5 A - 5 B (*)
33
Rotterdam
2:00 PM
6 A - 6 B (*)
second round
Thursday, September 13
34
Haarlem
2:00 PM
2 A - 3 B (*)
35
Haarlem
7:30 PM
1 A - 2 B (*)
36
Rotterdam
7:30 PM
3 A - 1 B (*)
Friday, September 14
37
Rotterdam
2:00 PM
2 B - 3 A
38
Rotterdam
7:30 PM
1 B - 2 A
39
Haarlem
7:30 PM
3 B - 1 A
Saturday, September 15
40
Haarlem
2:00 PM
3 A - 3 B (*)
41
Haarlem
7:30 PM
2 A - 2 B (*)
42
Rotterdam
7:00 PM
1 A - 1 B (*)
Final
Sunday, September 16
43
Rotterdam
1:00 PM
# 1 2nd round - # 2 2nd round
(*) - home team to be decided by draw of lot
(November 18)