First win HCAW; big loss Neptunus
Nederlands




THE HAGUE / ROTTERDAM / BUSSUM / UTRECHT (Neth.) - Dutch champion DOOR Neptunus hit only one basehit and suffered a big 8-0 shutout-loss vs. Corendon Kinheim on a very sunny Saturday, while Mr. Cocker HCAW won its first game of the season after losing its first three. The Bussum-squad nipped Vaessen Pioniers, 2-1. League-leader L&D Amsterdam Pirates won 5-2 vs. ADO, which is now 0-4, as is Sparta-Feyenoord, which was shutout 4-0 by UVV.
---

ADO vs. L&D Amsterdam Pirates
At The Hague, L&D Amsterdam Pirates scored twice in the first inning to set the tone for their game vs. ADO. The Amsterdam-squad won only 5-2, as it left 12 runners, including eight in scoring position and the bases loaded in the fifth at bat.

In the first inning, with one out, Roelie Henrique singled off starter Jurandi Girigori, then advanced to third base when next batter Sidney de Jong reached second base on an outfield-error. A wild pitch and a 2-out double by Bas de Jong then gave Amsterdam a 2-0 lead.

In the third inning, Amsterdam added another run. With one out, Sidney de Jong singled, moved on a wild pitch and then scored on a single by Percy Isenia.

Amsterdam-starter Rob Cordemans retired 11 of the first 13 batters he faced, including five strikeouts. In the fifth, the veteran righthander gave up a lead-off single to Bas Mol, but moments later, he was elimimated in a double play when Patrick Wabbijn flied out. Calvin Martinus followed with another single, but he was forced out.

In the top of the fifth, Amsterdam got the bases loaded. With one out, Sidney de Jong singled (and advanced on a balk and passed ball), then Percy Isenia walked (and advanced on a grounder). Next, Vince Rooi was walked intentionally and the set-up for a force play worked, as Isenia was forced out at third base on a grounder by Bas Nooij.

In the sixth inning, Rik Geestman took over the pitching for Cordemans, but walked the first batter he faced, Jan Baldee, who then stole second base and scored on a 2-out throwing error.

Amsterdam stranded two more runners in the sixth and eighth inning, but then the lead was increased to 5-1 in the ninth inning. Carlos Tabares Castro, who had taken over the pitching in the sixth inning, then walked lead-off hitter Sidney de Jong, then gave up an one-out single to Bas de Jong. The two then scored on a double by Vince Rooi.

ADO scored its second run in the home of the ninth off reliever Al Morales Gomes. Sidney Ensermo led off with a single, moved to third base on an one-out double by Jaïr Rosenburg, then scored on a sac-fly by Irving Redan.

Line Score, Box Score & Play-by-Play
Standings & Schedule
---

DOOR Neptunus vs. Corendon Kinheim
At Rotterdam, Corendon Kinheim handed DOOR Neptunus an 8-0 shutout-loss in the first game of their 3-game series. With this, the Haarlem-team registered another remarkable win against the Rotterdam-squads. Last year, on July 1, Kinheim won 10-9 to end the record-setting 24-game consecutive win streak of Neptunus.

Righthander David Bergman had another strong outing and struckout eight batters. He allowed only two batters to reach base in the first six innings and took a No-Hitter into the seventh at bat. But then, with one out, Bergman gave up a single to Jeffrey Arends, which in the end was the lone basehit for Neptunus this afternoon. In the eighth inning, rookie Urving Kemp, who made his big league-debut, became the lone player of Neptunus to reach second base in this game when he reached on an outfield-error.

Kinheim opened the score in the first inning off starter Diegomar Markwell. With one out, the lefthander gave up singles to René Cremer, Dirk van 't Klooster and Bryan Engelhardt to bring in one run. In the second at bat, Rafaël Jozefa led off with a single and scored when Rodney Michel followed with his second homerun of the season. Hereafter, Markwell retired the next nine batters in a row, then gave up a lead-off single to Niels van Weert in the fifth, but he was forced out later.

In the sixth, Markwell (who struckout six), gave up 2-out double to Bryan Engelhardt, who then scored when Jason Halman followed with a single, but the latter was eliminated himself when trying to advance to second base on the throw to home. Another 2-out run was added in the seventh inning. After Neptunus had turned a double play, Markwell gave up a single to Niels van Weert, then walked Björn Henrichs. Remco Draijer then followed with an RBI-double.

In the eighth inning, Kinheim took even more distance. With a 5-0 lead, René Cremer singled and Dirk van 't Klooster bunted for a basehit. On the bunt, pitcher Markwell collided with third baseman Urving Kemp. The latter had come into the game in the sixth inning, replacing Rien Vernooij, who injured his ankle when he grounded out. After the collission, Markwell was replaced out of precaution, as he hurt his shoulder. Jorian van Acker took over, but was greeted with a single from pinch-hitter Onno Jansen, that loaded the bases. After Jason Halman lined out, Rafaël Jozefa singled to bring in two runs, then another run was scored on a grounder by Rodney Michel, which made it 8-0.

Line Score, Box Score & Play-by-Play
Standings & Schedule
---

Mr. Cocker HCAW vs. Vaessen Pioniers
At Bussum, Mr. Cocker HCAW scored twice in the middle of the game vs. Vaessen Pioniers and hold onto the lead to win 2-1 and register its first victory of the season after having lost its first three games a week earlier vs. L&D Amsterdam Pirates.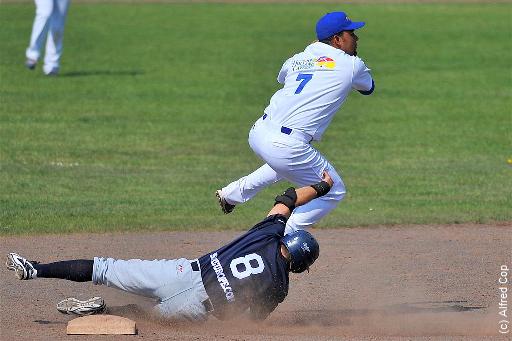 ...Dirimo Enrique Chavez (HCAW) completes a double play...
...after eliminating Michael Duursma...
(© Photo: Alfred Cop Fotografie)

Initially, HCAW was silenced in the first four innings by lefthander Conrad Orman, who allowed only one batter to reach base. With two outs in the first inning, Michael Plujmers doubled, but then Orman retired the next 10 batters in a row.

But in the fifth and sixth inning, HCAW scored a run to take a 2-0 lead. In the fifth, Julio Miguel Gonzalez led off with a walk, but was caught stealing. Next, Adrian Anthony also walked, then succesfully stole second base and scored on a 2-out single by Bart Sabel. In the sixth, lead-off hitter Wesley Bernardus was hit by a pitch, then advanced on a sac-bunt by Dirimo Enrique Chavez and a single by Michael Pluijmers. A following single by Lennart Koster then made it 2-0 and marked the end for Orman, who was relieved by Shane Gnade. He then loaded the bases by walking Gonzalez, but then two outs followed, leaving the bases loaded.

In the seventh inning, HCAW stranded a runner on third base and left another on second base in the eighth.

HCAW-starter Kevin Miner gave up only four basehits in the eight innings he pitched. The righthander was supported with a double play in the third inning and some nice plays by short stop Chavez. Pioniers reached second base four times, but was unable to score off Miner. In the ninth at bat, the Hoofddorp-squad did score off reliever Maarten Mulder, who gave up a lead-off homerun to American Nik Gumeson, but then struckout two of the next three batters. In the middle Norbert Lokhorst singled and reached base for the fourth time, but he was left at second base. A grounder ended the game, earning Mulder a save.

Line Score, Box Score & Play-by-Play
Standings & Schedule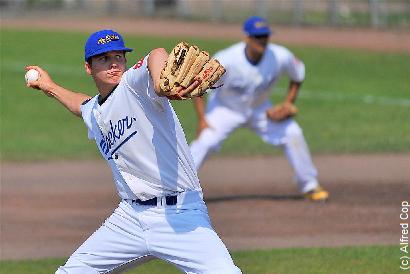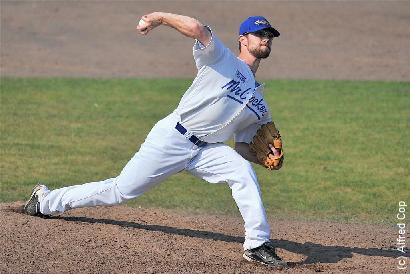 ...Kevin Miner (8 innings, winning pitcher) and Maarten Mulder (one inning, save)...
(© Photos: Alfred Cop Fotografie)
---

UVV vs. Sparta-Feyenoord
At Utrecht, UVV shutout Sparta-Feyenoord 4-0 and took an early 2-0 lead in the first at bat off starter Bobby Carrington. The American righthander started the game instead of announced lefthander Gregory Gustina. As Gustina is not available to pitch next Thursday-evening (due to work) in the opener of the next 3-game series, it was decided to switch the Game 1 and Game 2 starters for this series vs. UVV. As Carrington starts today, he will have an extra day of rest, because he will then be the starter on Thursday.

In the first at bat, Jeff Delfina led off for UVV with a double, then advanced to third on a single by Danny Rombley. Next, Delfina stole home to make it 1-0 and Fausto Álvarez Rizo followed with a double to make it 2-0.

In the second inning, UVV got the bases loaded. Shurty Tremus and Jirka Bliek singled, then Delfina was hit by a pitch with one out. But then Tremus was forced out at home on a grounder by Rutger Veugelers and a strikeout ended the at bat.

Starting with the strikeout, Carrington retired 10 of the next 12 batters. In the seventh inning, UVV added their third run. With two outs, Rutger Veugelers and Danny Rombley singled, while a throwing error enabled both to advance one base. A force play was then created by walking Fausto Álvarez Rizo intentionally, but then Carrington was charged with a balk, enabling Veugelers to score.

In the eighth, UVV made it 4-0. With one out, Shurty Tremus walked, advanced on a grounder by Jirka Bliek and stole third base. While Bliek was then caught stealing moments later, Tremus scored to make it 4-0.

Like Carrington, UVV-starter Orlando Yntema also went the distance. The righthander gave up only five hits and saw only one player reach third base. In the third, Jesus Castillo singled with one out, stole second and advanced on a sac-bunt by Rubinet Koko, but was left behind. From the fifth through ninth inning, Yntema retired 14 of the last 15 batters he faced.

Line Score, Box Score & Play-by-Play
Standings & Schedule

(April 23)