Frank Koene new Head Coach of UVV
Nederlands

VLEUTEN (Neth.) - Frank Koene is the new Head Coach of UVV. Koene succeeds American Royce Holder, who led UVV this season in its first year back in the Dutch big league. Holder was in his first season with the club, which finished the season in fifth place with a 17-25 record. In the following Play-Offs, UVV finished in first place winning seven of the nine games the team played. During the season, Pitching Coach Cliff Foster already left the team.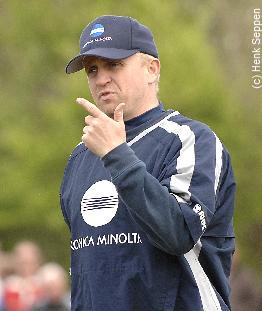 ...Frank Koene...
...Back as coach...
(© Photo: Henk Seppen)

With his appointment, Koene will return as a coach to the big league in 2012. Koene last coached on the highest level in 2009 when he was in his third season as Head Coach of Konica Minolta Pioniers. However, towards the end of June of that season, Koene stepped down after disappointing results. 2007 was the first season Koene led Pioniers and he led the team that year to the Holland Series.

In 2002, Koene made his debut as Head Coach in the big league when he led Mr. Cocker HCAW, but he resigned after the season. In his debut year, Koene led HCAW to a 29-16-2 record to finish in third place. He then guided the Bussum-team to the Holland Series in which it was swept by DOOR Neptunus, but HCAW secured a spot in the European Cup-tournament for the next year.
In 2003, 2004 and 2005, Koene was the Head Coach of HCAW-2, which played in the First Division.
As a Head Coach in the big league, Koene's record is 93-57-3, meaning he can earn his 100th career win next season.
As player, Koene made his big league-debut in 1984 playing for Giants Diemen. There, he kept playing and moved with the team after the 1987 season from Diemen to Almere, where its changed its name to Almere Giants '24. In 1989, the name changed again, this time to New Giants, in what was the last season of the club. From 1990-1994, Koene, a second baseman, played for Kinheim in Haarlem. After not having played on the highest level in 1995, Koene made a comeback in 1996, his first of three seasons with Mr. Cocker HCAW. He then retired as a player after the 1998 season. In 14 seasons in the big league, Koene played in 429 games, hitting 417 basehits.
In 1987, Koene was a member of the Dutch National Team, with whom he participated after the regular season in the Chung Hua Tournament in Taiwan, appearing in six international games.
(September 28)