Vaessen Pioniers announces transfers
Nederlands

HOOFDDORP (Neth.) - During a meeting at their clubhouse in Hoofddorp, Dutch big leaguer Vaessen Pioniers on Friday, October 28, announced its transfers for the upcoming season. Also on Friday, the team signed a 3-year sponsor-agreemeent with Vaessen Bouw, which this season supported the team for the first time.

...Jourick Blanco...

...Gyenuar Lopez...
(© Photos: Henk Seppen)
Pioniers confirmed that 1B Jourick Blanco will return to Hoofddorp. This season, Blanco played for Sparta-Feyenoord, appearing in 28 of the 42 regular season-games. Blanco finished with a .309 batting average, scored 13 runs and hit 30 basehits, including 10 doubles and two homeruns, while collecting 18 RBI's.

Also coming to Hoofddorp are Infielder Gyenuar Lopez, who made his debut this season in the Dutch big league and played in 35 games for ADO, finishing as the team's best hitter with a .347 batting average. Lopez scored 13 runs and had 11 RBI's and also led ADO with 42 basehits, including eight doubles and three triples.

Coming to Hoofddorp from Mr. Cocker HCAW are RHP Kevin Miner and Infielder Michael Pluijmers. The latter batted .231 in 41 games and collected 34 basehits, including eight doubles, while scoring 23 runs and having 13 RBI's. Miner was 5-7 with a 4.67 ERA and struckout 51 batters in 86 2/3 inning. Miner started 13 games and led the pitching staff with his innings.

...Kevin Miner...

...Michael Pluijmers...
(© Photos: Henk Seppen)
Another newcomer is Byron Cornelissen, who this season played for RCH-Pingu´ns in the 'Overgangsklasse', the second highest league.

Leaving Pioniers are Pitchers Eddie Aucoin and Conrad Orman, Infielder Mervin Gario, Outfielder Linoy Croes, Utility Randy Reiph and 1st Baseman Tino van Erk.

Aucoin was the pitching ace this season for Pioniers, finishing with an 11-1 record. Aucoin started 14 games and struckout 84 batters in 100 innings, while walking only 12.

Orman started 11 games this season for Pioniers and was 3-5 with a 5.29 ERA, while striking out 30 batters (and walking 42) in 49 1/3 inning. Orman returns to professional baseball, as he will pitch in the organization of the Baltimore Orioles.

Gario played in 21 games for Pioniers this season and batted .333 (18-for-54), scored 14 runs and had 16 RBI's. Croes played in 26 games, batted .179 with 14 basehits (including four doubles and one homerun), scored nine runs and had 10 RBI's. Reiph was a late addition to the roster and played in only 18 games, hitting .216 (8-for-37, with one triple and one homerun), scored seven runs and had eight RBI's. The new clubs of Gario, Croes and Reiph were not (yet) confirmed by Pioniers or announced by their rumored respective new clubs.

Van Erk, a rookie, played in nine games this season for Pioniers, hitting 2-for-9 (.222) and scored one run. The son of former big leaguer Peter van Erk (Amsterdam Pirates) will play for RCH-Pingu´ns in the new season.

As of now, Czech reliever Jan Rehacek (2-1, 10 games) and American infielder Nik Gumeson (team-leader in hitting (.315), hits (52), doubles (13), homeruns (4) and RBI's (40)) will return next season, as will veteran player DŔ Flanegin (.263, 17 runs, 20 RBI's). Veteran player Norbert Lokhorst (.285, 23 runs, 20 RBI's) might see less action next season, due to his fulltime work as dentist.

,,I'm very satisfied with my team'', Head Coach Robert Klaver stated. This season, Pioniers qualified as fourth and last team for the Play-Offs, but went on to reach the Holland Series, which they lost 4-1 to L&D Amsterdam Pirates.

(October 28)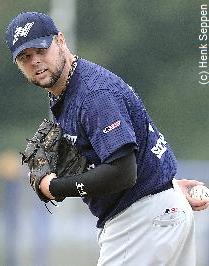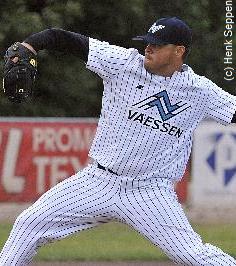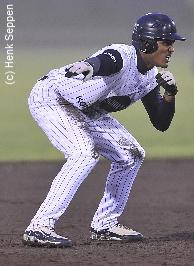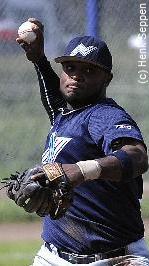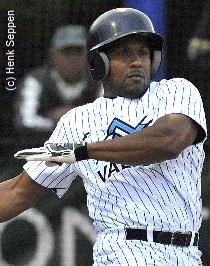 ...Leaving Hoofddorp: Eddie Aucoin, Conrad Orman, Linoy Croes, Mervin Gario, Randy Reiph...
(© Photos: Henk Seppen)