Baseball Week coaches in Puerto Rican WBC-staff
Nederlands

SAN JUAN (Puerto Rico) - José David Flores and Carlos Baerga, who were the Manager and 1B Coach of the team of Puerto Rico that participated in this years Haarlem Baseball Week, have been named to an experienced coaching staff for their national team for the upcoming World Baseball Classic in March. During the Baseball Week, Puerto Rico was beaten in the final by Cuba.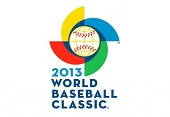 Flores will be the Assistant Coach of Manager Edwin Rodríguez, while Baerga will serve again as 1B Coach for Team Puerto Rico. Former Major League-players José 'Tony' Valentin and Carlos Delgado will be the Bench Coach and Batting Coach respectively. Also named to the staff were Joe Espada (3B Coach), José 'Cheo' Rosado (Bullpen Coach) and Ricky Bones (Pitching Coach).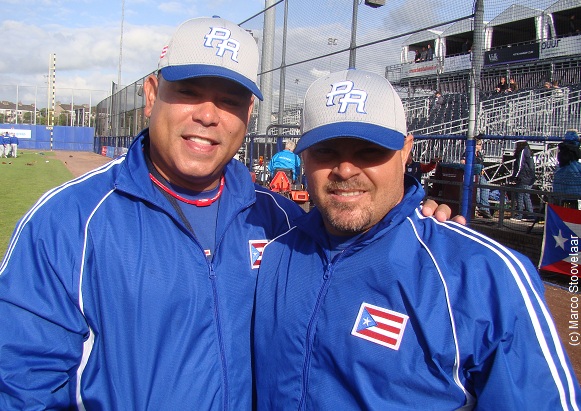 ...Carlos Baerga (left) with José Javier Valentín...
...during the 2012 Haarlem Baseball Week...
(© Photo: Marco Stoovelaar)

Carlos Baerga, who turned 44 in November, signed a contract with the San Diego Padres in 1985, then made his Major League-debut in 1990 when he played for the Cleveland Indians. In 1996, Baerga was traded to the New York Mets, where he played through 1998. Early 1999, Baerga signed with the St. Louis Cardinals, but was released there before the start of the season. He was contracted by the Cincinnati Reds, played in the minors and was released there a few months later and was picked up again by the Padres, with whom he returned to the big league in 1999, but transfered to the Cleveland Indians in the same season. More teams followed, as hereafter, he signed with the Tampa Bay Devil Rays (2000) and Seattle Mariners (2001), but didn't play with these teams in the Major League, as he was without a contract when these two respective seasons started, but he played in Korea in 2001. Baerga then returned to the Major League in 2002 playing for the Boston Red Sox, followed by the Arizona Diamondbacks (2003-2004) and Washington Nationals (2005). In 14 Major League-seasons, Baerga played in 1630 games. In 1995, he played in the World Series with Cleveland. In 2006, Baerga played for Puerto Rico during the first World Baseball Classic.

Baerga is the owner of two special Major League-records. He is the only second baseman in Major League-history who hit a homerun lefthanded and righthanded in one inning, which he did on April 8, 1993 against the New York Yankees. And he is the only second baseman in the American League to have a season with (more than) 200 basehits (200), 100 RBI's (114), 100 runs scored (105), 20 homeruns (21) and a batting average above .300 (.321), which also happened in 1993.
Besides Baerga, Carlos Delgado, José Valentín and Ricky Bones are also veteran Major League-players.
Carlos Delgado played in 17 Major League-seasons, including 12 for the Toronto Blue Jays. He also played for the Florida Marlins (2005) and New York Mets (2006-2009). With 473 homeruns and 1512 RBI's, he holds the all-time records among Puerto Rican players.
José 'Tony' Valentín played in 16 Major League-seasons for the Milwaukee Brewers (1992-1999), Chicago White Sox (2000-2004), Los Angeles Dodgers (2005) and New York Mets (2006-2007). This season, he was the manager of the Fort Wayne TinCaps, the Single-A team of the San Diego Padres. His brother José Javier Valentín was one of the coaches of Puerto Rico this summer during the Haarlem Baseball Week.
Ricky Bones pitched in 11 Major League-seasons for the San Diego Padres (1991), Milwaukee Brewers (1992-1996), New York Yankees (1996), Cincinnati Reds (1997), Kansas City Royals (1997-1998), Baltimore Orioles (1999) and Florida Marlins (2000-2001).
Edwin Rodríguez, who will manage the team, played in eleven Major League-games. In 1982, he played in three games for the New York Yankees, then added seven in 1983 for the San Diego Padres, followed by one more game for the Padres in 1985. Rodríguez played professionally from 1980 through 1987, primarily in Triple-A.
José Rosado played in five Major League-seasons with the Kansas City Royals, while Joe Espada played in ten Minor League-seasons, mostly for the Oakland Athletics.
Puerto Rico will play the First Round of the World Baseball Classic at home in San Juan, meeting the Dominican Republic, Spain and Venezuela.
(December 13)