Sidney de Jong retires from national team
Nederlands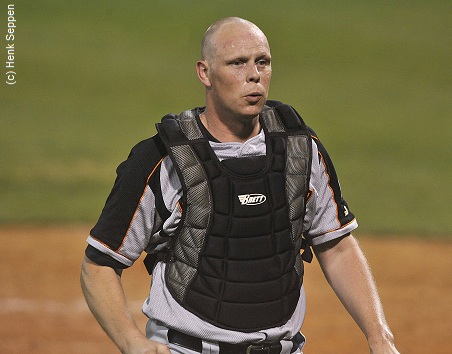 ...Sidney de Jong during St. Petersburg International (2011)...
(© Photo: Henk Seppen)

AMSTERDAM (Neth.) - Sidney de Jong, catcher and team-captain of the Dutch National Baseball Team, has announced his retirement from the national squad. He will continue playing on the club-level for L&D Amsterdam Pirates, with whom he won the Dutch championship last season. De Jong's reason to retire from the national team is to be more with his family.

This means that De Jong's long international career ended with the capturing of the world title when the Dutch Team defeated Cuba 2-1 in the final of the World Championship last year on October 15 in Panama City. In the weeks following the successful World Championship, the 32-year old De Jong was Royally Knighted, became an Honorary Member of the Dutch Association, won the National Sports Team of the Year Award with the Dutch squad and was named Almere's Athlete of of the Year.

Sidney de Jong made his debut in the Dutch National Team during a training camp in the USA on October 11, 1998. The trip to the States followed the World Championship in Italy, where the Dutch squad had finished in sixth place in August. During the 16-day training camp in Tucson (Arizona), the Dutch Team played a series of seven games, including five against University-squads and two against a minor league-combination of the Colorado Rockies. The only player on the Dutch roster back then who is still a member of the current squad is pitcher Rob Cordemans, De Jong's teammate in Amsterdam.

After the USA-trip, it took three more years for De Jong to become a regular in the national team. He wasn't part of the squad in 1999 and 2000, when it participated in the Intercontinental Cup and Olympic Games in Australia. However, on August 22, 2000, De Jong did play in his first international game, when he was the catcher against the national team of Taiwan, which then played a 5-game series against the Dutch Team. In that series, 37 players played for the Dutch Team in the five games.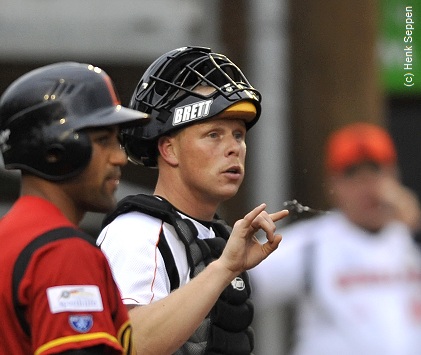 ...Sidney de Jong during EC 2010 in Germany...
(© Photo: Henk Seppen)

During the European Championship of 2001 in Germany (which was won by the Dutch), Sidney de Jong participated in his first big event, sharing the catcher's position with Johnny Balentina and Maikel Benner. But in 2002, De Jong was a selectee for the national team from the beginning and never left it to become the first catcher in the squad. In the first years, De Jong shared with Maikel Benner and professional Chairon Isenia. In 2005, he was the first catcher and was in his turn being joined by catchers like Tjerk Smeets, Mark Duursma, Martijn Meeuwis, Jason Halman and currently Bas Nooij.

In his international career, De Jong played in more than 30 big events, including the Olympic Games on 2004 (Athens, Greece) and 2008 (Beijing, China), two World Baseball Classics (2006, 2009), five World Championships (2003, Cuba; 2005, Netherlands; 2007, Taiwan; 2009, Europe; 2011, Panama), five European Championships (2001, Germany; 2003, Netherlands; 2005, Czech Republic; 2007, Spain; 2010, Germany), three Intercontinental Cups (2002, Cuba; 2006, Taiwan; 2010, Taiwan), five Haarlem Baseball Weeks (2002, 2004, 2006, 2008, 2010), four World Port Tournaments (2003, 2007, 2009, 2011), two European Baseball Series (2006, 2009), two Olympic Qualifiers (2003, 2007) and one Pre-Olympic Tournament (2004, Italy).

Besides these events, De Jong also was part of the national team during six training trips the squad made to the USA (1998, 2007, 2011) and Curaçao (2004, 2005, 2007) and several exhibition games that were played before the start of a tournament.

Since playing in his first official international game in 2000, Sidney de Jong played in 178 in total.

(January 23)