(Story by Marco Stoovelaar; Photos by Henk Seppen)

Kalian Sams nominated for Award in The Hague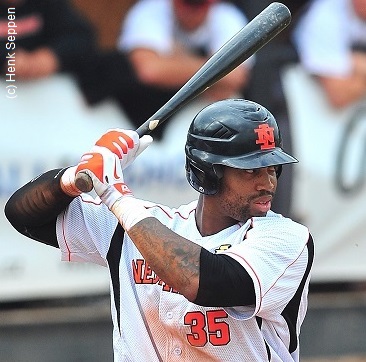 ...Kalian Sams hitting for the Dutch Team...
...during the European Championship...
(© Photo: Henk Seppen)
Nederlands

THE HAGUE (Neth.) - Kalian Sams is one of the three nominees for the Male Athlete of the Year in the Municipality of The Hague. The annual sports awards in this city will be handed out on Monday, January 26, 2015 during the Haags Sportgala at the AFAS Circustheater in Scheveningen.

Besides Male Athlete of the Year, there are also awards for Female Athlete of the Year, Team of the Year, Coach of the Year and Talent of the Year.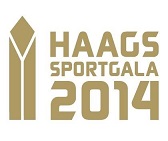 This year, Kalian Sams celebrated four championships-titles. Playing for Topco Scientific Falcons, Sams won the championship in the Popcorn Baseball League in Taiwan. During Spring Training this year, Sams was released by the Texas Rangers and he then played briefly for Camden Riversharks in the independent Atlantic League. Due to a knee-injury, his season with Camden ended in May, but he then signed a new contract in Taiwan. The Popcorn Baseball League is a new professionall league, which had its inaugural season this year.
After completion of the season in Taiwan, Sams returned to the Netherlands to join the Netherlands Baseball Team. With the Orange squad, he won an international tournament in Paris (France), then captured the European Championship-title in Brno (Czech Republic).
Sams then fininished the season in October playing for DOOR Neptunus, with whom he won the Dutch title.
Also nominated for Male Athlete of the Year in The Hague are Niels Feijen (pool billiards) and Tim Krul (soccer).
Feijen won the World Championship 9-ball this year and the European title in straight pool.
Krul stopped two penalty-shots in the Quarter Final of the World Championship in Brazil, where he finished in third place with the National Soccer Team.
Voting can be done via www.denhaag.nl/sportgala. The public votes will represent 50 percent of the voting, the remaining 50 percent comes from a jury.

...Kalian Sams with the European...
...Championhip Trophy...

...Kalian Sams during the Holland Series...
...playing for DOOR Neptunus...
(© Photos: Henk Seppen)
(December 4)