(Story by Marco Stoovelaar; Photos by Henk Seppen)

HCAW begins exhibition season with loss
Nederlands


OOSTERHOUT (Neth.) - HCAW opened its exhibition season this afternoon (Sunday, March 8) with a 6-3 loss at Twins in a 9-inning game that lasted three hours and four minutes. HCAW trailed 3-0 after three innings, then came alongside by scoring runs in the fourth, eighth and ninth inning. In the bottom of the ninth inning (which was played in its entirety), Twins scored three runs to win 6-3.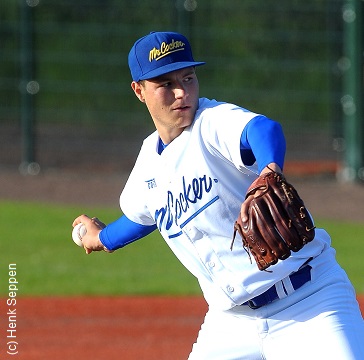 ...HCAW-starter Sander Helmendach...
(© Photo: Henk Seppen)

Before the start of the game, there was a moment of silence in remembrance of Gerard Aerts, who unexpectedly passed away on March 1. Gerard Aerts, nicknamed 'Big G', was the trainer of the baseball-team and a well-respected member of the Twins-club. Two softball-teams also participated in the remembrance. For this sad circumstance, the first game between the two teams to be played on Saturday in Bussum was cancelled, as on that day, the memorial service was held for Gerard Aerts.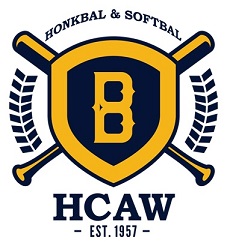 Twins opened the score today in the first inning off of starting pitcher Sander Helmendach. With two outs, Anthony Vrolijk walked and stole second base, then scored on a following single by newcomer Berry van Donselaar, who last season played in the big league with Mampaey The Hawks.
Twins increased its lead with two runs in the third at bat. Facing new pitcher Gijs van Els, Vrolijk singled with one out, moved on a grounder and stole third base. He then scored the second run for Twins when Mick Molenaar doubled. The latter then advanced on a single by Bob van der Meer and scored when next batter Stijn Janssens also singled.
Marco Schel (5th inning) and Gio Tensen (6th and 7th inning) then held Twins scoreless, while HCAW started to come back.
HCAW stranded four runners in the first two innings off Twins-starter Ben Van Nuffel. Trailing 1-0, the Bussum-team appeared to come to score in the top of the third inning when it got the bases loaded with no outs. New pitcher Matthew Latta walked lead-off hitter Peter van Doesburg, then gave up a double to Roy Seltenrijch. The bases got loaded when next batter Rossini Frolijk also walked. But then Jim Froberg grounded into a 1-2-3 double play and Jarreau Martina (who last season played for Twins) followed with a comeback-grounder to Latta to end the inning.
In the top of the fourth inning, now trailing 3-0, HCAW scored its first run off of new pitcher Lars Molenaar. Rowan van Hoek and Max Clarijs led off with walks, then the first first reached third base when Rikkert Kempen (also a former Twin-player) grounded into a double play. Moments later, Van Hoek scored when Emersson Paula reached on an error.
HCAW was then silenced in the next three innings (Twins turned another double play in the 7th) by Anthony Vrolijk (5th, 6th) and Canadian hurler Branden Kuzyk (7th).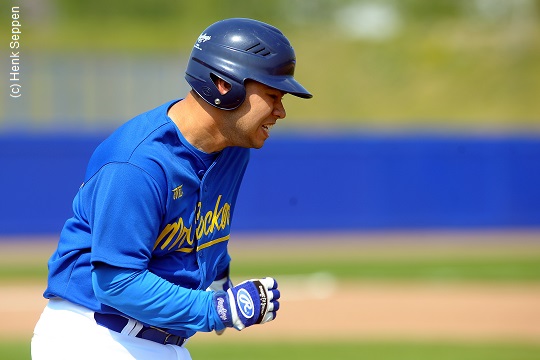 ...Rossini Frolijk (above) and Peter van Doesburg...
...both reached base four times for HCAW...
(© Photo: Henk Seppen)

In the 8th inning, HCAW added its second run off of Kuzyk. Martina led off with a single, but was then caught stealing after a pick-off. Next, Boyd Tuhumeru reached on an error, stole second base, reached third on a grounder and scored when a throwing error followed trying to eliminate him at third base.

In the 9th inning, HCAW came alongside off of Berry van Donselaar. With one out, he hit Peter van Doesburg with a pitch, who then moved on a 2-out single by Rossini Frolijk and scored on a single by Aldrick Guzman, who last season played for Tridents, the Rookie League-team of Curaçao Neptunus.

Besides Martina and Kempen, a third former Twins-player wore a HCAW-uniform today, being outfielder Brian Biezen. Another newcomer is Emersson Paula, who last season also played in second highest division ('Overgangsklasse') with Orioles. In the eighth inning, Steven van Groningen made his debut in a HCAW-uniform, becoming the fifth pitcher for the squad of Head Coach Ralph Milliard, who last season led Twins.

After a scoreless eighth inning, in which he struckout two batters, Van Groningen (who last season played for Vaessen Pioniers) gave up three runs in the bottom of the ninth. He walked Shurty Tremus, who was then awarded second base on a balk, which was followed by a walk for Nick Peels, who last season played in the big league for UVV. The two runners then advanced on a sacrifice bunt by Bart Hanegraaf and the bases got loaded when Urving Redan (ex-ADO Lakers) also walked. Tremus then went on to score what would be the winning run on a wild pitch. A following double by Mick Molenaar brought in two more runs to lift the lead to 6-3, before the final out was made.

Next weekend, HCAW wil face UVV in two games. After the first game on Saturday in Bussum, the two teams were scheduled to play at UVV on Sunday. However, the field of UVV is not yet ready for the season, so the game was transfered to Bussum. Both games start at 3 PM.

A week later (March 21-22), HCAW was scheduled to play two games against Mainz Athletics from Germany. However, the club had received notice that Mainz is unable to come to Bussum, so both games are cancelled. HCAW now works on finding a new opponent for that weekend.

(March 8)

Complete Schedule Exhibition Season

Twins - HCAW 6-3 (9 inn.)
R
H
E
HCAW
000
100
011
-
3
5
1
Twins (Overgangsklasse)
102
000
003
-
6
9
5
| | | | | | | |
| --- | --- | --- | --- | --- | --- | --- |
| pitchers HCAW | inn. | SO | BB | H | R | ER |
| Sander Helmendach | 2 | 2 | 2 | 1 | 1 | 1 |
| Gijs van Els | 2 | 1 | - | 6 | 2 | 2 |
| Marco Schel | 1 | - | - | - | - | - |
| Gio Tensen | 2 | 1 | 2 | - | - | - |
| Steven van Groningen, L (0-1) | 2 | 3 | 3 | 2 | 3 | 3 |
| pitchers Twins | inn. | SO | BB | H | R | ER |
| Ben Van Nuffel | 2 | 2 | 3 | - | - | - |
| Matthew Latta, H (1) | 1 | - | 2 | 1 | - | - |
| Lars Molenaar, H (1) | 1 | - | 2 | 1 | 1 | - |
| Anthony Vrolijk, H (1) | 2 | 1 | - | - | - | - |
| Branden Kuzyk, H (1) | 2 | 1 | 1 | 1 | 1 | - |
| Berry van Donselaar, BS (1), W (1-0) | 1 | - | - | 2 | 1 | 1 |
Umpires: HP-, 1B-.
Scorer-Rob Schuurman (HCAW).
Time-3:04 hr.