(Story by Marco Stoovelaar; Photo by Kinheim)

DSS and Kinheim discuss possible cooperation
Nederlands



HAARLEM (Neth.) - Representatives of DSS and Kinheim recently have had a talk with each other to discuss wether the possibility for a cooperation between the two clubs can be studied. The boards of both clubs are both positive to have such a study.
In the past few weeks, it already rumored that cooperation-talks were either underway or planned. On Monday-evening (September 2), there was a clubmeeting at DSS to discuss the new information.

The two clubs both play at the Pim Mulier Sports Complex in Haarlem. The baseball-team of Kinheim plays its home-games in the Pim Mulier Stadium, while DSS plays its games at the neighboring baseball-field. The softball-fields are also at the same site. While the two baseball-fields are separated by a small road, the clubhouse of DSS is located behind the centerfield-fence of Kinheim's stadium.

On the website of both DSS and Kinheim, the same statement was posted on respectively September 2 and 3. The statement, which was addressed to the members of the clubs and was signed by the Boards of both clubs, partly reads:
,,In the light of transparent communication, we as board feel it is important to inform you about a recent development which concern our members.
Representatives of baseball- and softballclubs Kinheim and DSS recently have had a talk to discuss the possibility for a cooperation between the two clubs can be studied. The outcome is discussed within the boards of both clubs and we are both unanimously positive about such a study.
As boards, we will get together soon to further acquiantance. Together, we will shape the follow-up steps and determine together what is necessary to come to funded choices in the interest of the future of both clubs.''
Kinheim and DSS are two of the oldest existing baseball- and softball-clubs in Haarlem. Kinheim was founded in 1935, DSS in 1950. DSS then became one of the first Dutch clubs to play softball, starting in 1948. Kinheim added softball in 1954.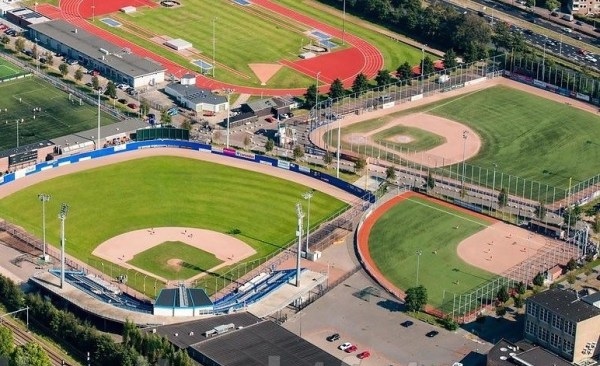 ...The Pim Mulier Sports Complex in Haarlem...
...At left is the Pim Mulier Stadium where the baseball-team of Kinheim plays...
...At right is the baseball-field of DSS...
...In the center is the softball-field of Kinheim..
...The softball-field of DSS is located behind leftfield of the stadium...
(© Photo: Kinheim)

Both Kinheim and DSS have played with both baseball and softball in the highest league. Kinheim played as HCK through the early seventies with HCK standing for Honkbal (Baseball) Club Kinheim. Through the years, Kinheim was more successful in the highest league in baseball, while DSS was more successful in softball. Many National Team-players in baseball played for Kinheim, many in softball played for DSS. This year, DSS is one of three clubs which has both its main baseball- and softball-team playing in the highest leagues. The others are Hoofddorp Pioniers and Twins Oosterhout.

After completion of the 2016 season, Kinheim withdraw its baseball-team from the big league after most players had left the team. In 2016, Kinheim finished in fourth place to qualify for the Play-Offs, which it had reached annually since 2007. Despite that, 19 players left after the season had ended. After having played in the highest league for 28 consecutive seasons, the team decided to withdraw. Kinheim won the Dutch Championship-title four times. Since 2017, Kinheim plays in the second highest league ('Overgangsklasse'). Last year, Kinheim finished in first place, but then lost the Promotion/Relegation Series against Storks.

At the moment, Kinheim again is playing for first place in the remainder of the season in the Overgangsklasse. Kinheim is ahead of Euro Stars and RCH-Pingu´ns, which are the other two main contenders for first place.

When Kinheim indeed wins the title in the Overgangsklasse, it qualifies again for the Promotion/Relegation Series, which opens on September 28. In that Series, the team then will meet DSS, which last Saturday lost the Play-Downs Final Series against Silicon Storks.

In the regular season, the baseball-team of DSS finished in seventh place in the big league, then met Twins Oosterhout in the Play-Downs and was swept in three games. With that, DSS had to play the next Series against Storks, which won the best-of-five, 3-1 to prolong its stay in the big league. DSS promoted to the big league in 2014 after winning the Promotion/Relegation Series against The Hawks.

The softball-team of DSS promoted in 2009 to return to the highest league after a 24-year absence. The team won the Dutch Championship-title seven times in the sixties and seventies and also regularly participated in European Cup-tournaments in those years. In 2010, the team relegated again, but it made another comeback in 2014. Last season, the team had to play in the Promotion/Relegation Series against Amsterdam Pirates. It prolonged its stay by winning the best-of-three, 2-0.

This season, DSS finished in seventh place in the Golden League. With that, it now plays in the Golden League/Silver League Promotion/Relegation Series with five other teams. That Pool opened last Saturday. Four teams of this Pool will play in the Golden League next year.

(September 3)