(Story by Marco Stoovelaar; Photo by Robert Bos)

Delano Selassa named Most Valuable Player Holland Series
Nederlands



AMSTERDAM (Neth.) - Delano Selassa is the Most Valuable Player of the 32nd Holland Series. Last Sunday (September 1), his double in the seventh game of the Championship Final broke open the game for L&D Amsterdam Pirates. The double (two runs batted in) led to three runs and lifted the lead to 4-0. Amsterdam Pirates won 6-0 to complete a historic comeback, winning its fourth consecutive game after having lost the first three to reigning champion Curaçao Neptunus. With that, Pirates won its first title since 2011 and its fifth overall. Never before had a team comeback after a 3-0 deficit.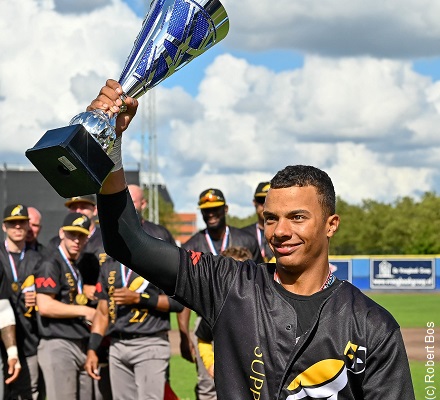 ...Delano Selassa with the Championship Trophy...
(© Photo: Robert Bos)

The exciting, suspenseful, spectacular and attractive best-of-seven ended on Sunday with a well-visited seventh game. Amsterdam Pirates took an early lead, scoring a run in the first inning on an error. In the second at bat, Pirates got the bases loaded. Delano Selassa then a double down the rightfield-line. Two runners scored and the third also was able to score on a throwing error. In the seventh inning, Sharlon Schoop sealed the win with a 2-run homerun. Winning pitcher Jhan Rifaela gave up only four basehits in six-plus innings.

While the comeback was labeled as a team effort, there were several important performances by Pirates-players and thus multiple candidates for the MVP Award.

In Game 4 on Tuesday, reliever Mike Groen had an outstanding outing taking over after a long rain-delay. He gave no runs and no basehits in the 4 2/3 inning he pitched since taking over in the fifth. Groen retired the final 14 batters in a row. In the same game, Kenny Berkenbosch put Pirates ahead with a 3-run homerun after the team had trailed 2-0. Amsterdam won 5-2.

In Game 5 on Thursday, starting pitcher Kevin Heijstek gave up only four hits in seven innings. In the eighth, after Neptunus had comeback to tie the score (1-1), Gilmer Lampe hit his second homerun of the Series to give Pirates a renewed lead. Pirates won 2-1.

In Game 6 on Saturday, Neptunus was three outs away from the title, leading 3-2 in the bottom of the ninth. Rashid Gerard had homered to narrow the deficit to 3-2 in the sixth. In the bottom of the ninth, with no outs, Amsterdam Pirates got the bases loaded, came alongside on an infield-hit by Gilmer Lampe, then won on a walk-off walk by Sharlon Schoop. In this game, Jim Ploeger took over the pitching in the fifth and also had an outstanding outing, giving no runs and hits in the five innings he pitched, while allowing only one batter to reach base. Amsterdam won 4-3 to force a seventh game.

And in Game 7, there were the already mentioned accomplishments of Selassa, Rifaela and Schoop.

...Delano Selassa receives his MVP Award...
(© KNBSB)

In this years Series, Schoop had a major contribution as short stop, but third baseman Rashid Gerard also made some great plays. Gerard was the team's best hitter in the Holland Series with a .450 batting average. Kenny Berkenbosch and Gerard led the team with nine basehits. Berkenbosch led with five runs batted in. Gilmer Lampe scored the most runs (6). Max Clarijs led with three doubles.

It was decided that the seventh game was to be decisive for the naming the MVP. The honor went to Delano Selassa for his important double that broke open the game. In the Series, Selassa was Amsterdam's second-best hitter with a .400 average (8-for-20) and scored five runs.

Coming Monday, Selassa leaves for Yuma, Arizona (USA). There, he will study at Arizona Western College and will play for Matadors, the baseball-team of the school. The team plays in the Arizona Community College Athletic Conference, which is part of the National Junior College Athletic Association. Joining Selassa in the team are pitcher Luuk ter Beek, infielder Nolan Beugeling (both Hoofddorp Pioniers) and outfielder Jeandro Tromp (HCAW). In the College-season that ended in May of this year, pitcher Angelo Wicklert (Hoofddorp Pioniers) also played for this team, as did Curaçao-pitchers Chris Koeiman and Arjun Huerta. In July, these two pitchers participated with Curaçao in the World Port Tournament in Rotterdam (Netherlands).

During the Holland Series, it is the Scoring Committee who votes for the MVP Award. Through the years, after completion of the final game, the name of the winner has always been announced during the Trophy Presentation and honoring of the winning team. That of course is the only moment to name the MVP, as he then can be cheered and congratulated by teammates and fans. Until some years ago, the actual Award was handed out later during the presentation of the best players of the season, but the winner was announced after the final game. The past years, the MVP Award was handed out also during the festivities on the field. However, for some reason, that didn't happen last Sunday, while the Scoring Committee was ready to name a winner. Also, the name of the winner was not announced. On Sunday-evening, KNBSB's Executive Director Bart Volkerijk admitted that something had gone wrong concerning the MVP Award and that it would be corrected as soon as possible.

The MVP Award was now handed out to Selassa on a rainy Wednesday-afternoon (September 4) in an empty clubhouse of Amsterdam Pirates. Without teammates, without fans...

(September 5)