www.grand-slam.nl
International Baseball
Headlines
Compiled and Copyright © 1997-2019 by Marco Stoovelaar

(Story by Marco Stoovelaar; Photo by Robert Bos)



Netherlands Under-23 Team closes with No-Hitter; Finishes in 6th place
Nederlands



PRAGUE (Czech Rep.) - The Netherlands Under-23 Team closed the second U23 European Championship on Sunday (August 11) with a big 14-0 win against Croatia. With the win, the Netherlands finished in sixth place overall. A very disappointing result, as the team was eliminated for the top-four and thus dethroned as European champion. And with that, the team missed a chance to qualify for next years U23 World Cup in Mexico.

In today's game, the Netherlands Team collected ten basehits and scored 14 runs. In the previous four games combined, the team recorded eleven basehits and scored nine runs. Before today's game, the team's batting average was only .131. During this game, it was raised to .165.
Three pitchers threw a combined No-Hitter today in the 5-inning game against Croatia. Taylor Clemensia homered and batted in five runs.
Also on Sunday-morning, Great Britain nipped Ukraine 3-2 to finish in fifth place. When Ukraine would have surprised with a win, the Netherland probably would have ended up in the fifth position.
In the afternoon, Belgium shutout France 2-0 to win the Bronze Medal.
On Sunday-evening, Germany meets the Czech Republic in the Final. Germany won 10-0 in its Semi-Final against Belgium on Saturday. In the evening, the Czechs played a thriller against France in the other Semi-Final. The Czechs trailed 5-3 halfway the fourth inning, but led 10-5 when the seventh and final inning began. France rallied for four runs to narrow the deficit to only 10-9 and still had the bases loaded with no outs. But the tenth (and possible eleventh) run didn't come, as a force out at the plate, a strikeout and groundout ended the game.
The Czech Republic won the Final with a 4-1 score.
(August 11)
Final Standings:
1. Czech Republic, 2. Germany, 3. Belgium, 4. France, 5. Great Britain, 6. Netherland, 7. Ukraine, 8. Croatia.

The Netherlands opened the game with a 9-run rally in the top of the first inning, then added five runs in the second at bat. Then, the scoring stopped. In the final three at bats of the game, the Orange Team was held scoreless and produced only two basehits.

In the opening at bat, fourteen Dutch batters faced two Croatian pitchers. The long 9-run rally began with a lead-off bunt-single by Julian Rip on the first pitch from starter Anton Lekic. Next batter Oliver van der Wijst Severino also went after the first pitch, but flied out. After Rip had stolen second base, Taylor Clemensia walked, then the score was opened when Koen Halderman followed with a 2-run triple.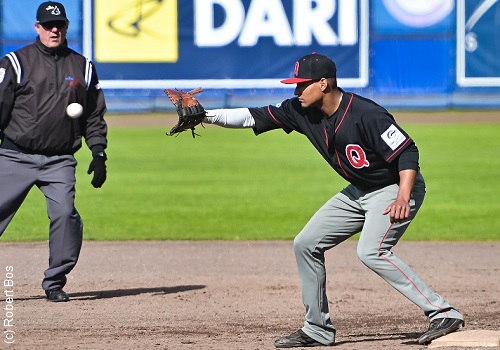 ...Taylor Clemensia hit a 3-run homerun and batted in 5 runs...
(© Photo: Robert Bos)

Hereafter, Jules Cremer walked and Bob van der Meer added a 2-run single. After a walk for Tommy van de Sanden, Delano Selassa delivered a runscoring double. With two outs, a run was scored on a wild pitch, then Rip walked in his second at bat in the inning. That led to a pitching change, as Duje Papic took over from Lekic. He got the bases loaded when he hit Oliver van der Wijst Severino with a pitch. Two more runs were added hereafter when Taylor Clemensia singled. With runners on first and third base, an error on a grounder by Koen Halderman accounted for the ninth run.

The Netherlands increased the lead with a 5-run rally on three hits with two outs in the second at bat. Bob van der Meer led off with a walk. He moved on a wild pitch and a flyout, then scored when a line drive by Delano Selassa was caught, making it a sacrfice fly. With two outs, Jeandro Tromp singled and Julian Rip walked. A run was then added when next batter Oliver van der Wijst Severino doubled. With runners on second and third base, Borna Strelec became the third Croatian pitcher. He was greeted with a 3-run homerun by Taylor Clemensia.

In the remainder of the game, Strelec held the Netherlands scoreless. After having retired the side in the third inning, Strelec gave up a lead-off single to Delano Selassa in the fourth, but then eliminated the next three batters. In the fifth, he walked Clemensia and gave up a single to Halderman. This time, a force play-grounder, flyout and groundout followed.

Croatia got five baserunners off of three Dutch pitchers. In the first inning, off of starter Matz Schutte, lead-off hitter Amos Belin reached on an error. But with two outs, he was forced out on second base.

Schutte retired the side (two strikeouts) in the second inning. He was then relieved by Mike Groen in the third. As Schutte didn't pitch the required total of innings, he got a no-decsion, while Groen was credited with the win.

Groen also retired the side with two strikeouts in the third inning. The righthander then hit lead-off hitter Karlo Kos with a pitch in the fourth, but retired the next three batters.

Gilian Wernet pitched the fifth inning for the Netherlands. With one out, he walked Antonio Horvatic. But he was forced out, then Wernet closed the game with a strikeout.
Croatia - Netherlands 0-14 (5 inn.)
R
H
E
Netherlands
950
00
-
14
10
1
Croatia
000
00
-
0
0
1
pitchers Netherlands
inn.
SO
BB
H
R
ER
Matz Schutte
2
3
-
-
-
-

---

Mike Groen, W (1-0)
2
2
-
-
-
-

---

Gilian Wernet
1
2
1
-
-
-

---

pitchers Croatia
inn.
SO
BB
H
R
ER
Anton Lekic, L (0-1)
0.2
1
4
4
8
8

---

Duje Papic
1
-
2
3
5
4

---

Borna Strelec
3.1
1
1
3
1
1

---

Homerun: Netherlands: Taylor Clemensia (1)(2nd,3-run,2 outs,off Strelec).
Umpires: HP-Andrey Malinovskiy (Ukraine), 1B-Blake Taylor (Great Britain), 3B-Winfried Berkvens (Netherlands).
Official Scorers-Romana KuckovŠ (Czech Rep.), Jarka DuffkovŠ (Czech Rep.), Dan KrejčiřŪk (Czech Rep.).
Technical Commissioner-Jean-Marie Meurant (France).
Starting Time-11:00 AM.
Time Played-1:34 hrs.
Site-Eagles Park, Prague (Czech Rep.).

Thank you for visiting this site.
Mail your suggestions and questions to stoov@wxs.nl
Copyright © 1997-2019 Marco Stoovelaar / Grand Slam * Stats & News.