(Story by Marco Stoovelaar; Photos by Henk Seppen)



Didi Gregorius to play for Philadelphia Phillies
Nederlands



PHILADELPHIA, Pennsylvania (USA) - While not yet officially confirmed and announced, it has been reported by multiple sources on Tuesday (December 10) that Didi Gregorius will play for Philadelphia Phillies in 2020. According to the reports, the Amsterdam-born short stop will sign an one-year contract for $ 14 million. The past five seasons, Gregorius played for New York Yankees.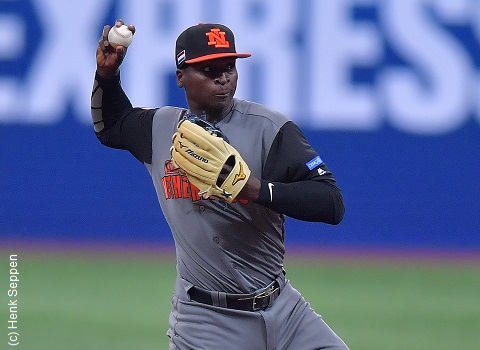 ...Didi Gregorius playing for the Netherlands...
...during the 2017 World Baseball Classic...
(© Photo: Henk Seppen)

Didi Gregorius, who will turn 30 in February, became a Free Agent after this season. Since then, there were rumors that he might be re-signed by the Yankees, but also could sign with another club. Philadelphia Phillies was named most, but his former team Cincinnati Reds was also mentioned, as was Milwaukee Brewers. On Tuesday (December 10), it was rumored by multiple sources that Gregorius and Philadelphia had come to a deal, which has not been confirmed yet. On Monday, the Phillies signed righthanded pitcher Zack Wheeler to a 5-year, $118 million contract.

Gregorius joined New York Yankees in early December 2014 when he was traded in a 3-team deal involving Arizona Diamondbacks and Detroit Tigers. Gregorius made his Major League-debut in 2012, playing in eight games for Cincinnati Reds. After the 2012 season, the short stop was traded by Cincinnati to Arizona Diamondbacks. There, he became a regular player and appeared in 103 games during the 2013 season. In 2014, Gregorius played in 80 games for the D-Backs and then was traded to New York in the off-season.
At the Yankees, Gregorius was the successor of short stop Derek Jeter, who retired in 2014 after having played 20 seasons for the Yankees. After a slow start in 2015, Gregorius did great as short stop for New York, both defensively and offensively. With his bat, he did things no other short stop had done in Yankee-history. He became a popular player with the fans of the Yankees and also within the team.
After the 2018 season, Gregorius underwent Tommy John-surgery. He missed Spring Training and returned to the line-up in June. The lefthanded hitting Gregorius played in 82 games, struggled and batted only .238, but he hit 16 homeruns and batted in 61 runs.
In his first season with the Yankees, Gregorius played in 155 games and batted .265 with 56 runs batted in and nine homeruns. In the following three seasons, his performances became better and better, setting personal highs each season. He batted .276, .287 and .268 in 2016, 2017 and 2018. His run-production in these seasons increased from 68 to 73 to 89. In these three seasons, his RBI-totals were 70, 87 and 86, while his homerun-total grew from 20 to 25 to 27. During these seasons, Gregorius set several records for short stops in the rich Yankees-history. Last year, he hit two grand slams to give him three while playing for the Yankees. With three grand slams, Gregorius tied the club-record for most grand slams by a short stop. The only other Yankees short stop to do so was legendary Frankie Crosetti, who played for the team in 1932-1948. Gregorius became the first Yankees short stop to hit two grand slams in one season.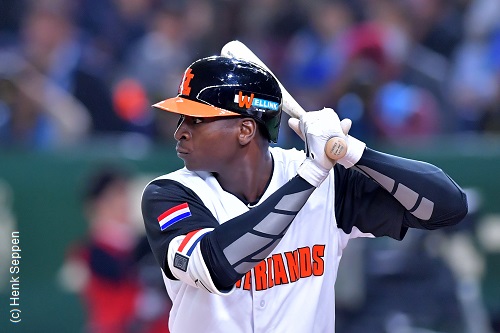 ...Didi Gregorius at bat for the Netherlands...
(© Photo: Henk Seppen)

In April 2018, Gregorius led the Major League in homeruns (10), runs batted in (30) and slugging average (.735) and was named American League Player of the Month. The ten homeruns in the first month of the season were the most by a Yankees short stop since 1908. Gregorius was only the fourth short stop since then in history to hit ten homeruns in the first 27 games of a player's team. Gregorius also became only the third player in the history of the Yankees to hit eight or more homeruns and has 27 or more RBI's in the first 22 games of the season. The others were legendary Babe Ruth (1921) and Alex Rodriguez (2007). In 2017, by hitting 25 homeruns, Gregorius broke Jeter's team-record for most homeruns by a short stop. He also is the Yankees recordholder for short stops with three consecutive seasons with 20 or more homeruns. In the 2018 season, he had the best Fielding Average of all Major League short stops with .987. In Game 2 of this years American League Division Series, Gregorius became the first Yankees short stop to hit a grand slam homerun in the postseason.

While Gregorius had three productive seasons (2016-2018) with the Yankees before his injury, the club did not extend a $ 17.8 million Qualifying Offer after his contract expired after the season. Clubs can make a Qualifying Offer for an one-year contract extension to players who have never received such an offer before and who have spent the entire season on a team-roster. A player then has ten days to accept or deline this offer, during which time he can negotiate with other teams. When a player accepts the offer, he will be signed. When an offer is rejected, he becomes a Free Agent. When a player who has rejected an offer signs with another team, that team will lose a Draft pick. A qualifying offer is an one-year contract worth the average value of the top 120 player contracts of the preceeding season.

By signing an one-year contract with Philadelphia, it means that Gregorius will be a Free Agent again after the 2020 season. And when he returns to his regular form coming year, his value will rise again and so, he can signs a more lucrative deal thereafter.

At Philadelphia, he will be reunited with Manager Joe Girardi, who led the Yankees in 2008-2017. Girardi's contract expired in October 2017 and was not extended. He was succeeded by Aaron Boone. Since 2018, Girardi was an analyst for MLB Network. In August of this year, Girardi was named Manager of Team USA for the Premier12, but he stepped down two months later, as he was a candidate for a managerial position in the Major League. On October 24, Girardi became the new Manager of Philadelphia Phillies. There, he is the successor of Gabe Kapler, who became the new Manager of San Francisco Giants in November.

Didi Gregorius was born in Amsterdam, the capital of the Netherlands, where he grew up, as his father Didi Gregorius (Sr.) was a pitcher for several years in the Dutch big league for Amsterdam Pirates.

On September 3, 2013, Gregorius reached a milestone. On that day, he played in his 100th Major League-game to become the first Dutch-born and raised player to accomplish this. Through this season, Gregorius has now played in 851 Major League-games. The other Dutch-born and raised players in the Majors are (in order of debut) Win Remmerswaal (22 games), Rikkert Faneyte (80), Robert Eenhoorn (37), Rick van den Hurk (50) and Greg Halman (44). During the 2018 season, Gregorius became the recordholder in most games played by a Dutch-born player. Before that, the record was held by pitcher Bert Blyleven, who played in 692 games in 22 seasons. Blyleven was born in Zeist in 1951, but grew up in the USA. When he was older, Gregorius grew up in Curaçao where he became an accomplished player.

In 2009 and 2011, Gregorius played for the Netherlands National Baseball Team at the World Championship. In 2011, the Orange Team captured the World Championship-title in Panama. For that accomplishment, all team-members were knighted and received a Royal Decoration. He also played for the Netherlands during the 2017 World Baseball Classic and the 2010 Intercontinental Cup in Taiwan. In total, Gregorius played in 39 games for the Netherlands Team.

(December 11)