www.grand-slam.nl
International Baseball
Headlines
Compiled and Copyright © 1997-2019 by Marco Stoovelaar

(Story by Marco Stoovelaar; Photos by Henk Seppen)



Netherlands advances to Semi-Final and Olympic Qualifier with offensive show
Nederlands



BONN (Germany) - The Netherlands Baseball Team recorded a convincing 17-2, 5-inning, victory in the Quarter Final against Belgium on Friday (September 13), Day 7 of the 35th European Championship in Germany. With that, the Orange-squad advanced to the Semi-Final and also secured itself of a spot in the Olympic Qualifying Tournament, which opens coming Wednesday in Italy.
Earlier on Friday, Israel became the first team to advance to the Semi-Final and the Olympic Qualifier by winning its Quarter Final against France with an 8-2 score.
Also on Friday-afternoon, Spain and the Czech Republic faced each other in their Quarter Final in Solingen. The score in that game went back-and-forth. Spain led 2-0 after four innings, then the Czechs scored three runs in the top of the fifth. Martin Scheider hit a 2-run homerun in this at bat to make it a 2-2 score. Spain answered with two runs in its fifth when Jesus Ustariz hit a 2-run homerun with two outs. But the Czechs came alongside again in the seventh inning on a homerun by Matěj Hejma. Spain finally won 5-4 on basesloaded, walk-off single by veteran Blake Ochoa. With that, Spain will be the opponent of the Netherlands in the Semi-Final that will be played on Saturday-afternoon.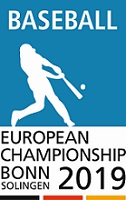 On Friday-evening, the fourth and final Quarter Final is scheduled between Italy and Germany. The winner of that game meets Israel in the Semi-Final on Saturday-evening.
The Quarter Final-losers will meet in a Play-Off on Saturday. The two winners then will play for fifth and sixth place on Sunday. The winner of that game becomes the fifth and final team to advance to the Olympic Qualifier.
In the game against Belgium, the Orange-offense pounded 20 basehits, including eight homeruns! Two of them were hit by Hendrik Clementina, while Ademar Rifaela hit his sixth of the tournament. With that, the Netherlands now has hit 19 homeruns so far in six games. On the previous Championship three years ago in Hoofddorp (Netherlands), the Netherlands hit nine homeruns.
The eight homeruns are no record in a single game, as the Dutch Team hit 10 thirty years ago on September 3, 1989, against Great Britain during the European Championship in France, including four in one inning. Back then, the homeruns were hit by Wismar Ansjeliena, Eric de Bruin, Robert Niggebrugge, Ronald Stoovelaar, Elton Wilson (3), Renť Rijst (2) and Michael Crouwel. Rijst hit a grand slam homerun, Stoovelaar a 3-run homerun. The others were four 2-run homeruns and four solo-homeruns.
For the Netherlands, this was its 58th victory against Belgium in 65 international games. The first one was played 85 years ago, in August 1934. Back then, it was the very first international game played by the Netherlands.
The Netherlands opened the Championship on Saturday in Solingen with a fine game against Great Britain. However, with the Netherlands leading 10-2, the game was halted after eight complete innings, due to darkness as there is no light-installation on the site in Solingen. In that game, the Netherlands led 10-0 when the bottom of the seventh inning began, but Great Britain then scored to avoid a mercy-rule loss. The game was completed on Wednesday-evening and the score didn't change in the final inning.
On Sunday, the Netherlands suffered a surprising 8-6 loss against the Czech Republic in Bonn. The team didn't play well and committed five defensive errors. For the Czechs, it was their second win and first since 2012 against the Netherlands.
On Monday, the Orange Team recovered fine after the loss and recorded a convincing 9-0 shutout against Sweden. In this game, Donny Breek had a strong debut and struckout ten batters in six innings, while Sharlon Schoop collected five of the 18 basehits the team recorded.
On Tuesday, the Netherlands recorded another convincing win, outscoring host Germany 8-1, thanks to an offensive show by leftfielder Ademar Rifaela (3 homeruns) and strong pitching from Lars Huijer, who struckout eleven batters in 6 2/3 inning.
On Wednesday-afternoon, the Netherlands secured a spot in the Quarter Final by recording a convincing 13-4 victory against Israel.
(September 13)
Complete schedule European Championship
Complete provisional schedule Olympic Qualifying Tournament

Belgium, whose National Team is nicknamed 'Red Hawks', had some familiar names in its line-up with second baseman Benjamin Dille, short stop Dennis De Quint and first baseman Jamie Verheyleweghen, who all play in the Dutch big league. Dille is the longtime second baseman of CuraÁao Neptunus, while the other two play for Twins Oosterhout.

Other players on the Belgian who have played in the Dutch big league in the past are pitchers Cedric Desmedt (Twins), Ben Van Nuffel (Twins) and Kenny Van Den Branden (Neptunus) and catcher Tim Veraghtert (UVV).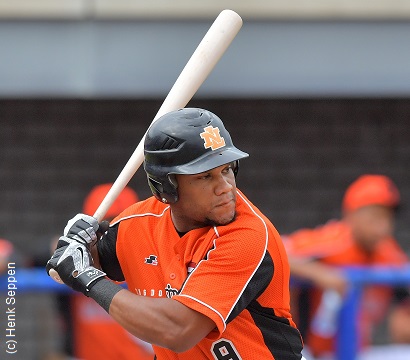 ...Curt Smith put the Orange Team ahead...
...with a 3-run homerun...
(© Photo: Henk Seppen)

Also playing again for Belgium is powerhitter Thomas De Wolf, who played in the German Bundesliga this season for Mannheim Tornados. Last year, De Wolf played for T&A San Marino in the Italian Baseball League. The 29-year old De Wolf, who also is a pitcher, made his debut in the National Team and the highest Belgian league at age 16 in 2006. In 2008, he was the first born and raised Belgian player to sign a professional contract which he did with New York Mets. After having played three seasons in Rookie League (2009-2011), De Wolf returned home and went on to play five seasons for Mainz Atletics (champion in 2016) in Germany, before transfering to Italy.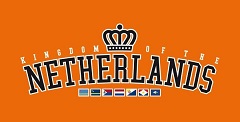 It was Belgium that struck first off of starting pitcher Orlando Yntema, who went the distance for the Netherlands. Cuban-born Leonel Reina Viant led off the top of the first inning with a double. Next batter Benjamin Dille singled and when that was followed by a throwing error from centerfielder Roger Bernadina to the plate, Reina was able to score the first run. Dille, who had advanced on the error, moved to third base on a wild pitch, then scored on a grounder by Thomas De Wolf to make it a 2-0 score. Yntema struckout the next batter, then a flyout ended the at bat, but the Netherlands faced a quick and surprising deficit.
The Belgian lead was shortlived, as the powerful Orange-offense answered with a 5-run rally in its first at bat on six basehits, including three homeruns, off of starter Artuur Driessens. The team turned the game around quickly. Calten Daal and Roger Bernadina led off with singles, then both scored when Curt Smith homered. Belgian centerfielder Axel Poesmans ran back and thought he had a chance of catching the ball hit by Smith. He might have when he would have jumped up, but the ball went over his head and cleared the fence. With one out, Ademar Rifaela (line drive rightfield) and Hendrik Clementina (deep right/centerfield) hit back-to-back homeruns. For Rifaela, this was its sixth homerun of the tournament. Hereafter, Kalians Sams walked and Dwayne Kemp singled, but they were left behind.
Orlando Yntema recovered strongly after the first inning and retired the side in the second inning, which ended with a great defensive play by third baseman Sharlon Schoop. He fielded a grounder by Axel Poesmans barehanded near the foul-line and got the ball in time to first baseman Curt Smith. With that, Poesmans was unlucky for the second time. First, when he saw the ball sail over his head in the first inning and now a possible infield-hit was erased.
The Orange Team added another run in the bottom of the second inning. Roger Bernadina led off with a single, but then was picked off first base by Artuur Driessens. Hereafter, Curt Smith was hit by a pitch and Sharlon Schoop followed with a double down the leftfield-line. The two advanced on a grounder by Ademar Rifaela, meaning Smith scored a run.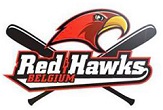 With one out in the top of the third, Belgium got its next baserunner when Leonel Reina Viant singled with one out, but hereafter, Benjamin Dille grounded into a double play.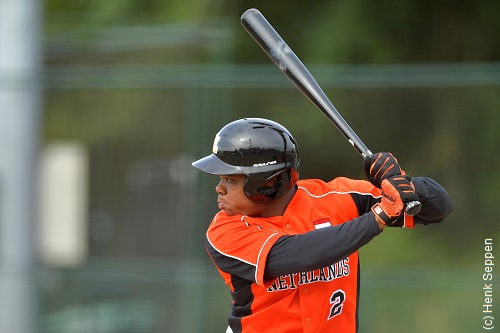 ...Ademar Rifaela belted his 6th homerun of the tournament...
(© Photo: Henk Seppen)

The Orange-power continued in the third inning. Kalian Sams led off with a homerun to deep centerfield. Then, it was Dwaye Kemp who drove the ball into centerfield for what might become a homerun. However, this time centerfielder Axel Poesmans was more lucky. He jumped up and caught the ball just above the fence. Next batter John Polonius followed with a single and that led to a pitching change. Jeremy Voets took over, but he saw Polonius advance to third base on a wild pitch and a following throwing error. With two outs, he scored on a single by Roger Bernadina.

Belgium got its next baserunner with one out in the fourth inning when Sam Boermans reached on a throwing error from pitcher Orlando Yntema. But two force play-grounders followed.

The Netherlands took more distance by adding two runs in the bottom of the fourth. Sharlon Schoop led off with a single and scored on an one-out homerun by Hendrik Clementina, his second fourbagger in the game.

The offensive dominance of the Orange Team continued in the bottom of the fifth inning with a 7-run rally with no outs! Calten Daal and Roger Bernadina led off with back-to-back homeruns. Curt Smith and Yurendell De Caster then both walked. Robin Roevens then took over the pitching and was greeted with a runscoring single by Ademar Rifaela. Hereafter, it was Dashenko Ricardo, who hit a long 3-run homerun to lift the lead to 16-2. De Caster and Ricardo had entered the game in the top of the fifth defensively as third baseman and catcher respectively. And so, only one run was needed to end the game via the 15-run difference mercy-rule. That run came moments later when Kalian Sams and Dwayne Kemp connected for back-to-back doubles. With that, while there were still no outs, the game ended.

The 15-run difference rule is one of two international mercy-rules. The more familiar one is the 10-run difference that is reached during or after seven innings (or eight). The 15-run rule is applied in the bottom of the fifth or after five complete innings.

The Netherlands collected 20 basehits, including four by Roger Bernadina. Eleven of the 20 hits were extra-basehits, eight of them a homerun, two of them hit by Hendrik Clementina. All nine Orange-starters had at least one basehit. Except for Dwayne Kemp, all also scored at least once. Curt Smith, Ademar Rifaela, Hendrik Clementina and Dashenko Ricardo all batted in three runs.

Belgium recorded only three basehits off of Orlando Yntema, who went the distance for the Netherlands.

Playing for the Netherlands were:
Calten Daal (2B, 2-for-4), Roger Bernadina (CF, 4-for-4), Curt Smith (1B,1-for-2), Sharlon Schoop (3B, 2-for-3), Yurendell De Caster (3B, 0-for-0), Ademar Rifaela (LF, 2-for-4), Hendrik Clementina (C, 2-for-3), Dashenko Ricardo (C, 1-for-1), Kalian Sams (RF, 2-for-3), Dwayne Kemp (3-for-4), John Polonius (SS, 1-for-3) and pitcher Orlando Yntema.
Netherlands - Belgium 17-2 (5 inn.)
R
H
E
Belgium
200
00
-
2
3
2
Netherlands
512
27
-
17
20
2
(no outs when 15-run difference was reached in the fifth inning)
pitchers Belgium
inn.
SO
BB
H
R
ER
Artuur Driessens, L (0-2)
2.1
2
1
10
8
7

---

Jeremy Voets
1.2 (*)
-
2
6
6
6

---

Robin Roevens
- (**)
-
-
4
3
3
(*) - Voets pitched to four batters in the fifth inning
(**) - Roevens pitched to four batters in the fifth inning

---

pitcher Netherlands
inn.
SO
BB
H
R
ER
Orlando Yntema, W (2-0)
5
1
-
3
2
1

---

Homeruns: Netherlands: Curt Smith (2)(1st,3-run,0 outs,off Driessens), Ademar Rifaela (6)(1st,solo,1 out,off Driessens), Hendrik Clementina 2 (3)(1st,solo,1 out,off Driessens; 4th,2-run,1 out,off Voets), Kalian Sams (2)(3rd,solo,0 outs,off Driessens), Calten Daal (2)(5th,solo,0 outs,of Voets), Roger Bernadina (2)(5th,solo,0 outs,off Voets), Dashenko Ricardo (1)(5th,3-run,0 outs,off Roevens).
Umpires:
HP-Serge Makouchetchev (France), 1B-Thorsten Roloff (Germany), 3B-JiřŪ Kroupa (Czech Republic).
Official Scorers:
Marc Zang (Germany), Hauke Brockmann (Germany), Robert Schumacher (Germany).
Technical Commissioner-Stephen Lesfargues (France).
Starting Time-2:58 PM.
Time Played-1:23 hrs.
Site-Field #1, Baseballstadion Rheinaue, Bonn (Germany).

Game Notes:


35th European Baseball Championship.


65th game in history against Belgium.


58th victory in history against Belgium.
Weather conditions at game time: Cloudy, 19,6° C (67,3° F); wind direction north;
wind speed 11 kmh (6,8 mph); wind force 2 Bft; humidity 72%.

Thank you for visiting this site.
Mail your suggestions and questions to stoov@wxs.nl
Copyright © 1997-2019 Marco Stoovelaar / Grand Slam * Stats & News.