(Story by Marco Stoovelaar; Photos by Henk Seppen)
IN MEMORIAM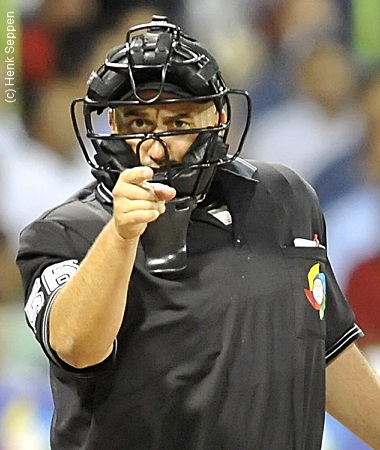 ...Eric Cooper...
(1966 - 2019)...
(© Photo: Henk Seppen)

Major League Umpire Eric Cooper unexpectedly passed away
Nederlands

DES MOINES, Iowa (USA) - Eric Cooper, a Major League Umpire since 1999, unexpectedly passed away on Sunday (October 20) at age 52. It was reported that he died after developing a blood clot following knee surgery the week before. He was recovering from the surgery at his father's home in Iowa. Two weeks ago, Cooper was one of the umpires during the ALCS between New York Yankees and Minnesota Twins.

Eric Richard Cooper was born on December 18, 1966 in Des Moines (Iowa). After graduating from Iowa State University, he attended the wellknown Joe Brinkman Umpire School. Eric Cooper became a professional baseball-umpire and officiated in the Minor League since 1990. Cooper worked in the Appalachian League (Rookie League, 1990), Midwest League (Single-A, 1991), Florida State League (Single-A Advanced, 1992), Eastern League (Double-A, 1993-1994), American Association (Triple-A, 1995-1997) and Pacific Coast League (Triple-A, 1998). As a fill-in umpire, made his Major League-debut during the 1996 season. Cooper became a full-time Major League Umpire in 1999 and was well liked and popular by colleagues, players and coaches, to whom he was known as 'Coop'. Colleagues state that Cooper was always there for advice and that they could call them anytime for questions.

In his 21-year Major League-career, Cooper was assigned to many postseason series. He worked in two American League Wild Card Games (2015, 2016, 2017), seven American League Division Series (2003, 2008, 2009, 2011, 2012, 2013, 2019), three National League Division Series (2005, 2006, 2014), three National League Championship Series (2004, 2015, 2016, 2017) and the 2014 World Series between Kansas City Royals and San Francisco Giants. In 2005, he was one of the six umpires assigned for the Major League All Star Game, which was played in Comerica Park, the home of Detroit Tigers. Cooper not only was well-respected, he also was a very good umpire with a successful rate on challenges. He earned his assigned for the 2014 World Series due to his performances that season. Only three times during that season, one of his decisions had to be reversed after a challenge.

Eric Cooper was one of only eight active Major League Umpires who has been behind the plate in multiple No-Hitters. In 2001, he was the Home Plate Umpire when Hideo Nomo threw a No-Hitter on April 4. On that day, the Japanese righthander made his debut for Boston Red Sox. After having played in Japan, Nomo played for Los Angeles Dodgers (1995-1998), New York Mets (1998), Milwaukee Brewers (1999) and Detroit Tigers (2000) before being signed by Boston. After the 2001 season, Nomo returned to Los Angeles.

On April 18, 2007, Cooper was behind the plate when Mark Buehrle threw a No-Hitter while pitching for Chicago White Sox. In that game, Buehrle allowed only one batter to reach base. That was a walk for Sammy Sosa, who then was picked off first base moments later! Two years later, on July 23, 2009, Buehrle (again pitching for Chicago) threw a Perfect Game against Tampa Bay Rays. Cooper also was behind the plate in that game. With that, Cooper became only the second umpire in history to be behnd the plate during a No-Hitter thrown by the same pitcher. The other is Ed Vargo, who was a Major League Umpire in 1960-1983. Vargo was an umpire in eight No-Hitters, three of them behind the plate. The pitcher who threw two No-Hitters when Vargo was behind the plate was legendary Sandy Koufax of the Los Angeles Dodgers in 1964 and 1965. Like Cooper's second No-Hitter with Buehrle, the second one pitched by Koufax with Vargo calling balls and strikes was a Perfect Game.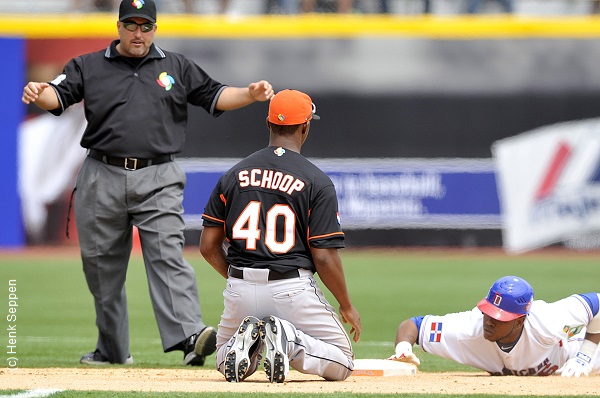 ...Eric Cooper calls Willy Aybar safe at 2nd base while...
...Sharlon Schoop looks on in the game between...
...the Netherlands and the Dominican Republic during the...
...2009 World Baseball Classic in Puerto Rico...
(© Photo: Henk Seppen)

In his long career, Cooper officiated in some 2.800 Major League-games.

On October 6, 2001, Cooper was the Home Plate Umpire in the last game played by Baltimore Orioles-legend Cal Ripken, Jr., who retired after 21 seasons.

On September 11, 2008, Cooper also was the Home Plate Umpire when Francisco Rodriguez (Los Angeles Angels) tied the Major League season-record for saves. A few weeks later, Cooper was the 3B Umpire in the last game played at the old Yankee Stadium.

This season, Cooper, who wore number 56, was a member of Major League Umpire Crew 3, which was led by Crew Chief Joe West. Other members were Andy Fletcher and Will Little.

More recently, Eric Cooper was one of the six umpires who worked the American League Division Series between New York Yankees and Minnesota Twins in the crew led by Crew Chief Gary Cederstrom. New York swept Minnesota in three games to advance to the League Championship Series against Houston Astros. Last Saturday, New York was eliminated for the World Series when Houston won Game 6 with a 6-4 score on a walk-off homerun by José Altuve.

In this Series, on October 4, Cooper was the Leftfield Umpire in the opening game of the Yankees at home against the Twins, which was won by New York with a 10-4 score. The next day, he was at third base in Game 2, which was won by New York with an 8-2 score, highlighted by a grand slam homerun by Didi Gregorius. On October 7, Cooper was the 2B Umpire when the Yankees won 5-1 at Minnesota to win the Series. Unfortunately, this was to be his last game.

Tommy Birch of the Des Moines Register reported on Monday (October 21) that Eric Cooper was a very devoted umpire. Birch writes: Iowa native Eric Cooper was so devoted to mastering his trade and getting to the major leagues that he and fellow umpire Mike Everitt would spend time in the hotel working on their calls in the early 1990s. Cooper and Everitt, who were both working their way up through the minors at the time, would put on their masks, stand in front of a hotel mirror and take turns working on the mechanics of their calls. ''I'd watch him and he'd watch me,'' Everitt said. ''We'd give each other a hard time about it at times.''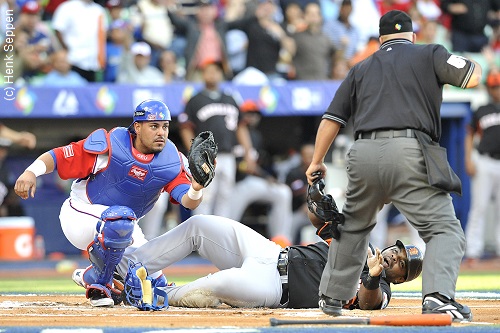 ...Eric Cooper calls out Randall Simon after being tagged...
...by Geovany Soto in the game between the Netherlands and...
...Puerto Rico during the 2009 World Baseball Classic...
(© Photo: Henk Seppen)

''I'll always remember his laugh, his smile and his love of the game,'' Everitt said in Birch's article. ''He took it very serious and did a tremendous job at what he did. Even in (Class) A ball, he was dead certain that he was going to make it to the big leagues. That was his goal. And he worked extremely hard.''

Eric Cooper was also active in UMPS CARE Charities, which helps and raises money for children with serious illnesses and for military families. For this charity, Cooper attended hospitals frequently.

Eric Cooper also has been one of the Major League-umpires who have worked in the World Baseball Classic. Cooper was assigned to two Classics, 2009 and 2013.

In 2009, Cooper was assigned to Pool D. The games in this Pool were played at Hiram Bithorn Stadium in San Juan (Puerto Rico) and the Netherlands Baseball Team then was one of the teams in that Pool. Cooper officiated in two games of the Orange Team.

On March 7, he was at second base with Larry Vanover, another Major League Umpire behind the plate, in the suspenseful game between the Netherlands and the Dominican Republic. The Netherlands scored three runs in the first inning. Eugène Kingsale (bunt-single) and Sharlon Schoop (sacrifice bunt-error) were on base with two outs when Yurendell De Caster walked. A wild pitch then accounted for the first pitch. The next run was added on a single by Sharnol Adriana and when an error followed, the score was lifted to 3-0. In the fourth, the Dominicans got a run back with Miguel Tejada homered. In the fifth inning, Miguel Olivo led off with a single off of Sidney Ponson, then Willy Taveras walked. Hereafter, Alexander Smit took over the pitching, but got the bases loaded via a bunt-single by Robinson Cano. A run was then scored on a sacrifice fly by Hanley Ramirez. As passed ball by catcher (!) Kenley Jansen led to runners on second and third base. The bases were loaded via an intentional walk for David Ortiz. Hereafter, Rob Cordemans took over the pitching and got an inning-ending grounder. The Netherlands won 3-2.

A few days later, the Netherlands won 2-1 against the Dominicans in eleven innings to advance to the Second Round. Trailing 1-0 in the bottom of the eleventh, pinch-hitter Sidney de Jong led off with a double and scored the tying run on an one-out single by Eugène Kingsale. Shortly thereafter, Kingsale moved to third base when a pick-off ended in an error and he later scored the winning run on another error.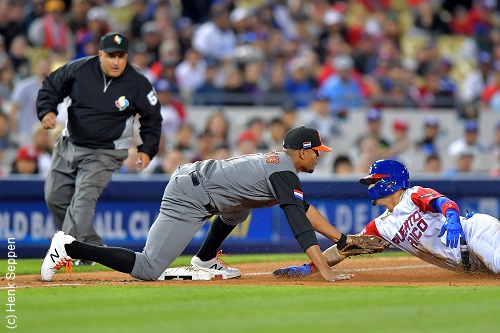 ...Eric Cooper looks into a play by 3B Xander Bogaerts and...
...the sliding Javier Baez in the Semi-Final of the...
...2017 World Baseball Classic between the Netherlands...
...and Puerto Rico in Dodger Stadium in Los Angeles...
(© Photo: Henk Seppen)

On March 11, the Netherlands closed the First Round with a 5-0 loss against Puerto Rico. In that game, Eric Cooper was behind the plate, while Major League-colleague Laz Diaz was at second base.

During the 2017 World Baseball Classic, Cooper was one of the umpires assigned for the Finals. The other members of that crew were Edgar Estivison (Panama), Trevor Grieve (Canada), Byung-Joo Kim (South Korea) and Major Leaguers Lance Barksdale and Rob Drake.

Cooper was at third base in the Semi-Final between the Netherlands and Puerto Rico at Dodger Stadium in Los Angeles (USA) on March 21. Puerto Rico won 4-3 in eleven innings to advance to the Final.

The next day, Cooper was at first base in the Semi-Final between the USA and Japan, which was won by the Americans, 2-1.

On March 22, Eric Cooper was behind the plate in the Classic Final between the USA and Puerto Rico. Team USA won 8-0 to win its first World Baseball Classic-title.

On Sunday, Major League Baseball Commissioner Robert Manfred issued the following statement:
''This is a very sad day across Major League Baseball. Eric Cooper was a highly respected umpire, a hard worker on the field and a popular member of our staff. He also served as a key voice of the MLB Umpires Association on important issues in our game. Eric was a consistent presence in the Postseason throughout his career, including in this year's Division Series between the Yankees and the Twins. He was known for his professionalism and his enthusiasm, including for our international events.

On behalf of Major League Baseball, I extend my deepest condolences to Eric's family, friends and all of his fellow Major League Umpires. We will honor Eric's memory during the World Series. Eric will be missed by the entire Baseball family.''

The webmaster of Grand Slam * Stats & News offers his condolences to the family of Eric Cooper and wishes them a lot of strength with this big loss.

(October 21)