(Story by Marco Stoovelaar; Photos by Jan Kruijdenberg & ANP Photo/Flip Martens)

Former Dutch big league-pitcher Hans Bouwen passed away
Nederlands

HAARLEM (Neth.) - Former Dutch big league-pitcher Hans Bouwen has passed away on Sunday, July 21 at age 77. Bouwen pitched in the highest league for ADO and Sparta. He also pitched briefly for the Netherlands National Team.

Hans Bouwen was born on December 5, 1941 in The Hague. There, he played baseball for ADO. In 1961, at age 19, Bouwen made his debut in the main squad of this club in the Dutch big league.

Also in 1961, the first edition of the Haarlem Baseball Week was organized at the Municipal Sportscomplex at the Badmintonpad, the longtime home-site of HCK (Kinheim). Nowadays, the club plays its home-games in the Pim Mulier Stadium, which has been the site of the bi-annual Haarlem Baseball Week since 1963.

In 1961, Ron Fraser was the first American to coach the Netherlands Baseball Team. For this first Baseball Week, Fraser selected 29 players for the Netherlands Team that was to participate in the tournament and Hans Bouwen was one of them. Back then, it was needed to select this many players, as several of them also worked during the day and weren't available on all days of the tournament.

Also selected for the first 'Week' were pitchers Herman Beidschat (EHS), Bobo Echobardo (Storks), Rob Hoffmann (HCAW), Bert Paalman (HCK), Jan Smidt (HHC) and Ruud Zijlstra (Schoten), catchers Wim Crouwel (OVVO), Wim van Dusschoten (EHS), Ricky Kersout (UVV) and Dolf de Zwart (EDO), infielders Simon Heemskerk, Henk Keulemans (both Schoten), Roel Hopman (EDO), Leo Kops, Ruud Kramer (both EHS), Boudewijn Maat (HCK), Willy Meyer, Hennie Regeling, Han Urbanus (all OVVO) and Peter Tel (HHC) and outfielders Teun de Groot (Schoten), Nol Houtkamp, Ben Tromp (both EHS), Jan Molleman (EDO), Richard van Reyssen, Henk Talens, Jan Wemerman (all HHC) and Jan Schreuders (OVVO).

In August 1961, Hans Bouwen was the starting pitcher for the Netherlands Youth Team in a game against the National Team of Belgium. He was succeeded on the mound by Bobo Echobardo and Bert Paalman. The Netherlands lost the game, which was played in Antwerp (Belgium), with a 7-1 score.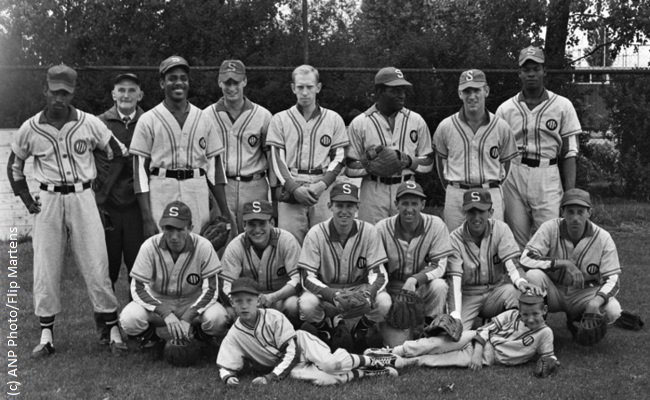 ...Back row: Josť Faneyte, Van Huut (trainer), Simon Arrindell, Hans Bouwen,...
...Theo Witstok, Hudson John, Cees de Bruin and Hamilton Richardson...
...Front row: Henk Hendriks, Hans Augustinus, Harry van der Berg...
...Jaap de Koning, Piet van der Wilk and Toon Fabrie...
(© Photo: ANP Photo/Flip Martens)

After the 1961 season, Hans Bouwen transfered to Rotterdam-based Sparta. There, he played in the highest division in the next four seasons and was a very effective pitcher, who was used as a starter and reliever. Amongst his teammates at Sparta were Simon Arrindell, Hans Augustinus, Harry van der Berg, Piet Bouts, Cees de Bruin, Hans Corpeleijn, Toon Fabrie, Josť Faneyte, Henk Hendriks, Hudson John, Jaap de Koning, Hamilton Richardson, Piet van der Wilk and Theo Witstok.

In 1962, Sparta played on its new site at Nieuw-Vreelust in a season when double-headers were introduced. All teams in the highest league then played two games on some Saturdays during the season. This experiment was not continued in later years.

In 1963, Sparta, which in these years was led by legendary coach John Heyt, won the Dutch championship-title. With that, the club became the first one not coming from Amsterdam or Haarlem to win the title since the first competition was played in 1922.

After the 1965 season, Bouwen left Sparta to play for another Rotterdam-club, Neptunus, which then played in the Third Division, which was the fourth highest league. In 1966, Bouwen helped Neptunus win the title and promoted to the Second Division. Bouwen also played for Neptunus in 1967. In both seasons, Neptunus was coached by Cees de Bruin, who had been his teammate while playing for Sparta.

In later years, Hans Bouwen remained involved in baseball. He moved with his family to Haarlem, where he was a pitching instructor of youth-players at Kinheim for many years. Several of them went on to play in the Dutch big league.

Hans and his wife Loes Bouwen also were very active for baseball- and softball-club The Bears in Bergen. They became of great value of this club for their involvement in the development of youth-players. For their many contributions, The Bears organizes a youth-tournament which is named after Hans and Loes.

Their daughter Saskia Bouwen played softball in the Dutch big league for Kinheim (1985) and Heiloo (1986-1987). She is married to Peter Herkemij, who is a longtime baseball-coach and currently is the Manager of the Netherlands Under-12 Team. The last years, Hans Bouwen enjoyed attending games of his grandchildren Cris and Kiki.

The webmaster of Grand Slam * Stats & News offers his condolences to the family of Hans and wishes them a lot of strength with this loss.

(July 23)