(Story by Marco Stoovelaar; Photos by Milano Baseball '46, Salvatore Varriale & Marco Stoovelaar)
IN MEMORIAM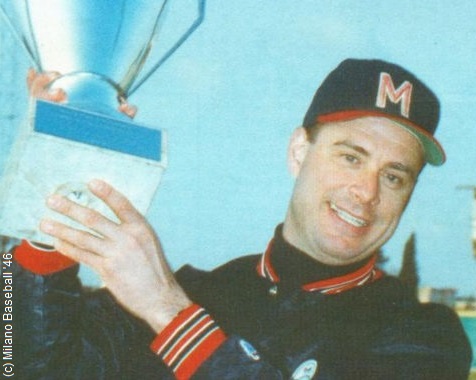 ...Paolo Cherubini...
(1952 - 2019)...
(© Photo: Milano Baseball '46)

Italian pitching-great Paolo Cherubini passed away
Nederlands

RIMINI (Italy) - Paolo Cherubini, who was one of the best Italian pitchers, passed away on Saturday (October 19) at age 67 after suffering a heart attack.

The funeral was held on Tuesday, October 22, at the Church of San Giuliano, in Borgo San Giuliano, Rimini.

Paolo Cherubini, who was born on June 18, 1952 in Bollate, had a long career in baseball and played in the highest Italian league for six different teams. Cherubini is one of a few players who played in the highest division for three decades, as he was active from the seventies through nineties. In his career, Cherubini became an iconic pitcher in the history of Milano Baseball and Parma Baseball.

Cherubini first played in the Serie A1 for Bollate. His career appeared to be shortlived, as he almost retired due to a shoulder-injury in 1976. It was thanks to Gigi Cameroni that Cherubini's career was extended. Cameroni was a legendary player and coach in the Italian baseball history. As catcher, he played for Milano from the fifties through the early seventies, most of them as a player/coach. Besides that, Cameroni was an important player in the Italian National Team in which he played with another legend, pitcher Giulio Glorioso. Cameroni encouraged Cherubini to continue playing when he was coaching at Milano. Cameroni supported the pitcher and gave him back his confidence. Cherubini went on to play for Milano, Parma, Firenze, Novara and Rimini and threw his final inning in 1998 at age 46.

When Cherubini played in the highest Italian league in the seventies and eighties, it were these years that several foreign pitchers or American-born players made their entrance in Italian baseball and also the National Team. Amongst them, pitchers as Mike Romano, Dave Farina, Bob Galasso and Rick Waits and also Dutch pitcher Win Remmerswaal.

Paolo Cherubini was a passionate and driven player for any team he played. He showed his enthousiasm both on and off the field and always enjoyed playing baseball. Also when he became older, he still showed a youthful enthousiasm. He was someone who wanted to play forever. Therefore, he earned the nickname 'the eternal teenager'.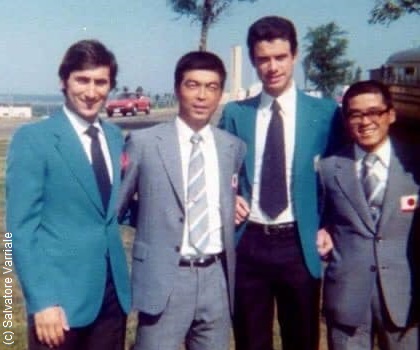 ...Paolo Cherubini with Salvatore Varriale (left) while...
...being with the Italian Team and two Japanese...
...players during the 1980 World Championship...
(© Photo: Salvatore Varriale)

In his career, Cherubini won two Italian Cups while playing for Milano, with whom he also won two European Cup Winners Cups and one European Super Cup. His most successful years were when he played for Parma, whom he joined in 1981. With this team, he won the Italian Championship-title twice and captured four European Cups. Amongst his teammates were several wellknown players, including Salvatore Varriale, Gianguido Poma and Massimo Fochi. Varriale later also became a coach of Parma, as did Poma. Fochi later became President of the Italian Federation.

With the Italian National Team, Paolo Cherubini (nicknamed 'Paolone' or 'Cheruba') participated in several international events, playing in 25 international games. In 1980 (in Japan) and 1984 (in Cuba), he pitched for the Italian squad at the World Championship. In 1975 and 1991, Cherubini won the European title with Italy at the European Championship, which in the mentioned years was held in Barcelona (Spain) and Nettuno (Italy). It was in Nettuno, at age 39, that Cherubini had a great outing in the best-of-five European Championship Final against archrival Netherlands. Italy won the game with a convincing 12-1 score. The day before, Italy had won 12-3, the following day, Italy won 9-2 to win the best-of-five and capture the title, which also meant qualification for the 1992 Olympic Games in Barcelona (Spain). As was custom in those years, the best-of-five was completed, even when the championship was decided. In the following two days, Italy completed a 5-game sweep, winning 3-1 and 3-2.

In June 1991,Cherubini already had underscored that he still was one of the best pitchers during the European Cup Winners Cup-tournament in Skellefteå (Sweden), pitching for Milano. In the Final, Milano faced defeding champion Neptunus from the Netherlands and Cherubini threw six strong inning, striking out three batters. With a 6-2 lead, Cherubini ran in some problems in the bottom of the seventh and had to be relieved. Neptunus rallied off of reliever Roberto Radaelli to take a 7-6 lead, but Milano then scored twice in the ninth to win 8-7 and win the Cup.

Because of this great outings in the regular season in 1991, Cherubini was added again to the roster of the Italian National Team, which then was led by much-liked Manager Silvano Ambrosioni. Cherubini's former teammate at Parma, Salvatore Varriale, was one of the coaches. During the European Championship in August, at age 39, Cherubini made his comeback after not having pitched for the Italian Team since the early eighties.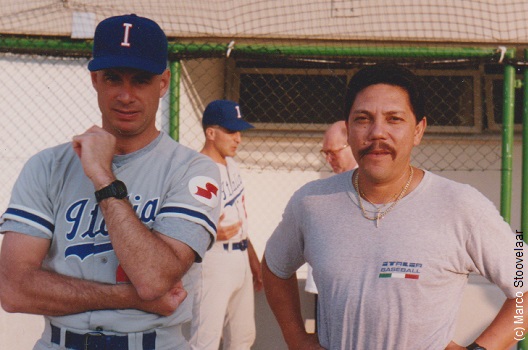 ...Paolo Cherubini with Coach Carlos Guzman while with the...
...Italian Team during the 1991 European Championship...
...in Nettuno (Italy)...
(© Photo: Marco Stoovelaar)

After pitching against Sweden in the Preliminary Round, Cherubini started for Italy in Game 2 of the best-of-five Final against the Netherlands on August 8 in Nettuno. The righthander went the distance in the 8-inning game that ended via the mercy-rule, as Italy won 12-1. Cherubini struckout four batters, walked none and gave up only five basehits. Italy collected 14 basehits off of five pitchers, including 3-run homeruns by Guglielmo Trinci and Roberto Bianchi.

It was a remarkable sweep for Italy when looking to the starting pitchers in the first three games. Manager Ambrosioni needed to insert a reliever only twice in the best-of-five. Paolo Ceccaroli went the distance in the first game. During the season, Ceccaroli had not pitched in the Serie A1, but at a lower level. In Game 2, veteran Cherubini went the distance and Game 3 was started by Rolando Cretis, who played in the second highest division in Italy that year. He was relieved in the third inning by Claudio Taglienti, who completed the game. After having captured the title, Riccardo De Santis (7 2/3 inning) and Fulvio Valle (1 2/3 inning) pitched Game 4. Mauro Melassi then went the distance (9 innings) in the fifth game.

Halfway the nineties, Cherubini played for Novara. It was Milano's then-Manager Paolo Re, who asked Cherubini to join his team as a reliever. Cherubini did so, helped Re and kept on playing regulary through 1997. During the 1998 season, he made another pitching appearance, throwing at age 46 for Milano.

In his long Serie A1 career, Paolo Cherubini won 125 games and struckout 1,192 batters in 1,892 2/3 inning.

After having retired as a player, Cherubini remained involved in baseball. He was last active as a Pitching Coach at Rimini 86 in the first months of 2012.

Milano-based journalist Elia Pagnoni conducted an interview with Paolo Cherubini in June 2012, when he celebrated his 60th birthday. In the interview, Cherubini said that he still was in training himself, always ready to pitch when someone would have needed him. Cherubini was asked by Pagnoni who his idols were when he started playing baseball. Cherubini named pitchers Gianfranco Paschetto and Giulio Glorioso, but also players such as Gigi Cameroni, Roberto Gandini and Angelo Fontana.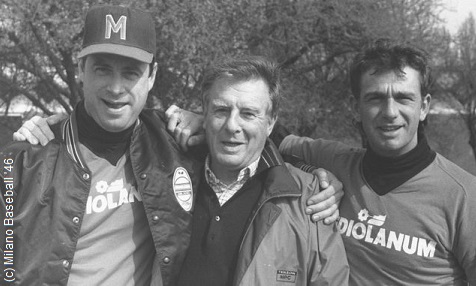 ...Paolo Cherubini with catcher Roberto Bianchi (right)...
...and club-President Emilio Lepetit while playing for Milano...
(© Photo: Milano Baseball '46)

He listed Giuseppe Carelli as the most feared hitter. ,,He was the strongtest batter all-time'', Cherubini said, who named Gigi Cameroni, Giampiero Faraone and Bruno Beneck as the most important persons in Italian baseball-history. Faraone was the longtime Coach and Manager of Nettuno (31 years) and the Italian National Team (Coach, 1985-2000, Manager, 2002-2007). Beneck was a leading administrator and executive, who was the President of the Italian Federation in 1969-1984. He also was President of the European Baseball Confederation (1971-1984) and was Vice-President of the International Baseball Federation. Beneck, who also was a journalist and a filmmaker, played a big role in bringing baseball to the Olympic Games. Beneck also organized the first Intercontinental Cup in Italy in 1973 and the first World Championship in his country in 1978.

In the interview, Pagnoni also asked Cherubini about the highlights in his career. Amongst them was the game he pitched against the Netherlands during the Final of the 1991 European Championship in Nettuno. 1991, at age 39, was one of Cherubini's best seasons in his career.

In recent years, Cherubini kept following baseball. His son Tommaso, also a pitcher, played for Rimini, where he made his debut in 2009, and San Marino. Tommaso's mother is former National Softball Team-pitcher Monica Corvino, who until some years ago was the Pitching Coach of the National Team. Like his father, Tommaso had a successful European Cup-outing against Neptunus. In 2010, in Rotterdam (Netherlands), Tommaso Cherubini pitched for Rimini during the European Champions Cup Final Four Qualifier. On the final day of the event, with Rimini leading 4-3 against Neptunus, Cherubini pitched the ninth inning to earn a save. Rimini qualified for the Final Four, while Neptunus was eliminated.

Andrea Marcon, President of the Italian Baseball and Softball Federation, offered closeness and sympathy in this painful moment on behalf of the Federation and the entire Italian baseball and softball movement to Tommaso and Monica, as well as to Paolo Cherubini's entire family and friends.

The webmaster of Grand Slam * Stats & News offers his condolences to the family of Paolo Cherubini and wishes them a lot of strength with this big loss.

(October 23)