After three games, it could have been Amsterdam Pirates that was leading 3-0. The team was leading in all three games, but each time, it was unable to hold onto the lead.

In the first game on Thursday, Pirates twice led with a one-run difference in the fourth and fifth inning. On Saturday, Pirates also led by only one run after five innings. Were the leads in the first games minimal, today, Pirates was having a 6-0 lead halfway the fifth inning.

Remarkable enough, Pirates was held scoreless from the sixth inning on in each game. In the opener, the team didn't score in its final four at bats. On Saturday, no runs were scored from the fourth inning on. And today, Pirates also scored its last run in the fifth, then was shutout in the next seven innings!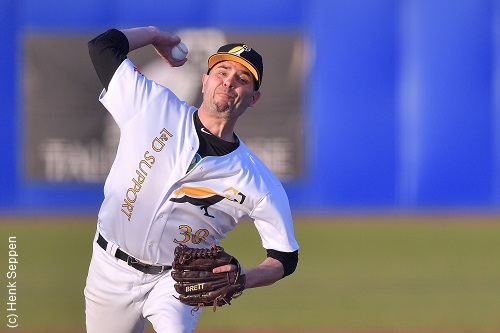 ...Rob Cordemans started for Amsterdam Pirates...
(© Photo: Henk Seppen)

On the other hand, Neptunus was held scoreless in its first five innings on Saturday and the first four today. But the team turned around all three games in its favor and is now one win away its 20th overall Championship-title.

Rob Cordemans started for Amsterdam Pirates. The righthander threw five solid innings and left with his team leading 6-2. With that, he was in line to become the winning pitcher, but in the end, he ended up with a no-decision.

Neptunus had a surprise starting pitcher on this sunny afternoon, as Brendan Schoemaker took the mound. In the regular season, Schoemaker was only used as a reliever in 22 games, plus two in the Play-Offs. With that, Neptunus Head Coach Ronald Jaarsma used an 'opener', instead of a 'starter'. Last year, Tampa Bay Rays experimented with this in the Major League and also inserts an 'opener' frequently this season. Some other MLB-teams also use the strategy this season.
An 'opener' is usually a relief pitcher, who 'opens' the game, then is replaced by a regular starting pitcher in the second or third inning. An advantage of using an 'opener' is that this pitcher will face the better hitters, who normally are hitting in the top of the batting order, the first time that they come to bat. A regular starter then takes over to face the lower part of the batting order and then will face the better hitter two times instead of three times. Also, by using an 'opener', it can disrupt the timing of the first hitters, as they will then mostly face another pitcher in their second at bat.
However, it didn't work for Neptunus today. Schoemaker pitched a scoreless first inning, but Pirates then struck off of his successor Elton Koeiman from the second inning on to take a 6-0 lead. Schoemaker was credited with one run, Koeiman with five.
In the second through fifth inning, there was an unique situation, as the two oldest active pitchers in the Dutch big league faced each other. Elton Koeiman turned 46 in May, while Rob Cordemans turns 45 in October. This makes them the oldest pitching-combination of opposing pitchers in Holland Series-history.
Last season, there were two games, one in the regular season, the other in the Championship Pool, when both pitched in the same game, but not at the same time. The last time that Cordemans and Koeiman faced each other at the side time was on July 20, 2013. Back then, Cordemans started for Amsterdam Pirates, while Koeiman started for The Hawks, respectively throwing seven and 6 2/3 inning. Amsterdam won 6-0. Three players who then played for Pirates also played for the team today, being 1B Kenny Berkenbosch, 3B Rashid Gerard and DH Roelie Henrique. They played the same positions in both games.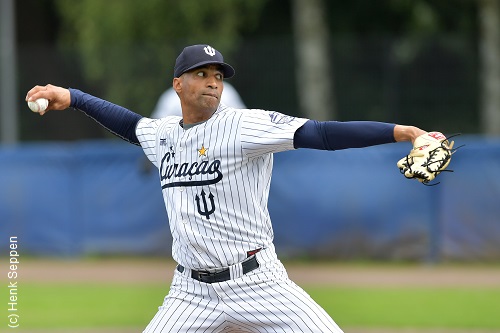 ...Elton Koeiman pitched in relief for Neptunus...
(© Photo: Henk Seppen)

Since Rob Cordemans first pitched for Amsterdam Pirates in 2010, the game in 2013 and the game today are the only ones that these two veteran pitchers threw at the same time in the same game. In these ten years, Elton Koeiman pitched for Sparta-Feyenoord (2012), The Hawks (2013), Hoofddorp Pioniers (2014-2015), Twins (2016) and Neptunus (since 2017). He didn't pitch in the highest league in 2010-2011.

Amsterdam Pirates got on base quickly in the top of the first inning, as Roelie Henrique and Sharlon Schoop led off the game with singles. The two advanced on a sacrifice bunt by Gilmer Lampe, then the bases got loaded when Denzel Richardson walked. However, the inning ended when Kalian Sams, who celebrated his 33rd birthday today, grounded into a double play.

Amsterdam then opened the score in the second at bat with one run, but was unable to score more runs. Again, the first two batters reached base, as Kenny Berkenbosch led off with a single and Delano Selassa walked. Hereafter, Elton Koeiman entered the game as new pitcher for Neptunus. He gave up a bunt to Niels van Weert, but it wasn't successful, as Berkenbosch was forced out on third base. But the bases then got loaded when Koeiman hit Max Clarijs with a pitch and he gave up a run when he walked Roelie Henrique. With the bases still loaded, Neptunus escaped, as the inning ended when a line drive by Sharlon Schoop was caught by first baseman Dudley Leonora and led to an unassisted double play.
In the top of the third inning, Amsterdam Pirates rallied for four runs on five basehits, including four doubles! Five of the first six batters recorded a basehit, the lone batter without one in this group was Kalian Sams. Gilmer Lampe and Denzel Richardson (ground-rule) led off with back-to-back doubles, resulting in a run. Hereafter, Sams flied out, but next batter Kenny Berkenbosch delivered a runscoring single. Delano Selassa and Niels van Weert (2-run) then followed with back-to-back doubles to lift the lead to 5-0. After Max Clarijs flied out, Roelie Henrique walked, but Pirates again left two runners behind when the inning ended when Sharlon Schoop also flied out.
In the fourth, Pirates got another baserunner. With one out, Denzel Richardson walked. After Kaliam Sams had flied out, Richardson was eliminated at second base while trying to advance after a pick-off at first.
But in the fifth inning, Pirates added another run. Kenny Berkenbosch led off with a single, but was forced out on a grounder by Delano Selassa. The latter then stole second base and scored on a 2-out single by Max Clarijs, who stranded on second base himself.
And so, Amsterdam Pirates led 6-0 halfway the fifth inning. At this moment in the game, Pirates already had collected ten basehits, but Neptunus had been limited to only one by Cordemans in the first four innings.
Cordemans retired the side in the first three innings, then gave up a lead-off infield-hit to Coco Johnson in the fourth. After Stijn van der Meer had walked, Johnson was caught stealing, then Dwayne Kemp grounded into a double play.
In the bottom of the fifth inning, Neptunus scored its first two runs. With one out, Dudley Leonora and Shaldimar Daantji both singled. With two outs, both scored on a triple by Benjamin Dille, who was left behind himself.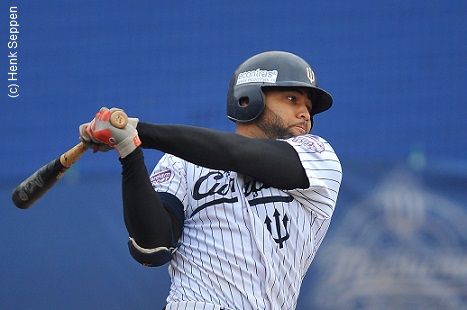 ...Gianison Boekhoudt was the Man of the Match...
...2-run homerun and walk-off double...
(© Photo: Henk Seppen)

From the sixth inning on, Amsterdam Pirates was held scoreless. The team added only four more basehits through the twelfth, including only one from the sixth through ninth. Neptunus collected eight basehits from the sixth inning on.

In the top of the sixth inning, Pirates was retired in order for the first time and it was done by two pitchers. With one out, Misja Harcksen took over for Elton Koeiman.

Neptunus narrowed the deficit to 6-4 in the bottom of the sixth off of new pitcher Maickel Rietel. With one out, he walked Dwayne Kemp, then gave up a homerun to Gianison Boekhoudt. Next batter Dudley Leonora reached on an error, but a flyout followed, then Rietel closed by striking out Quintin De Cuba. With two outs in the seventh, Rietel gave up a single to Coco Johnson. Hereafter, Tom Stuifbergen took over the pitching, but the inning ended when Johnson was caught stealing.

In the top of the seventh, Delano Selassa walked with two outs for Amsterdam, but was forced out. Misja Harcksen retired the side in the eighth, then was relieved by Berry van Driel in the ninth. He gave up a 2-out infield-hit to Kalian Sams, but a grounder then ended the at bat.

When the bottom of the ninth began, Amsterdam Pirates still led 6-4, but a costly error then led to two runs that tied the score. Tom Stuifbergen first walked lead-off hitter Quintin De Cuba, but got a flyout from Benjamin Dille. Hereafter, pinch-hitter Greg Muller delivered a single that brought De Cuba's pinch-runner Kai Burema to third base. However, a throwing error from rightfielder Kalian Sams followed. That not only enabled Burema to score, but also enabled Muller to advance to third base. Moments later, Muller scored the tying run on a sacrifice fly by Coco Johnson. Of course, what would have happened when the error was not made, we will never know. For Sams, this was his third error in the Series.

And so, the game went into extra innings.

Both teams got a baserunner in the tenth inning. For Pirates, Max Clarijs walked with two outs, then Kevin Kelly took over the pitching. In the bottom of the tenth, Dudley Leonora singled with two outs, but also stranded.

Amsterdam got on third base in the top of the eleventh. With one out, Gilmer Lampe reached on an infield-hit, but was forced out on a grounder by Denzel Richardson. Pirates got runners at the corners when Kalian Sams singled, but the inning ended when Kevin Kelly struckout Kenny Berkenbosch.

In the bottom of the eleventh, Benjamin Dille reached on an infield-hit with one out. Stuifbergen then struckout Greg Muller and Dille was forced out moments later.

In the top of the twelfth inning, Pirates got another runner in scoring position when Max Clarijs doubled with two outs. This time, the inning ended with a grounder.

Neptunus then decided the game in its twelfth at bat. Stijn van der Meer led off with a single and moved on a sacrifice bunt by Dwayne Kemp. With Van der Meer on second base and first base open, Gianison Boekhoudt connected for a walk-off double that completed the turnaround and gave Neptunus a 7-6 win.

The last 12-inning game in the Holland Series was played on September 24, 2016 when Amsterdam Pirates won 6-5 in twelve innings against Neptunus in the opening game. The longest game before that was a 14-inning game on September 3, 2011 when Amsterdam Pirates won 5-4 against Hoofdorp Pioniers in what also a Series-opener was.