(Story by Marco Stoovelaar; Photos by Henk Seppen)

Michael Duursma succeeds Brian Finnegan as Head Coach of Amsterdam Pirates
Nederlands



AMSTERDAM (Neth.) - Michael Duursma is the new Head Coach of Dutch baseball-champion L&D Amsterdam Pirates, the club announced on Sunday-afternoon (September 29). Duursma succeeds Brian Finnegan, who led the team to its first Championship-title since 2011 in his first season as Head Coach.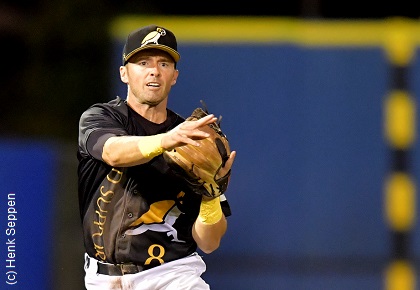 ...Michael Duursma...
...new Head Coach L&D Amsterdam Pirates...
(© Photo: Henk Seppen)

In October last year, Finnegan was named as Amsterdam's new Head Coach as the successor of Charles Urbanus, who had led the team in the previous five seasons. It was the second time that Finnegan was Head Coach of Amsterdam. He led the team earlier in 2002 and 2003. When Finnegan took over the team last October, it already was announced that it might only be for one season. Recently, Finnegan indeed informed the board of Amsterdam Pirates that he would not be available for next season.

This season, Amsterdam Pirates faced reigning champion Curaçao Neptunus in the best-of-seven Holland Series. Amsterdam lost the first three games, but then did something no other team had done before, winning the next four games to capture the title. With a 6-0 shutout-win in Rotterdam on September 1, Pirates dethroned Neptunus and captured its first title since 2011.

This year, 41-year old Michael Duursma was the Manager of the Netherlands Under-15 Baseball Team year and was a member of the coaching-staff of the Netherlands Under-18 Baseball Team. With the Under-15 Team, Duursma won the Bronze Medal at the European Championship Cadets (U15) in July in Nettuno (Italy) by winning 3-0 against the Czech Republic. With the Under-18 Team, Duursma was the 3B Coach in the staff of Manager Eric de Bruin. This team finished in seventh place early September at the Under-18 World Cup in Busan (South Korea).

In 2017, Duursma also was De Bruin's 3B Coach with the Under-15 Team, which then won the Silver Medal at the European Championship in Austria, losing the Final 4-2 to Germany.

Since its founding in 2008, Duursma has been active as an instructor at Baseball Academy Kennemerland Rabbits. In May 2016, Duursma succeeded Bernie Beckman as Technical Manager and Head Coordinator of the Academy. In 2017, he won the Bill Arce Award for Most Promising Coach.

The Haarlem-born Duursma played for 21 seasons in the Dutch big league. After having started his career at Boosters in Roosendaal, Duursma played for Double Stars, then made his big league-debut in 1996 with HCAW. He played for five seasons for the Bussum-based club, then played one season for Neptunus in 2001. From 2002 on, Duursma played eleven seasons for Hoofddorp Pioniers. After the 2012 season, the infielder transfered to Amsterdam Pirates for whom he played four seasons before retiring after the 2016 season. He mostly played as short stop, but also was used as a second baseman.

Duursma led the big league in Runs Scored in 2003 (43) and 2004 (39). He stole the most bases (20) in 2004. Besides that, Duursma led the league in Hit by Pitches three times (2006, 2015, 2016). He belongs to the all-time leaders in this category.

Through the years, Duursma played in 178 international games for the Netherlands National Baseball Team. With the Orange-squad, Duursma participated in the 2008 Olympic Games in Beijing (China). He also participated in three World Baseball Classics (2006, 2009, 2013).

Duursma also participated in five European Championships (three titles), two World Championships, six Haarlem Baseball Weeks and six World Port Tournaments.

(September 29)