(Story by Marco Stoovelaar; Photo by Henk Seppen)


Netherlands Team wins rainshortened first exhibition game in Mexico
Nederlands



ZAPOPAN, Jalisco (Mexico) - The Netherlands Baseball Team won 4-1 against a Mexican Navy Baseball Team on Thursday-afternoon (October 31) in its second of two exhition games to prepare for the upcoming second edition of the Premier12, which opens coming Saturday. On Wedneday, the Orange Team lost 12-2 against the USA in a 7-inning game.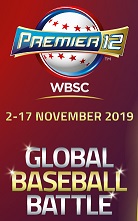 Today's game was halted after five innings due to rain.
On Saturday, the Netherlands Kingdom Team opens the Premier12 against the USA. The team then meets the Dominican Republic on Sunday and closes Pool A on Tuesday against Mexico, which will be the host of this Pool. The two best teams of each Pool will then advance to the Super Round, which will be played in Japan.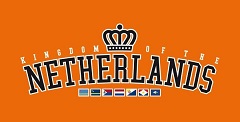 The Netherlands Team initially faced an 1-0 deficit after the first inning against the Mexican Navy-team. Starter Lars Huijer gave up a lead-off triple and one one-out grounder then led to the run.
In the top of the first inning, the Netherlands got a chance to open the score. Juremi Profar and Yurendell De Caster singled, but the first was eliminated at third base trying to get an extra base on De Caster's hit.
But the Orange Team was more successful in its second at bat, as Hendrik Clementina hit a homerun into deep leftfield to even the score.
Diegomar Markwell then pitched the bottom of the second for the Netherlands. Like Huijer, he gave up a lead-off extra basehit, as the first Mexican hitter recorded a double. But he stranded, as the next three batters were retired.
In the third inning, the Netherlands took a 2-1 lead when Roger Bernadina also hit a homerun.
After Mike Bolsenbroek had thrown an one-two-three bottom of the third inning, the Netherlands added a run in the fourth. Hendrik Clementina led off with a single, then advanced to third base when an error followed. Moments later, he scored on a single by Gianfranco Wawoe.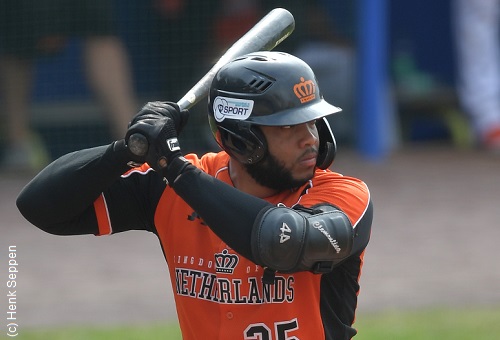 ...Hendrik Clementina had two basehits, including a homerun...
(© Photo: Henk Seppen)

In the bottom of the fourth, Bolsenbroek returned to the mound for the Netherlands. He walked the lead-off hitter, but then got two flyouts. Hereafter, Kevin Kelly took over the pitching and closed the inning with a strikeout.

In the top of the fifth, the fourth Dutch run was scored and it was done on the third homerun in the game. This time, rookie Ray-Patrick Didder (who entered the game in the third inning) led off and hit the ball over the fence to make it a 4-1 score.

In the meantime, it had started to rain and after five innings, the game was stopped.

Due to the rain, pitchers Rob Cordemans and Juan Carlos Sulbaran saw no action in today's game.

The Orange Team collected eight basehits, including two by Hendrik Clementina and Juremi Profar.

Playing for the Netherlands in this game were:
Roger Bernadina (CF), Ray-Patrick Didder (CF), Juremi Profar (1B), Curt Smith (1B), Yurendell De Caster (DH), Sicnarf Loopstok (PH), Ademar Rifaela (LF), Hendrik Clementina (C), Chadwick Tromp (C), Kalian Sams (RF), Gilmer Lampe (RF), Gianfranco Wawoe (3B/2B), Sharlon Schoop (SS), Dwayne Kemp (3B), Calten Daal (2B/SS) and pitchers Lars Huijer, Diegomar Markwell, Mike Bolsenbroek and Kevin Kelly.

(October 31)

Related Articles:


Netherlands Team plays first exhibition game in Mexico. (October 30)


Hensley Meulens returns as Orange-Manager for Premier12; Roster announced. (October 14)